This came moseying down the trail today...
Posted by Michael O'Brien on 11th May 2019
This came moseying down the trail today... an advance copy of the next release for Down Darker Trails! The rest are on their way by ship, and will be in the corral soon.
(But if you have a hankerin' right now for more horrors and terrors of the Old West, go buy the Shadows Over Stillwater PDF from Chaosium and you'll get the full price of the PDF off the cost of the physical book when it arrives)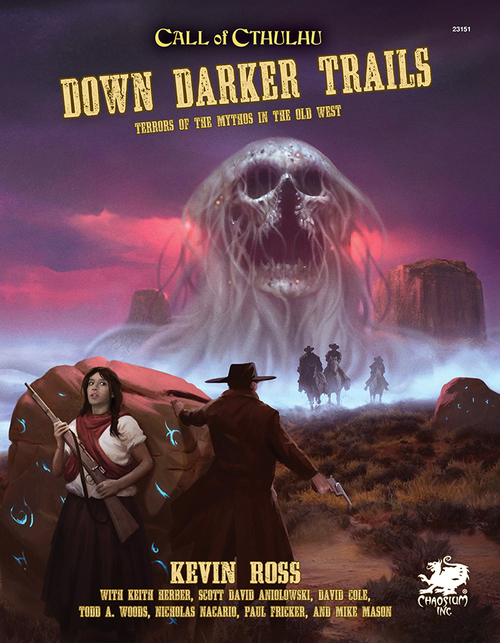 Shadows Over Stillwater is a collection of scenarios and locales for Down Darker Trails—the Wild West setting for Call of Cthulhu and Pulp Cthulhu. Contained within are further insights and challenges for those seeking bold adventure in the American Old West.
Featured is a three-part campaign—The Shadow Over Stillwater—set in the mountains of the New Mexico Territory. A hunt for a fugitive murderer leads the investigators into a mystery involving odd townsfolk, strange lights in the sky, walking corpses, and the machinations of a once-powerful and ancient race seeking to reclaim their lost glory.
The campaign is suitable for groups of any size, as the Keeper can easily scale the opposition to reflect the number of investigators. An apparently simple task, bringing a wanted man to justice, brings the investigators to a town suffering an epidemic of bizarre events, from crazed residents to the dead rising from their graves.
That's plenty of adventure to keep your gaming group immersed in the horrors and terrors of the Old West!
Down Darker Trails is a trademark of Chaosium Inc.
- evocative background music from here - http://bit.ly/2PXwsCX -