Miskatonic Monday #65a: final look at indie Call of Cthulhu releases releases for 2022
Posted by Michael O'Brien on 26th Dec 2022
Under the Miskatonic Repository community content license, Call of Cthulhu fans can sell and share their own independently-created material on DriveThruRPG. If that appeals, check out the Miskatonic Repository Guidelines and free creator resources and start creating!
In the meantime, we're taking a final look for 2022 at new releases in Miskatonic Repository (there's a lot of new releases to cover, so we're splitting this post up into several parts – part A, part B, part C, part D):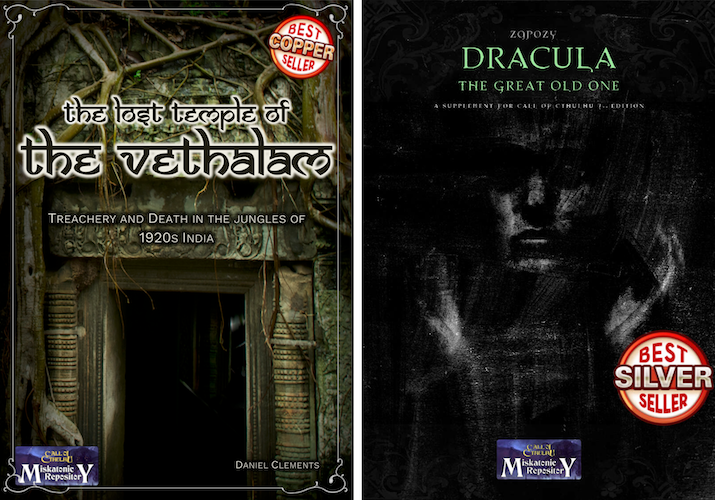 The Lost Temple of the Vethalam
Daniel Clements ($2.99, 43 page PDF)
An archaeological team working deep in the heart of the South Indian jungle have unleashed something not of our world. The investigators arrive to find the site a bloodbath: a lone professor seemingly the only survivor and an invisible monster on the loose. But is everything what it seems? And what truly is the creature stalking them through the ruins?
The Lost Temple of the Vethalam is a 1920s scenario based on a traditional Indian folktale.
Dracula, the Great Old One - a Zgrozy supplement
Marek Golonka, Piotr Kozioł, Keith Mageau ($5.99, 36 page PDF)
Of all people in history, Dracula has perhaps come closest to the Outer Gods. He understood their powers and nature, but these are concepts that a human—no matter how powerful—can barely contain in their head. The count did not so much go mad as changed his perspective.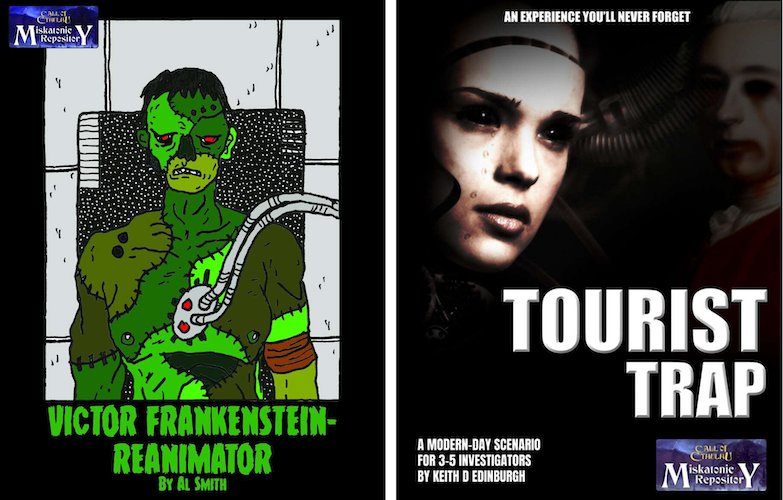 Victor Frankenstein-Reanimator
Al Smith ($1.00, 2 page PDF)
A Regency Cthulhu scenario. The brilliant scientist Victor Frankenstein has invited the investigators to view what he calls the "greatest scientific accomplishment in the history of mankind" at his luxurious estate, Frankenstein Manor. Things go downhill from there.
Tourist Trap
Keith D. Edinburgh ($3.95, 90 page PDF)
Prepare for the visitor experience of a lifetime ...After looking into strange supernatural events in the railway tunnels beneath Edinburgh's city centre, investigators find clues that point to Uncanny Edinburgh, a new attraction that promises to thrill visitors with recreations of the city's dark and mysterious past.
Before long, they are pulled into a strange and terrifying parallel dimension that appears to have corrupted the visitor attraction into a deadly deathtrap that hides a secret more terrible than anything they have ever faced before ...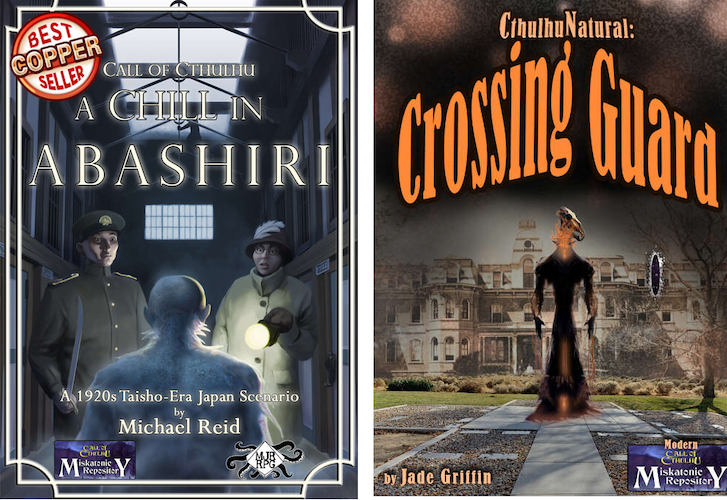 A Chill in Abashiri - A 1920s Taisho-Era Japan Scenario
Michael Reid ($4.95, 39 page PDF)
December 1922, Abashiri, Northern Japan – Abashiri Prison, located on the northern shore of Hokkaido, houses 'dangerous' criminals and political dissidents, and is no stranger to death and cold. But when a guard dies under suspicious circumstances, and amidst an unprecedented cold snap, a team of mixed professionals is sent to investigate the facility and its occupants, both staff and imprisoned. Amidst the Taisho-era empire's political maelstrom, the investigators must navigate suspicious guards and uncooperative prisoners to uncover a plot that threatens not just Abashiri Prison, but the future of their changing nation.
Crossing Guard
Jade Griffin ($4.99, 31 page PDF)
Oddball mythvestigators gathered by eccentric lore expert Mr. Ed use conventions to disguise their exploration of mythos tales. In June 2023, they meet under cover of RageCon in Reno, Nevada by day and hunt for a cemetery-lurking mythos creature by night.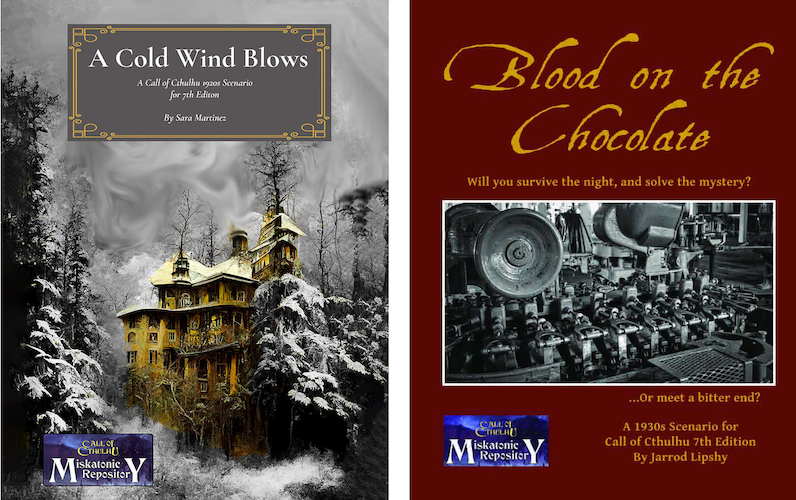 A Cold Wind Blows
Sara Martinez ($2.95, 9 page PDF)
Snow swirls, nearly blinding you. The cold seeps into your bones, threatening to freeze you in place. Then, out of the corner of your eye, movement. You are not alone in the storm.
A Cold Wind Blows takes place in June, 1922. The investigators find themselves snowed in at the Stanley Hotel in Estes Park, Colorado during what was supposed to be time to relax. An out-of-season howling blizzard has put everyone on edge. When other hotel guests start disappearing, the group must uncover the hotel's secrets and brave the elements outside to discover the cause.
Blood on the Chocolate
Jarrod Lipshy ($6.49, 40 page PDF)
Someone's been damaging valuable machines at the Whishly Chocolate Factory each night. Management's problem solver "Tex" Gunderson hires a squad of skilled investigators to spend the night in the factory and uncover the mystery of what's going on ...if they can survive until morning, that is.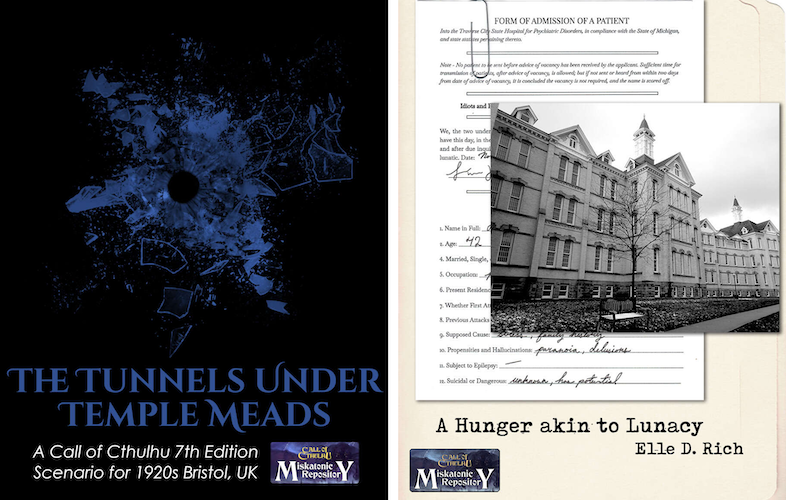 The Tunnels Under Temple Meads
Peter Willington ($6.79, 18 page PDF)
This one-to-one (or "duet") Scenario is intended for one Keeper and one Investigator, and is set in Bristol Temple Meads train station. Amnesiac Noa Jones attempts to piece their memory back together while attempting to outwit the cultists of Xa-Thoth known as The Society.
A Hunger akin to Lunacy
Elle D. Rich ($3.00, 27 page PDF)
It is the fall of 1925, in Traverse City Michigan. The Investigators are heading to Dr. Humphry P. Dalderby's house for their weekly Thursday evening salon. Dr. Dalderby has been quite excited to show them the new antique document that he has just procured. When they arrive, they find that Dr. Dalderby has been missing for a few days. Will the Investigators be able to find Dr. Dalderby and his document, or will they lose themselves within the walls of their own minds?
The Shambler Between Worlds
Jason Shayer ($2.99, 23 page PDF)
When an Arkham Sanitarium patient goes missing, the players' investigation lead them to a secret cabal that has assembled a dangerous occult device. The mastermind wants the power to herself and sets about killing the others to ensure only she can wield the device. Can the investigators figure out what's going and stop her before it's too late?
Chimes in the Dark
Phil McClorey ($1.99, 14 page PDF)
The dissonant chimes of a long lost relic herald the return of a Great Old One slumbering deep underground. The chimes call to it. The ground shakes. The air goes cold with its arrival. Will the people of San Rafael survive it's summoning?
Investigators must race against time to locate the Chimes of Muzshon before they fall into the hands of the Cult of the Eyeless and all is lost. The scenario expands on the information provided on San Rafael in Down Darker Trails.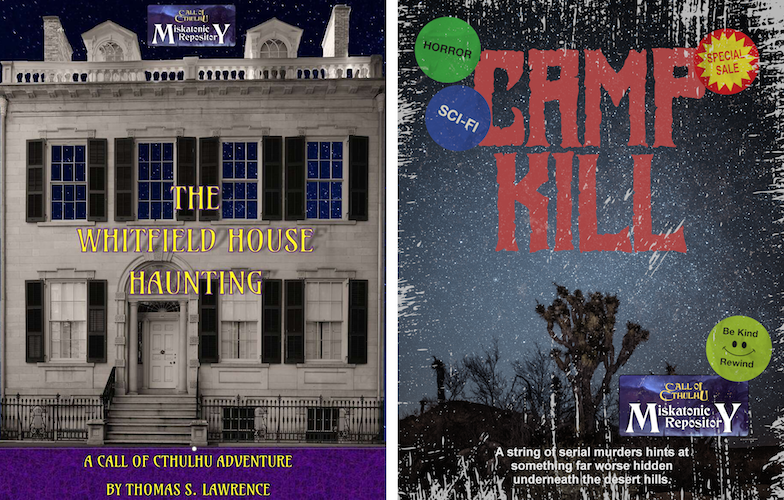 The Whitfield House Haunting
Thomas S. Lawrence ($4.99, 19 page PDF)
"clear evidence of spectral activity, reports of flying furniture and unholy forces at work!"
No Priest has been able to dispel the troubled spitits that haunt Whitfield House. Mystics and mediums have tried in vain to parley with the departed. Has the spirit of the reclusive Jacob Silar returned from beyond the grave? Will our intrepid investigators discover the true nature of the forces behind this mystery? What starts off as a haunted house mystery soon becomes a journey into Cosmic horror.
Camp Kill
Nicholas Reardon ($1.00, 26 page PDF)
In the year 1988, three are found dead on the set of a shlock horror film. The director of the film is nowhere to be found, and when a group of actors set out into the California desert to investigate, they find something much worse lurking underneath the scrubland mountains...
Featuring five pre-generated investigators with clashing personalities, the players can roleplay conflict as horror and stress drives the group apart.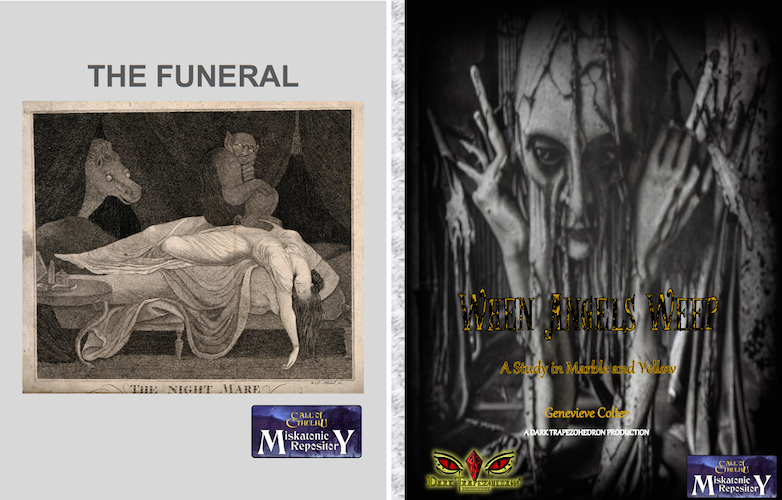 The Funeral
Michał Pietrzak ($1.00, 16 page PDF)
A death in the family brings the members of the wealthy Weather family to the old family manor. The dead may rest in peace but as for the living, it remains to be seen. There are things lurking just beyond the wall of sleep...
When Angels Weep: A Study in Marble and Yellow
Genevieve Colter (Dark Trapezohedron Productions) ($15.00, 34 page PDF)
Everyone who's anyone in the 1920's New York art scene is going crazy over the intricate, eerily lifelike sculptures of up-and-coming artist Hildred Blackstone. Unfortunately, the semi-reclusive Mr. Blackstone has a secret. A very, very dark secret. One that might just blur the line between science and the supernatural. What makes his work so uncannily realistic, as if the statues could move at any second? Why is Mr. Blackstone's house so frigid, frost forms on the windows in the summer? How far can one man truly be willing to go for his art?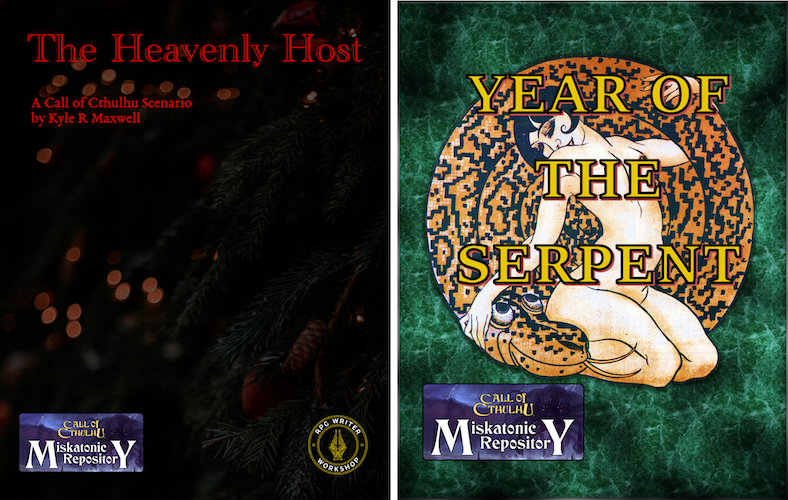 The Heavenly Host
Kyle Maxwell ($4.95, 9 page PDF)
It's the most wonderful time of the year... but not for long. As the snow falls and the decorations go up, a family meddles with forces they could never truly understand. In this Call of Cthulhu scenario, you and your fellow investigators must unravel the mystery of what is truly happening at a rural Christmas celebration. Can you survive the horrors that await and save Christmas from a fate worse than coal in your stocking? Find out in this heart-pounding tale of fear and madness.
Year of the Serpent: Doyers Street
Michael Tolentino ($6.99, 38 page PDF)
New York. February 7th, 1917. A raucous celebration in the heart of New York City's Chinatown district. A banquet to entertain the heavyweights of the City for the Chinese New Year is set to bring excitement, health, and prosperity. The streets are full of joyous revelers, red and gold stream down the city streets. In all the wondrous fervour, no one would ever notice one missing person...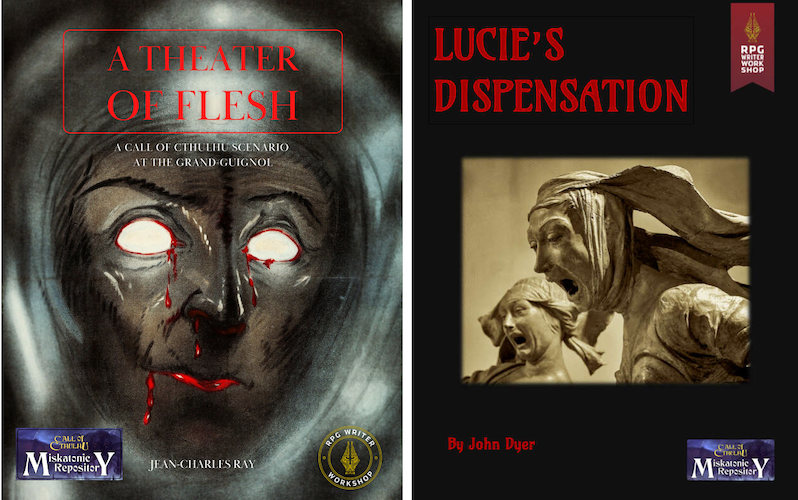 A Theater of Flesh
Jean-Charles Ray ($2.95, 16 page PDF)
The investigators venture into 1920s Paris, and more specifically the red-light district of Pigalle and its scandalous Grand-Guignol, the theater of thrills and chills. They go there on the invitation of Mary Riley who makes her debut on its stage. However, after a performance as titillating as it is frightening, the young actress disappears without a trace. Behind the laughter and the froufrou, Pigalle suddenly reveals a disturbing face, and the investigators sink little by
little into horror when they discover that the Grand-Guignol might conceal realities worse than its fictions behind its curtains. What is really going on in this dead-end theatre and what happened to Mary Riley?
Lucie's Dispensation
John Dyer ($4.95, 50 page PDF)
Elderly Lucie and her little granddaughter, Cate, need help. They claim that the Germans recently attacked their tiny French village of Verlest. But it's hard to believe them. There's no sign of a battle. It's late 1918. World War I just ended.
Yet a melancholy hangs over Verlest, people are missing, and, suspiciously, the monks at the nearby Abbey of Saint Barbara don't appreciate outsiders asking questions. As the Investigators learn more about this traumatized village where ancient history and recent events have bred intrigue and horror, they might regret discovering the evil in their midst.