Miskatonic Monday #65b: final look at indie Call of Cthulhu releases releases for 2022
Posted by Michael O'Brien on 27th Dec 2022
Under the Miskatonic Repository community content license, Call of Cthulhu fans can sell and share their own independently-created material on DriveThruRPG. If that appeals, check out the Miskatonic Repository Guidelines and free creator resources and start creating!
In the meantime, we're taking a final look for 2022 at new releases in Miskatonic Repository (there's a lot of new releases to cover, so we're splitting this post up into several parts – part A, part B, part C, part D):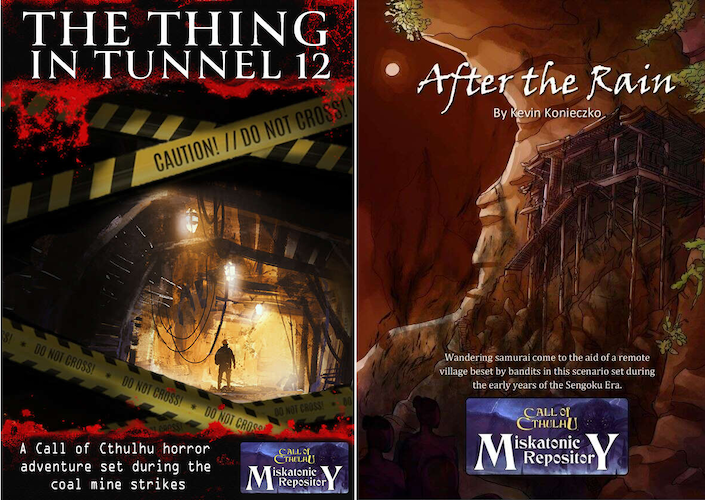 The Thing in Tunnel 12
Alison Cybe ($3.99, 23 page PDF)
The atmosphere in the small working-class village of Cabbot's Tor could be cut with a knife. A growing dispute between the corporate owners of a coal mine and the worker's union threatens to spill out into escalating violence. Then a body is found. Torn apart. Murdered? Or... eaten?
A Call of Cthulhu adventure set during Britain's mining strike.
After the Rain: A Samurai Era Call of Cthulhu Scenario
Kevin Konieczko (Pay-What-You-Want, Recommended Price $6.00, 36 page PDF)
The small farming village of Kamatsoe has chafed under the yoke of a bandit gang for years, dutifully giving over a portion of their harvest in return for the bandit's "protection." The burning of a nearby village was the last straw, however, and the farmers have chosen to fight back by recruiting a small band of wandering samurai to liberate them from these bandits.
Contact
Cameron Tressler (Pay-What-You-Want, Recommended Price: $0.00, 9 page PDF)
Modern scenario in which the players will investigate a missing persons case and his mysterious disappearance. They will unravel the missing person's connection to a group of alien conspiracy theorists and one man who has had an unbelievable experience with extra terrestrials.
Hunter and Hunted
Florian Klamt ($0.00, 13 page PDF)
The Investigators are invited on a friendly hunting trip to a remote valley in the northern Rocky Mountains by a member of professional yet dubious Grey Tigers. Several groups are formed, and the target is declared: Unbeknownst to the Investigators, however, their host has his very own motives. The hunt is on, but who is the hunter and who the hunted in this scenario?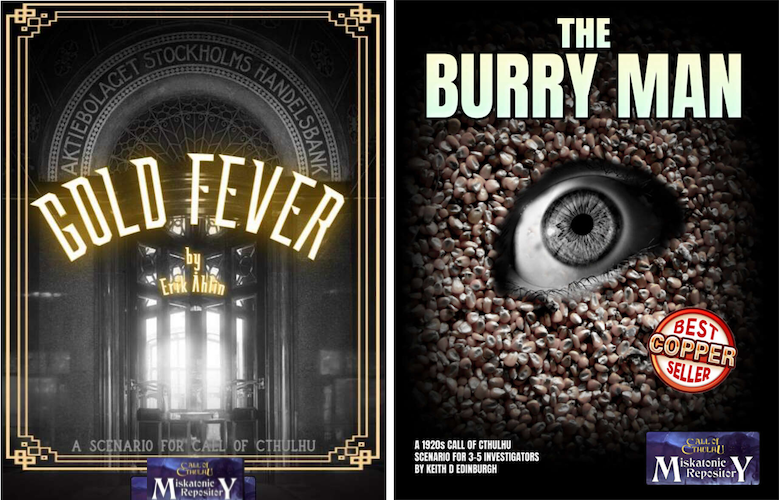 Gold Fever
Erik Åhlin (Pay-What-You-Want, Recommended Price $2.95, 29 page PDF)
The silver medalist scenario of the 2022 national Swedish Call of Cthulhu-competition, Gold Fever, is now avaible in English! A lost son, an American gold magnate and the frightful glare of the midnight sun are all ingredients in this thrilling scenario suited for 2-4 sessions of horror.
The Burry Man
Keith D. Edinburgh ($3.95, 84 page PDF)
The Hanged God waits - Invited to a celebratory event at a historic coastal town near Edinburgh, investigators soon find themselves racing against time to save Jenny Sinclair, a local girl who appears to have been kidnapped.
A network of clues point to an uninhabited island and hint at an inhuman ritual that has potential to bring forth chaos, death and destruction. And are the tales of 'shadow creatures' beneath the waves true, or fanciful stories spun by sailors over the centuries?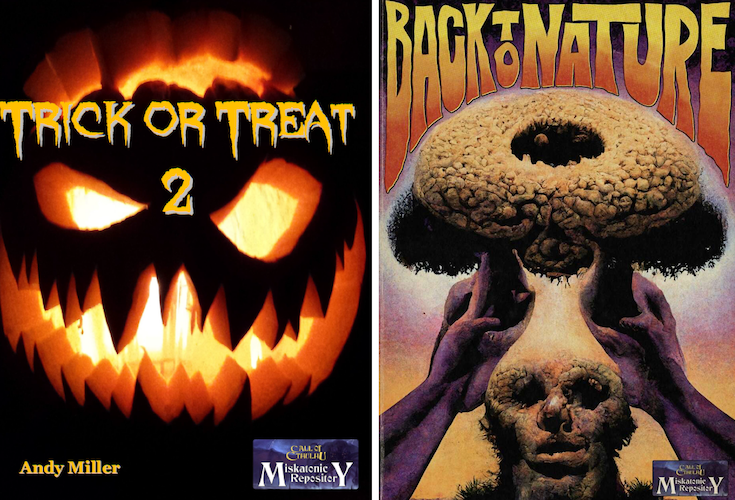 Trick or Treat 2
Andy Miller ($5.99, 62 page PDF)
Thirty years ago, Lockport was shocked by almost a score of strange and still unexplained murders on Halloween night. This year a group of sophomores from Lockport High School are going to sneak out to party at the place where it all came to a head. The small group is going to have plenty of thrills and chills at the old Carrick farm outside of town. It'll be the best Halloween ever … unless something goes terribly wrong.
Trick or Treat 2 is a modern scenario set in 2017 in Lockport, N.Y. and is the sequel to Trick or Treat by David Aniolowski published in Chaosium's Blood Brothers in 1990. The original scenario saw a group of friends dealing with a slew of horrific murders on Halloween night. Now, 30 years later, the sequel brings back the thing that terrorized Lockport all those years ago.
Back to Nature: Cosmically Horrific Comix #2
Bored Stiffs ($5.00, 40 page PDF)
A weekend Bigfoot hunt in the forest! What could go wrong? You've been invited on a "Mystery Tour" by ESCAPADE!, a secret society of like-minded artists and activists. Their newsletter instructs you to bring camping gear and an open mind for an overnight event that organizer Gloria Winthrop teases as "a chance to touch your feet to the grass and wiggle your toes at Bigfoot!" Only she knows the destination and what to expect when you arrive…
Back to Nature is set in a redwood forest north of San Francisco, California during the spring of 1974, though it can be modified to fit an outdoor setting in any era.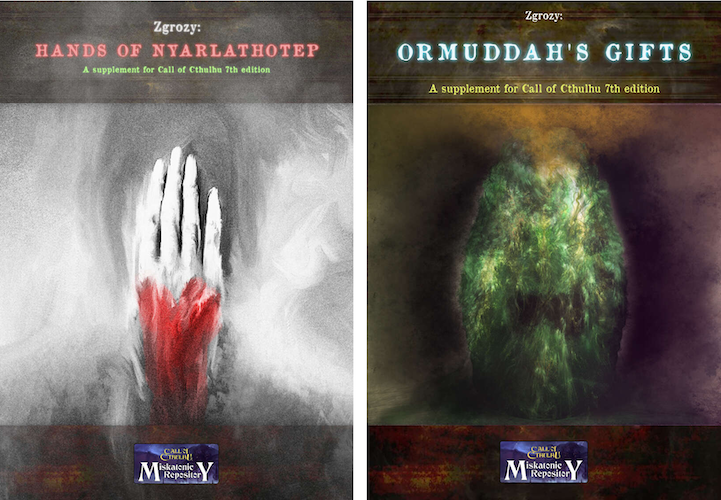 Devilarium: Hands of Nyarlathotep - a Zgrozy supplement
Marek Golonka, Piotr Kozioł, Keith Mageau ($2.49, 15 page PDF)
Both investigators and non-player character (NPCs) can become Hands, but there's no turning back from this road. Becoming one with Nyarlathotep and the Outer Gods forever changes a person.
Devilarium: Ormuddah's Gifts - a Zgrozy supplement
Michał Gralak, Sylwester Gdela, Michał Podłubny, Keith Mageau, Marek Golonka ($3.99, 22 page PDF)
To divide and create anew, to divide and create anew...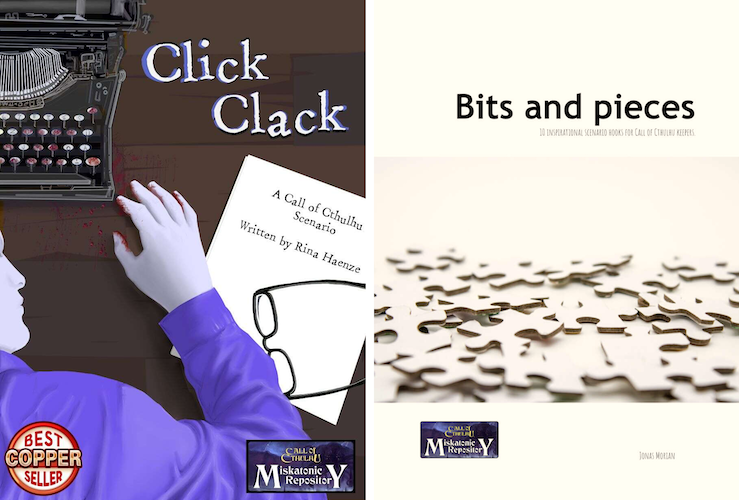 Click Clack
Sabrina Haenze ($3.00, 31 page PDF)
Halloween, 1920: The famous spiritualist Madame Mina has emerged from retirement to announce the death of her husband, notorious penny dreadful writer Walter Vines. Madame Mina claims that Walter's spirit has possessed his beloved typewriter and is granting her even greater insight to the world beyond the veil than before. When the investigators attend a séance to determine the truth of her claims, however, they quickly realize that the typewriter is indeed haunted…but by whom? Or worse, what? Will the investigators survive their encounter with the beyond? Or will they be forever haunted by the click clacking of Walter's typewriter in the world past the veil?
Bits and pieces
Jonas Morian ($2.50, 19 page PDF)
Ten short scenario hooks intended for 3-4 Call of Cthulhu investigators. They are written as inspiration, for keepers to expand on, rather than being fully developed. The scenarios were originally written to take place in various locations in Sweden during the 1920s, both in larger cities and in isolated villages in the countryside – but in this English version, they have been tweaked in order to be more flexible location-wise.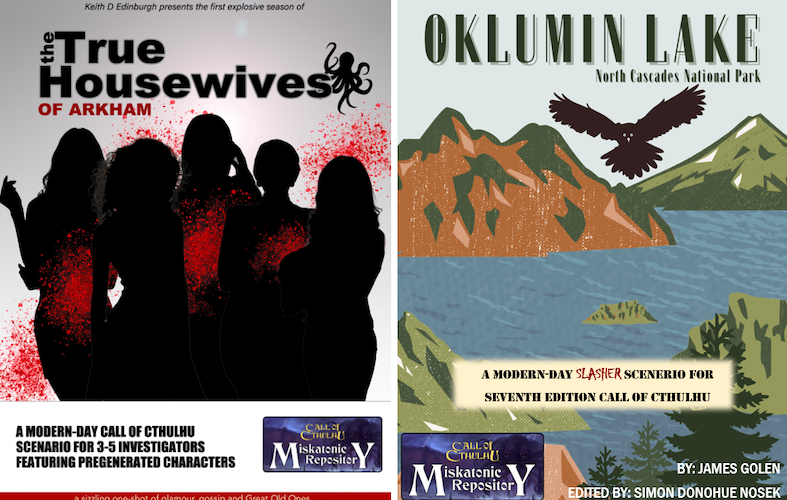 The True Housewives of Arkham
Keith D. Edinburgh ($1.99, 49 page PDF)
A sizzling one-shot of glamour, gossip and Great Old Ones! In this tongue-in-cheek modern day oneshot for Call of Cthulhu, players take on the roles of the 'True Housewives" of Arkham: glamorous, wealthy and infamous members of the city's giltterati. During the filming of the first season of a reality television series, the housewives find themselves drawn into a nefarious scheme that challenges everything they thought they knew...
Fortunately their fierceness is still intact, and together they will prove more than a match for anything the Mythos can throw their way... as long as they can manage not to fall out with each other.
Oklumin Lake: A Modern Day Slasher Scenario
James Golen ($4.99, 41 page PDF)
It's peak visitor season at the North Cascades National Park, and six rangers have just arrived via helicopter at the isolated OKLUMIN LAKE CAMPGROUND. With eleven campers in their care, they must fight to survive as an ancient and terrible creature has made the camp site its hunting ground. As storm clouds gather and strange voices call from the trees, there's no telling who will make it out alive from Oklumin Lake.
Mason Mansion
Melissa Lessard ($4.99, 20 page PDF)
A short, timer-based scenario set in the estates outside of Arkham in the 1920s. The Investigators will be fighting amongst each other in order to gain the inheritance of a late Seymour Mason, their Grandfather. While backstabbing and sabotaging each other, they'll also find that there are other things they'll have to survive.
Dossier No. I - The Maw
Matthias Sperling, Björn Soentgerath ($8.00, 92 page PDF)
Whoever messes with the ancient powers of Egyptian pharaohs can be struck by the curse of the pharaoh! Already many have dug and explored too deep. But occasionally it is not so much curiosity but its lower form, the greed for wealth, which - as in this adventure - is the undoing of two workers from Aken. If only they had taken the warning on the transport crates seriously. But they have sealed their own fate and, possibly, the fate of the entire town. For in the subterranean catacombs of Giza an unnamable creature has lurked for aeons whose very own desire has been awakened and whose long breath now reaches into peaceful Aken. Can the staff of the Obscuriat prevent worse and escape the tomb of the pharaohs, as only the great magician Houdini seems to have managed before...?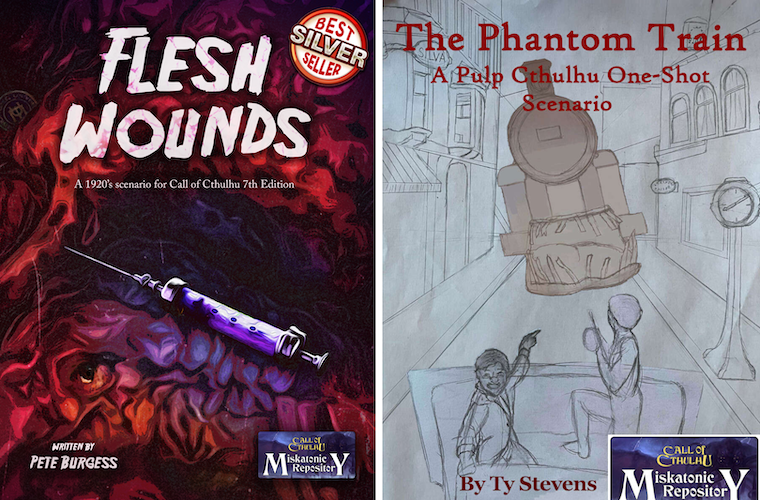 Flesh Wounds
Pete Burgess ($4.99, 64 page PDF)
Miskatonic University, Arkham, 1927 – Twisted science and the dark magic of the Mythos combine to unleash a new horror of ravenous, hungry flesh. Can a group of students put an end to the chaos before it consumes Arkham?
The Phantom Train
Ty Stevens ($5.00, 29 page PDF)
Outside of Warwick, Rhode Island, Late Summer early 1920s: The stuffy day almost ended just like any other, until you got the phone call. An old friend, calling in a favor to help him track down his daughter, who has been missing for two days. You did some looking into it, but Providence P.D. has already dismissed the case. Eloping. Partying. Typical stuff. However, Jim sounds as worried as a toad under a harrow, so you decided the least you can do is make sure he doesn't get in trouble. Who knows, something may even turn up? So, after gathering your equipment, off to Providence you went.
The Beast of Gévaudan a Hunt to Remember
Philip Kwiecinski ($2.00, 24 page PDF)
1765 France celebrates the dawn of a new legend. Francois Antoine killed the infamous beast that terrorized Gévaudan over a year. Over hundred were killed in this incident but now, France can be at ease. The Terror stopped. Except it didn't. The killing continues and the people of Gévaudan can only assume one: The Beast of Gévaudan still lurks in the shadow, preying on the weak, feasting on the poor souls that did not escape it.
A great terror looms in Gévaudan. The Beast is still lurking in the Shadows. Inspired and loosely based on the historical event of the Beast of Gévaudan.
Fork In The Road
Riley Kruger ($1.00, 14 page PDF)
In this classic 1930s era scenario, while enroute to the biggest show of their career, your music industry investigators come upon a fork in the road. What happens next is only for those who survive the ordeal to tell.
Launch trailer!