Miskatonic Monday #65c: final look at indie Call of Cthulhu releases releases for 2022
Posted by Michael O'Brien on 28th Dec 2022
Under the Miskatonic Repository community content license, Call of Cthulhu fans can sell and share their own independently-created material on DriveThruRPG. If that appeals, check out the Miskatonic Repository Guidelines and free creator resources and start creating!
In the meantime, we're taking a final look for 2022 at new releases in Miskatonic Repository (there's a lot of new releases to cover, so we're splitting this post up into several parts – part A, part B, part C, part D):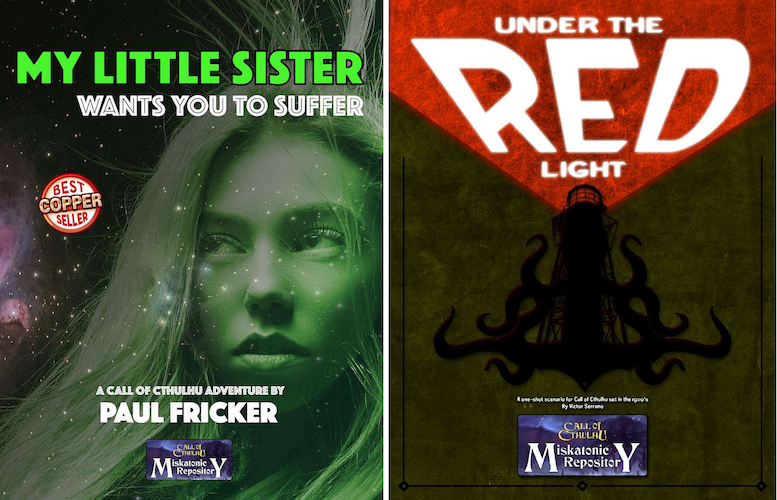 My Little Sister: A Call of Cthulhu Scenario
Paul Fricker ($6.99/$9.99, 37 page PDF and soft-cover standard color book)
The investigators awaken to find themselves aboard a spaceship travelling away from Earth. How did they get here? The ship is not a safe environment, and the investigators face numerous challenges. As the investigators explore the ship, the players open sealed envelopes to reveal flashes of memory. Ultimately, through their suffering, they discover the truth.
Under the Red Light
Victor Serrano ($4.95, 31 page PDF)
It is February 20th, 1920, and a group of Investigators is traveling to Mona Island, halfway between Puerto Rico and the Dominican Republic in the Caribbean. Unknown to them, in their destination, three people are missing, the night sky has gone red, the guano miners are on strike and there are even whispers that a long-dead miner has returned from the dead to exact revenge on those who abandoned him. Can the investigators uncover the truth and locate the missing persons before it's too late?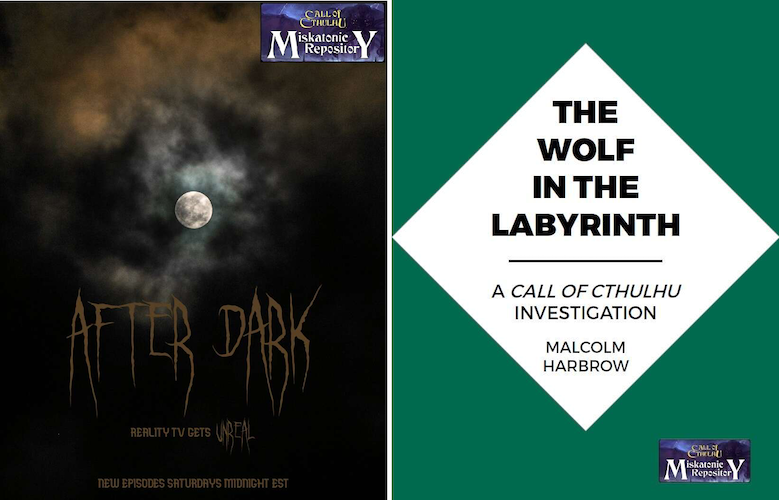 After Dark
Jude Stroud ($4.41, 23 page PDF)
After Dark is a new reality show, looking to cash in on the popularity of 'real' hauntings. You're hoping to cash in too, as contestants in the very first episode. Details are sketchy; you know you're being taken to spend two nights in a haunted location somewhere in Maine, there will be some sort of challenges to complete there, and there will be no production crew - the show is to be filmed entirely on body-mounted cameras.The waiver you signed made one more thing clear; there will be no phones, no internet, and in an emergency, help may take hours to reach you. If something goes wrong, you're on your own. Good thing ghosts aren't real... right?
The Wolf in the Labyrinth
Malcolm Harbrow ($4.99, 22 page PDF)
Howard Elbridge, a writer of weird fiction, has disappeared. Looking into his disappearance, the investigators will uncover his links to Miskatonic University's "daring" set, and the history of a mysterious painting.
Rich Food
James Cross ($4.99, 30 page PDF)
It is a cold and rainy December in San Diego, California. The investigators are volunteers at the St. Germain's Shelter. The shelter is at maximum occupancy and the doors have closed for the night when there is frantic banging at the front entrance. Three regular guests have finally arrived, only they are missing extremities and have chunks of flesh bitten off. They tell a tale of cannibalism and corruption in society's elite.
The investigators must unravel a dark conspiracy and face the price of greed. A storm is brewing, pressure is building up, and lives are in an explosive balance.
The Castle of Greed
Phaedra Florou, Stars Are Right ($4.99, 42 page PDF)
The year is 1933 and the place El Dorado, Kansas, and a new sensation is set to sweep the United States. A savvy businessman has acquired the first restaurant making innovative "fast food". Scientifically balanced food, a bargain at 5c per slider - grab 'em by the bag! Sam Madson knows he's got what it takes to make it big, just like his father. After all, success is in his blood. Now, if only his wife would stop complaining of dark omens and strange visions…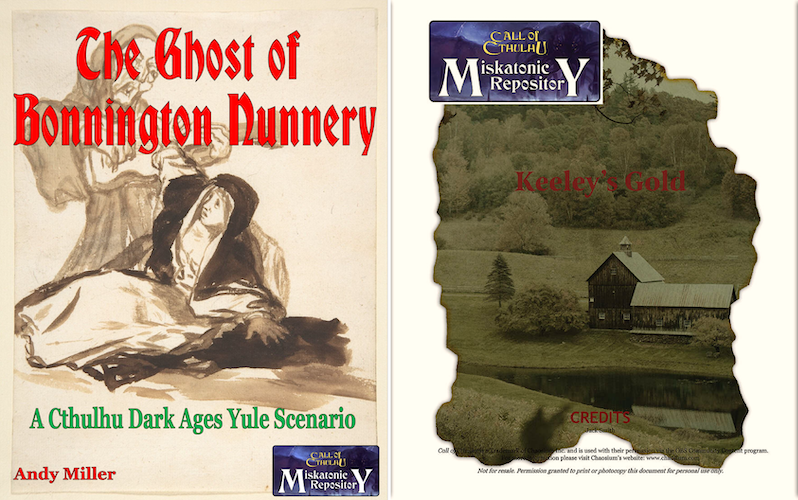 Keeley's Gold
Jack Smith (Pay-What-You-Want, Recommended Price $0.50, 12 page PDF)
The year is 1921, just outside of Dunwich Massachusetts sits a little run-down farm with a secret to hide. It is up to our investigator to discover the mystery of what the farm-based cult is hiding from the rest of the world.
The Ghost of Bonnington Nunnery
Andy Miller ($2.99, 32 page PDF)
Fifty years ago, a terrible series of murders took place at Bonnington Nunnery. Now, rumor has it that a ghost still inhabits the place, appearing when there are visitors to the nunnery during Christmastide. The prior of nearby Murkwell Priory has bid you take a message to the nuns on Christmas Eve and retrieve a book from the nunnery. He knows nothing of the rumors of ghosts, but it shouldn't take long. You shouldn't even have to spend the night.
The Ghost of Bonnington Nunnery is a Cthulhu Dark Ages scenario set in 1003 A.D. around Christmastide in Kent, England, near the village of Bonnington on the edge of Romney Marsh.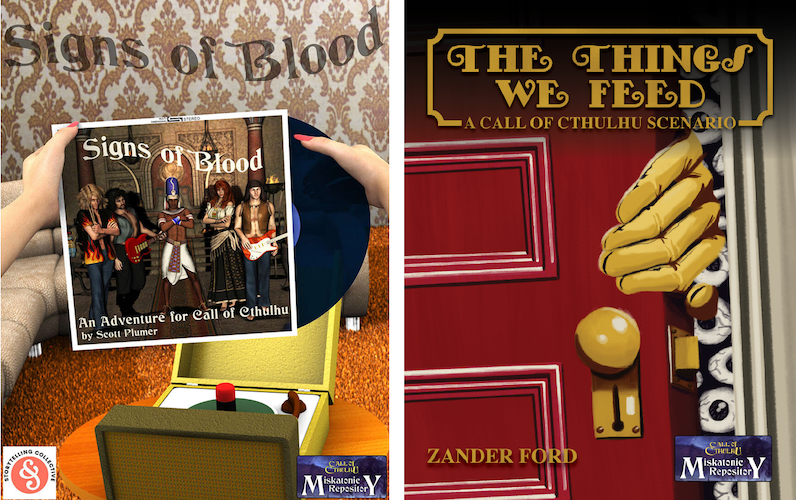 Signs of Blood
Scott Plumer ($1.00, 16 page PDF)
Cleveland, 1975. Five young women found murdered, all fans of the singer and shock rocker the Dark Pharaoh. Is there a connection? A Call of Cthulhu adventure set in the Rust Belt in the mid-'70s.
The Things We Feed
Zander Ford ($3.99, 20 page PDF)
A rotted mansion sits empty in the woodlands outside of New Orleans. Its last occupant, a painter, has just finished his final work. He was reported dead today. It is November 14th, 1926, and the investigators have been invited to an afternoon of fine dining and the chance to earn $200 dollars each, should they perform a seemingly simple task. They must search the house and find a strange book, and return it to their benefactor. What they don't know is that the memories of the house's former occupants still linger, as well as an otherwordly presence which seeks only to devour. Can the investigators find the mysterious tome, or will they be swallowed by the surreal horrors of the Garot House?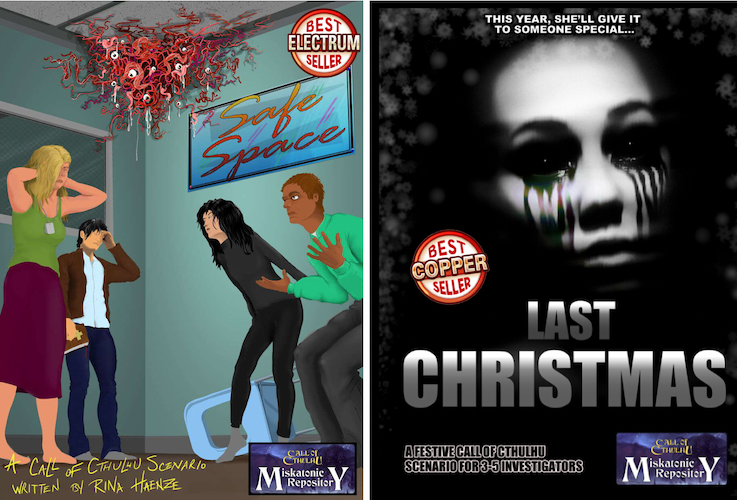 Safe Space
Sabrina Haenze ($5.99, 17 page PDF)
Survivors of encounters with strange, inexplicable horrors gather at the Miskatonic University to take part in a support group run by Dr. Amelia Vichy. The recruitment flyer promised a safe environment for you to talk about your experiences with others who've been through otherworldly horrors, as well as some resources and help in coping with knowledge man was not meant to have. But something feels a little odd at the first session, and it soon becomes apparent that your experiences might not actually be over...
Last Christmas
Keith D. Edinburgh ($2.99, 57 page PDF)
A chilling festive tale of lost love and icy vengeance!
Set at Christmas time in 1984, this one-shot is inspired by a literal interpretation of the lyrics of the classic festive hit of the same name.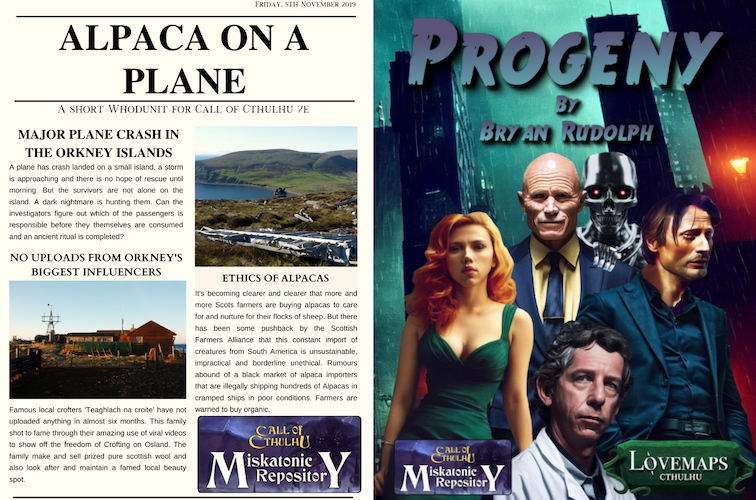 Alpaca on a Plane
John Hedge ($3.50, 29 page PDF)
A plane has crash landed on a small island, a storm is approaching and there is no hope of rescue until morning. But the survivors are not alone on the island. A dark nightmare is hunting them. Can the investigators figure out which of the passengers is responsible before they themselves are consumed and an ancient ritual is completed?
Progeny
Bryan Rudolph ($5.50, 66 page PDF)
An obsessed inventor. A brazen kidnapping. Bloodthirsty robots. All this and more await the heroes at the Chicago 1933 World's Fair. In this Pulp Cthulhu adventure, heroes find themselves investigating a crime that has the police baffled. As they peel back the layers of the mystery, they will be exposed to an unsettling thought experiment that will stick with some players even after the scenario is over.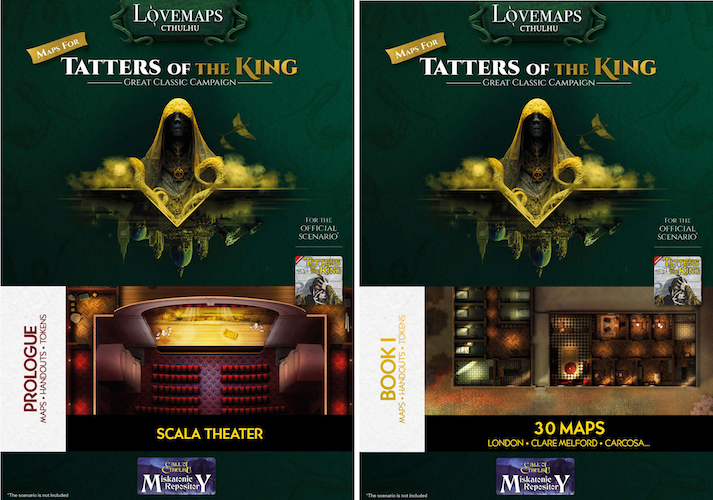 Cthulhu Maps - Tatters of the King - prologue - Free Pack
Lovemaps (Free, 2 Maps + 22 Tokens)
FREE pack a large content for the Tatters of the King campaign - Prologue. Lovemaps' Tatters of the King Book 1 Pack 1 is out; Book 2&3 pack will be released early January 2023.
Cthulhu Maps - Tatters of the King - Book1 - Pack1
Lovemaps ($24.90, 30 maps)
Map pack for the Tatters of the King campaign - Book 1.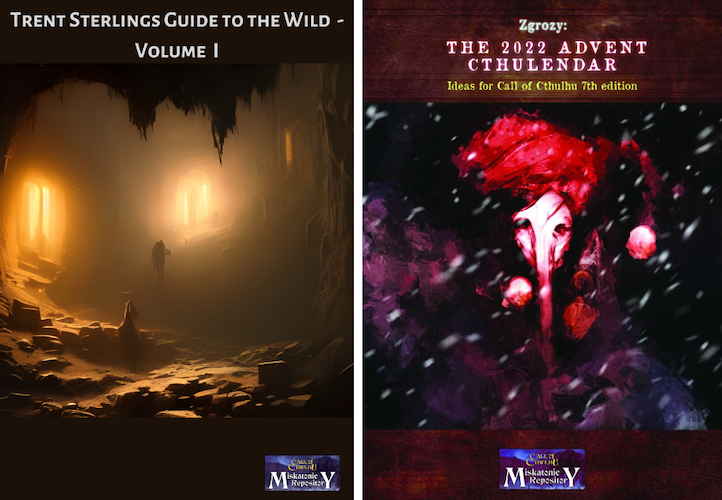 Trent Sterling's Guide To the Wild Volume 1
Sean Liddle ($3.00, 20 page PDF)
This book is volume one of a new series of source material of creatures and the occasional elder diety for use in the Call of Cthulhu. It is intended to give you ideas for creatures to sprinkle into your campaigns as needed to spice up the investigators adventures or to be used to create your own adventure around them. Two more volumes at least are intended to follow. Trent Sterlings Guide to Hauntes and Trent Sterlings Guide to the Wild Volume 2 - Legendary Creatures.
The 2022 Advent Cthulendar - a Zgrozy supplement
Marek Golonka, Piotr Kozioł ($4.99, 28 page PDF)
The 2022 Advent Cthulendar is a collection of short ideas to use in Call of Cthulhu games. Inside you'll find new spells, books, monsters, rules and other ideas that expand on the Cthulhu Mythos in new and unexpected ways.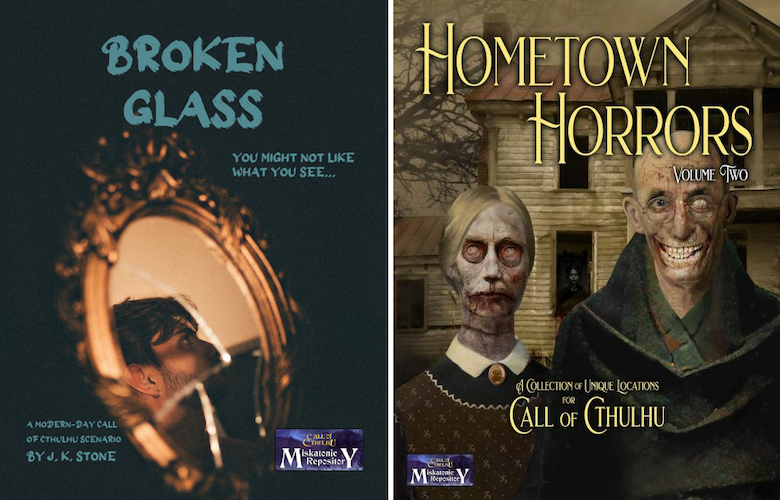 Broken Glass
J. K. Stone ($4.99, 17 PAGE PDF)
The old Carlisle House outside of town is haunted, and everyone knows it. Ten years ago a gruesome murder took place. Since then, local youth say you can still see the ghost of old lady Carlisle walking the halls. Randy just moved in, and he's nothing if not excited about the idea of living in a real haunted house! When he starts to realize that it may really be true, he decides to call for some professional assistance. He wants to find out if this could be the real deal.
But investigators should beware, for stranger things than ghosts are at play in the Carlisle House on this night! They will find that deeper dangers lurk behind much more familiar eyes. Will your investigators unravel the mystery and survive a night in this house of Broken Glass?
Call of Cthulhu: Hometown Horrors, Vol. 2
Evan Perlman ($9.99, 30 page PDF)
Hometown Horrors, Vol. 2 contains 16 more tours of the uncanny, the astonishing, the unwholesome, and the terrifying towns that our contributors call home. From the Midwest to the Southwest, from the Arctic Circle to the sunny Mediterranean, these brief guided tours will fire the imagination of Keepers and players alike.
Want to see a Keeper use Hometown Horrors to design a scenario? Bridgett Jeffries improvised a scenario from Hometown Horrors Volume 1: