Necronomicon 2017 Looms...
Posted by Michael O'Brien on 28th Jul 2017

This August, not one but two conventions will be blessed by the Elder Gods on the same weekend. While most of the Chaosium team are heading to Gen Con, Indianapolis, Mike Mason and Nick Nacario will be in Providence, Rhode Island for NecronomiCon, bringing books to sell, panels to program into your phone, and a raucous one-shot game.
PANELS
Campaigns in Call of Cthulhu
The Call of Cthulhu tabletop RPG is famed for having some of the best campaigns written for any roleplaying game, with Masks of Nyarlathotep and Beyond the Mountains of Madness being two highly regarded campaigns. But how do campaigns get written and devised? This panel discussed the development process and what makes campaigns different to one-shot games of Call of Cthulhu.
Panelists: Mike Mason, Lynne Hardy, Scott Dorward, Paul Fricker, and Matthew Sanderson.
Call of Cthulhu's Favorite Scenarios
Join a host of respected Call of Cthulhu authors to hear about their favorite scenarios and what makes them tick. What makes certain scenarios special and how do the authors go about preparing to run a scenario? Each author will recommend one of their favorite Call of Cthulhu scenarios, so expect an engaging discussion!
Panelists: Mike Mason, Oscar Rios, Paul Fricker, Christopher Smith Adair, and Chad Bouchard.
Pulp Vs. Pure Cthulhu
Pulp Cthulhu is a new "setting" for the Call of Cthulhu RPG, enabling players to take on larger than life heroes to tackle the dark designs of the Cthulhu Mythos. But what is "pulp" and how does it contrast to "pure" Call of Cthulhu? Join a panel of experienced game designers to discuss this topic and learn about how pulp scenarios are crafted.
Panelists: Mike Mason, Lynne Hardy, Chris Lackey, Dan Kramer, Paul Fricker.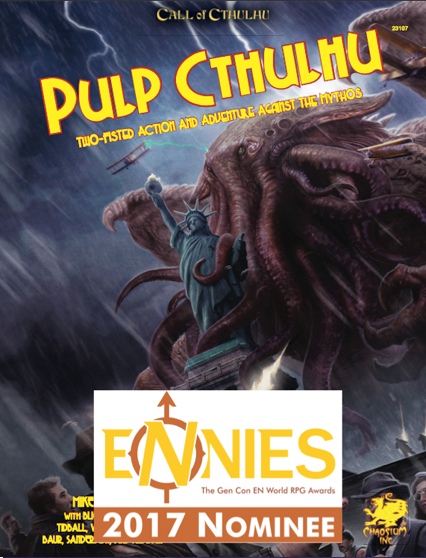 ONE SHOT GAME—Mike Mason presents Elvis vs. Cthulhu (Pulp Cthulhu)
Sunglasses - check. Sideburns - check. Blue suede shoes - check.
There's a whole lot of shaking going on at the Heartbreak Hotel. Will it be good rocking tonight or something far more sinister? A stranger in the crowd provokes suspicious minds and that's when the heartaches begin. Once thing's for certain - TROUBLE!
When Cthulhu calls and the King answers it can only end in gyrating madness!
AT THE BOOTH
Outside panels and Mike's one-shot, you can find Mike and Nick running the Chaosium booth in the trade hall, selling plenty of eerie wonders from the Call of Cthulhu line.
Two-Headed Serpent authors, Paul Fricker, Scott Dorward, and Matthew Sanderson will be dropping by the stand to sign copies. They'll also be running some Call of Cthulhu games during the convention too.
CONVENTION SCENARIOS FROM THE CULT OF CHAOS
There will be Keepers from the Cult of Chaos present to run a range of Call of Cthulhu games for both new and experienced players. Keep a watchful eye out for when game information is released by NecronomiCon!