Facing down the darkness with guns drawn and teeth bared: Down Darker Trails
Posted by Michael O'Brien on 21st Nov 2017
A look beneath the covers of Down Darker Trails by Mike Mason, Call of Cthulhu line editor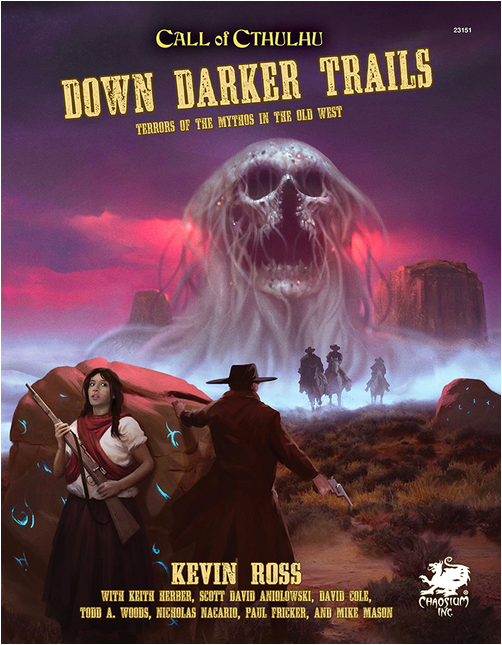 MYTHOS TERROR IN THE WILD WEST
Down Darker Trails is now out in full-color hardback, a setting supplement for Call of Cthulhu. Here, we take a look beneath its covers.
Set in the late 19th century, Down Darker Trails is a stand alone sister supplement to Cthulhu by Gaslight, but unlike the classic late Victorian setting, DDT takes place in the American West, far from gentile society and its industrialization. Here, the land is relatively unknown and filled with all manner of strange wonders and bizarre horrors. It's the era of gold rushes, hidden valleys, crime, and a will to determine a new future.
The tone of Down Darker Trails is intended to be a little different. Foremost is a deliberate choice to emphasize the "pulp soul" of the Old West, gritty adventure rather than pure nihilistic horror. Western heroes are probably more likely to face down the darkness with guns drawn and teeth bared. Thus, the book works equally well for classic Call of Cthulhu as well as with Pulp Cthulhu. Indeed, a revised and enlarged set of Pulp Talents has been included for those wishing to play in a pulp style. Some 43 Talents are available, including new ones like Fast Load, Gunsmith, and Hunter's Blood.
Of course, if pulp is not to your taste, DDT contains a great deal of "classic" material as well, detailing the grittier aspects of the Wild West, as well as new Mythos tomes, folklore, and historical events that could be used to develop mysteries and encounters with the Cthulhu Mythos.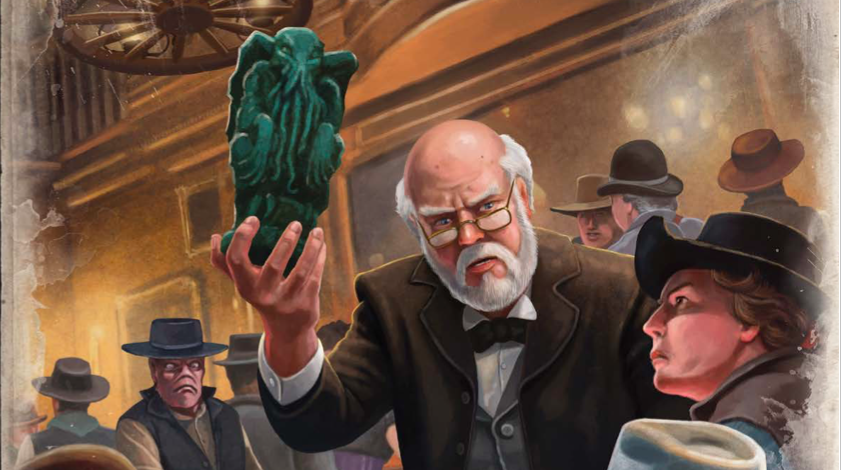 In writing the book, Kevin Ross, took inspiration from Texas author Robert E. Howard, the creator of Conan, Kull, and Solomon Kane. Howard was a friend and correspondent of H. P. Lovecraft and an important early contributor to the Cthulhu Mythos. His stories, including ones like "The Black Stone," "Dig Me No Grave," and "The Hoofed Thing," feature characters more prepared to stand rather than run away when terror come knocking at their door. But, importantly, Down Darker Trails draws inspiration not only from Mythos fiction, it delves into the history and dirt of the real Old West, which contains more than enough strangeness and horror.
One of the great things about playing Call of Cthulhu is the ability to have real historical characters appear in scenarios and campaigns. Within the book a whole array of personages are detailed, allowing the Keeper to draw on these for inspiration and also to place them directly into encounters. Many names will be familiar: Billy the Kid, Sitting Bull, Doc Holliday, Jesse James, Wild Bill Hickok, to name but a few.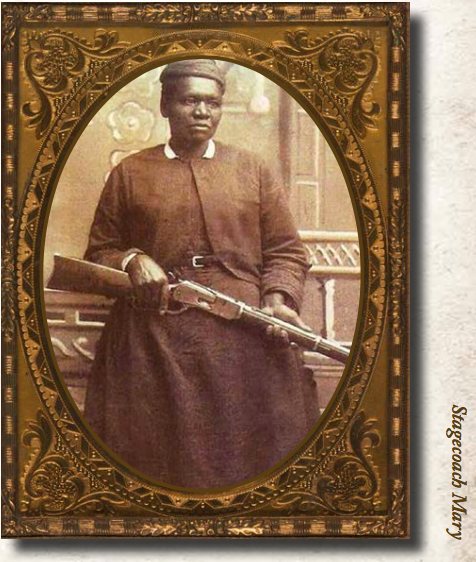 But it's not just the men who ventured into the West to carve a piece of history. There's Mary Fields, a.k.a. Stagecoach Mary, an African-American, who took up a job with Ursuline nuns at St. Peter Mission. Her role was to haul freight and supplies, running a wagon to Great Falls and Helena. Mary was, by all accounts, a strong woman. According to one story, her horses bolted when wolves attacked, causing her wagon to overturn. Mary kept the wolves at bay all night with her revolvers and rifle. At the age of 60 she began working for the U.S. Postal Service (the first African-American woman and second American woman to do so), as she was the fastest of the job applicants to hitch a team of six horses. On the job, her reputation for reliability earned her the nickname of "Stagecoach." She liked to smoke cigars and kept a gun beneath her apron and a jug of whiskey at her side.
Stagecoach Mary's story, as well as those of many others, can be found in Down Darker Trails. If you've not yet saddled your horse and ridden off into the West in search of fame and mystery, now's a good a time as ever!
DOWN DARKER TRAILS
Mythos Terror in the Wild West

Rules: 7th Edition Call of Cthulhu
ISBN: 978-156882-448-2
Page Count: 256
Format: Color Hardcover
Authors: Kevin Ross, Mike Mason, Scott David Aniolowski, David Cole, and Todd Woods
Cover Art: Sam Lamont