Dark Schemes Herald the End of the World
Reanimation of the classic Call of Cthulhu campaign.
The new edition of Masks of Nyarlathotep is a complete revision and updating of this epic multi-part campaign set in 1925, in which steadfast investigators must unravel secrets and battle the minions of darkness in an attempt to stop world-shattering events from destroying humanity.
Get the Omnibus PDF Edition!
Masks of Nyarlathotep has been comprehensively revised and updated for use with Call of Cthulhu 7th Edition, but may also be run with the Pulp Cthulhu supplement.
Global campaign covering seven countries in five continents!
Packed with encounters, side-track adventures, detailed adversaries, geographical information, and more!
Presented in full color, with new artwork, maps and floor plans, and ready to use player handouts.
Appendices collect spells, tomes, artifacts, and travel advice.
Ultimate edition, packed full of advice and tips.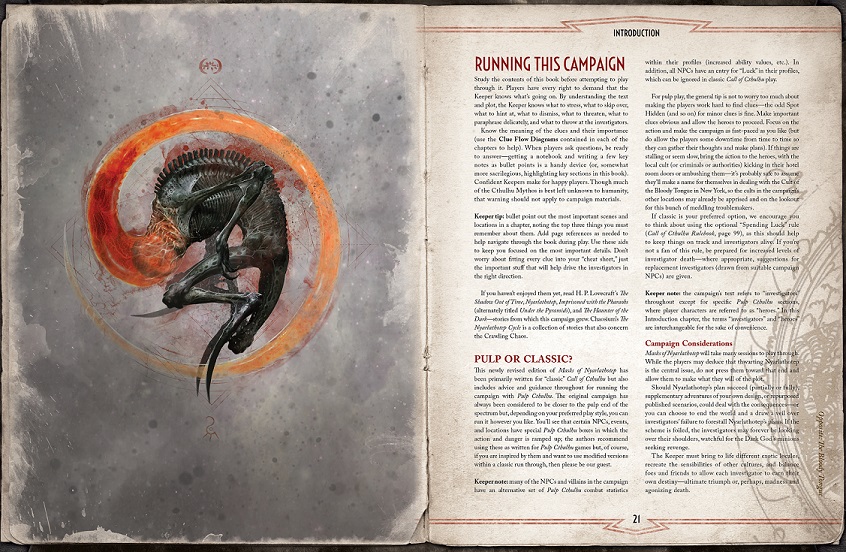 Requires the Call of Cthulhu Keeper's Rulebook (7th edition) to play, and is optionally usable with Pulp Cthulhu.
The original six-chapter campaign featuring adventures in America, England, Egypt, Kenya, Australia, and China have been developed and updated by Mike Mason, Lynne Hardy, Paul Fricker, and Scott Dorward, and feature enhanced and new encounters, sub-plots, and on-point guidance for the Keeper.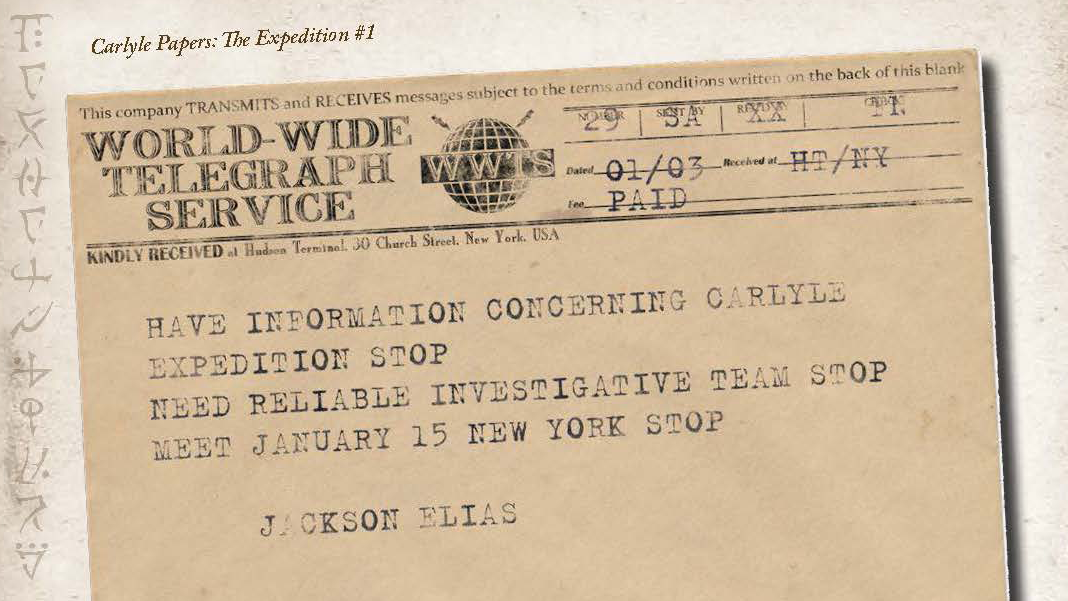 Now written to be playable with either standard Call of Cthulhu or Pulp Cthulhu, the text guides the Keeper and allows for both gritty or action-packed pulp styles of play.
The Introduction chapter features a new foreword by Mask's creator, Larry DiTillio, and goes on to provide an overview of the campaign, it's key players and their goals and differing agendas, and the important locations the investigators will travel to while they seek to understand the mystery unfolding before them. Additional material looks at the dark god Nyarlathotep, his cults, and his role in the campaign. Guidance is also provided on running the campaign, including considerations of historical depictions, pulp or standard play styles, and lethality level (just how much danger should the investigators' face). Rounding things out is plenty of advice on creating investigators for the campaign, replacement characters, and ten ready-to-play investigators for those wishing to dive straight into the adventure.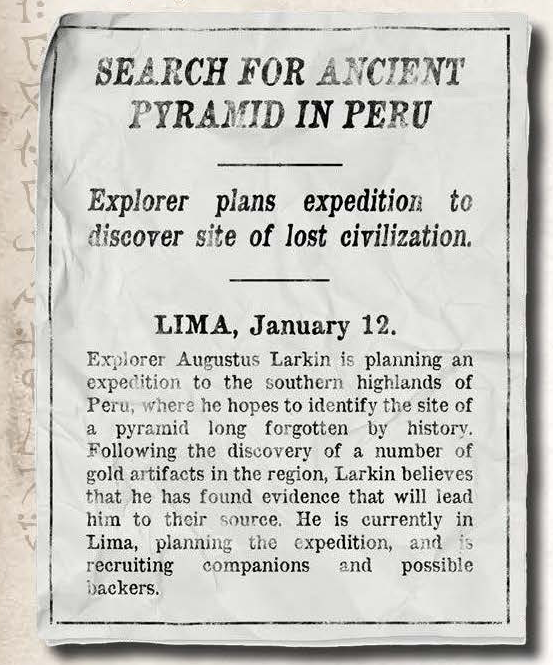 Complete with a Brand New Chapter...
Set in Peru, this new scenario takes place in 1921 and provides an exciting introductory prologue to the campaign, where the investigators meet Jackson Elias, the industrious and charming author, whose researches lead into the globe-spanning mystery. Embarking on an expedition to find a lost South American pyramid, the investigators come face to face with ancient horrors that foreshadow the task ahead.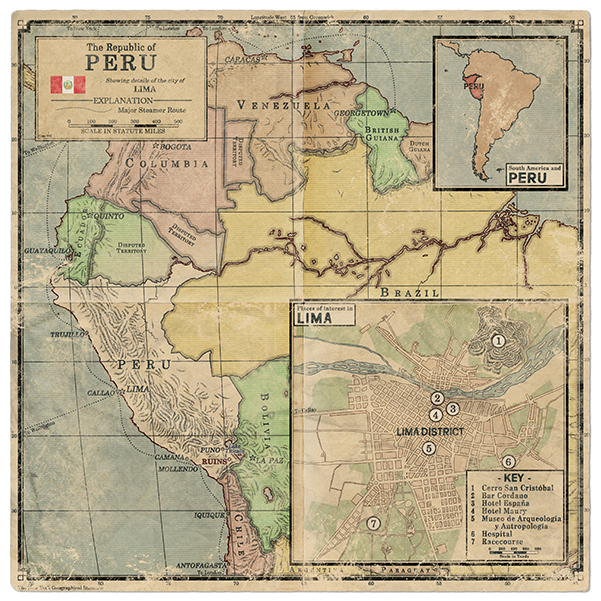 ... and Even More!
And for an added bonus, a Grand Conclusion chapter helps the Keeper to determine just how successful the players have been in tackling the dark schemes of Nyarlathotep's cults, as well as discussing ways to extend the campaign in a variety of ways.
Each chapter has been tirelessly crossed-referenced to help those running the campaign to keep track of the many locations, characters, player handouts, and items thrown up by the players' investigation. With new appendices collecting spells, tomes, and artifacts, running the campaign is easiest it has ever been.
We have added Detailed New Appendices!
Running Masks of Nyarlathotep has never been easier thanks to these extensive appendices:
Travel – detailing travel times across the world, means of transport, rest and recuperation for traveling investigators, travel events, and also guidance for investigators wishing to learn new skills and improve existing ones.
Spells – collects campaign-important spells together for handy reference, with over 30 spells detailed. Including Call the Black Sphinx, the Seal of Nephren-Ka, and the Ward of Anubis, to name but a few.
Tomes – during their investigations the investigators may come across a wide range of Mythos tomes, each bulging with forgotten and dark wisdom. This appendix gathers all of the tomes encountered in the campaign, with over 20 detailed listings, each providing background the tome, the lore within, and relevance to the campaign's plot, be it the dreaded Necronomicon or the abhorred Black Tome.
Artifacts – just as there are numerous tomes to be discovered, there are also plenty of strange artifacts to be found (some useful, some deadly). Here, fifteen artifacts are gathered, from the Mask of Hayama to the Headdress of Eyes, from the Adornments of Nitocris to the very strange Device of Rods, Wheels, and Mirrors.
This Massive PDF Package Includes:
Masks of Nyarlathotep Book - 666-page PDF Omnibus of both volumes
6-page Keeper Screen you can print out to fit over your existing Call of Cthulhu Keeper's Screen
12-page NPC Portraits pack with 105 portraits
85-page Keeper Reference Booklet
96-page Handout Booklet with Maps and Pre-generated Characters
High-resolution images of the amazing covers by Sam Lamont and Rhys Pugh
10 Pre-Generated Characters with Character and Background Sheets
What are you waiting for? Go Save the World!
Downloads for this Product
Play online with our Licensed Partners
Do you play on a Virtual Tabletop? Our partners offer products for playing this scenario online.
Product Configuration
Physical Product Settings
Is Physical Product: [N]
Has Inventory: [Y]
United States: [Y]
United Kingdom: [Y]
Europe: [Y]
Australia: [Y]
Canada: [N]
Is PDF Available: [Y]
PDF Product Name: [RuneQuest: Roleplaying in Glorantha - PDF]
PDF Product Link: [/call-of-cthulhu-keeper-rulebook-7th-ed-hardcover/]
PDF Settings
Has Physical Product: [Y]
Is Physical Available: [Y]
Physical Product Name: [Masks of Nyarathotep Slipcase Set]
Physical Product Link: [/masks-of-nyarlathotep-slipcase-set/]
Product Footer
Footer Name:[ChaosBrandPulpCthulhu]
Version:

7th Edition Call of Cthulhu

Year Released:

2018

Page Count:

666 plus many handouts

Format:

Full-color PDF

Authors:

Larry DiTillio, Lynn Willis, Mike Mason, Lynne Hardy, Paul Fricker, Scott Dorward

Cover Artists:

Sam Lamont, Rhys Pugh

Artist(s):

Caleb Cleveland, M Wayne Miller, Jonathan Wyke, Victor Leza, Eric Lofgren, Petr Stovik, Löic Muzy

Cartography:

Andrew Law, Olivier Sanfilippo

Handouts:

Andrew Law, Nick Nacario

Layout:

Nick Nacario
The Ultimate RPG Campaign

I have run MoN several times, and this newest edition is fantastic. The updates to NPCs and the story have improved tremendously for modern gaming tables. This is the magnum opus of the CoC system, and it is one of the most infamous campaigns in all RPG systems. Give it a try with your group, it's been the best two years of our group's run!

Thousands of game-years ago, or a few decades in the real world, I was first introduced to Call of Cthulhu, and shortly thereafter Masks of Nyarlathotep. That adventure changed my (gaming) life, and I always considered in among the very best campaigns ever created for any game. The Temple of Elemental Evil campaign (and its many ancillary pieces including Slave Lords and Demonweb Pits, as re-written in the middle 80's) is the only thing I can think of that is in the same league, and it is so very different that really Masks stands alone. That said, this new version is much, much better than the original or any of the revisions that have come along over the years. It is a guaranteed recipe for days and days (and days, and days) of fun for any serious-minded CoC group. (If your group is less serious-minded then play it using Pulp rules.) I would go so far as to say that this is the best accessory to any game I have ever seen, and I have played and ran many, many games and have read many more. (I'm a bit of an RPG hoarder and have been for 30 years.) To those that are questioning the (admittedly high) price point – take a deep breath. This thing is huge. It's easily six regular-sized accessories in one. Maybe in the future they could break it down by chapter, but why bother? If you bought one of them, you would have to buy them all for it to make any sense. You wouldn't save any money. So if you think the price is high pool resources in your group to get it and play it, or maybe you just have to save your dimes and nickels and buy it when you can. The hard copy will cost, what, about twice as much? But for a huge slip-case set…it is what it is. On the subject of spending money, if you can afford it the props set from the HPLHS Store is magnificent. I'm sure the props that will come with the printed version will be great, but the add-on takes it to another level. Check it out if you can afford it. If I could I'd give Masks seven stars out of five. It's the best there is.

This thing is massive and it's a work of art. Having played an earlier edition I can say this one is every bit as good and frankly better in some instances. Reviews based on price alone should not be considered in my opinion. Like others I seldom leave reviews but in this instance I feel compelled.

As massive and wondrous as Nyarlathotep himself!

Words cannot describe how excited I was when this was announced, and anxiously awaited the moment I got to read it. I was, simply put, enthralled. Every piece of information, every image, and every single detail of this book is well placed. It's a keepers paradise! I have never had the pleasure of being a player or keeper for the original Masks, and never got around to reading it. I heard many great things, and now I see why. I am very thankful that a version such as this has come into being, and made Masks shine once again. My play group has begun to get their costumes ready, sheets rolled and minds (as much as possible) prepared. The magnificent prop set from HPLHS has been ordered, and the music playlists are in progress. Thankyou Chaosium! You have brought great joy (and madness) to a lot of people!

This is by far one of the best, most intricate and well-written stories I have read. I play both D&D and CoC and I can honestly say this is my #1 pick for best adventure. The art, the maps, the handouts, the way the information is presented (listen up WotC: the book has both PC and Keeper versions of reference maps!!!! INCULDED IN THE BOOK!!!!) Bravo Chaosium, BRAVO. Worth every penny. Cannot wait to own the physical copy.

Comparing this edition with the previous - there is no comparison. The artwork and production value are excellent. It's everything I could want from a fully fledged campaign book, including handouts.

This is an amazing Product

This is the most iconc coc campaign of all times and the 5th edition is a masterpiece. I have The complete mask and the french sans detour box, but I will run the 5th edition for my players no doubt. I just hope that you guys from Chaosium one day bring a new edition of Beyond the Mountains of Madness with this quality. It will be a great addition to the 7th edition material, side by side with the orient express and this masks edition!

The artwork, the layout, the adventure itself looks so compelling and utterly mind numbing... These two books tied into one PDF are HUGE. Maybe not has big as the Great Cthulhu... but very admirable. When you purchase this, not only do you get the almost 700 page PDF, but you also get 10 pre-generated investigators, a keeper screen, all of the beautifully crafted handouts in a 90+ page PDF, a reference PDF for the keeper... So much supporting material! Speaking of supporting material: Are you a Syrinscape user? Chaosium has partnered with Syrinscape to provide background atmospheric audio for Masks! The "soundscapes" are made specifically for this version of the adventure. Want to shock and awe your players? Chaosium has partnered with the H.P. Lovecraft Historical Society for them to provide a Gamer Prop Kit for Masks. This prop kit is out of this world (sorry). Over 130+ physical handouts made with the most realistic materials. The newspaper clippings are actually printed on newspaper! The worse part? Trying to convince my weekly group to devote a few months to play "The Holy Grail" of horror campaigns.

New Edition Is Best Edition!

As stated by others, there is no reason to give this a one star just because it costs a lot of money. It's not like those people who rated one star even read it, as is made very clear by their posts. I normally don't really leave reviews but I am not going to see a bunch of children who give things one star before they even experience it ruin the rating of what is clearly a work of passion. Rant over; begin review. The writing quality is solid. The adventure flow looks good. The artwork is phenomenal, and I fully intend to print a bunch of it out and tack it to the Keeper screen when the appropriate moment occurs. There are lots of ways that this epic campaign keeps itself in order, as there are DOZENS of unique and important NPCs. There is color coding, there are clue flowcharts, there are sidebars for managing things like Pulp rules, there are separate documents for handouts, Keeper reference, and even a GM screen cover, both front and back. This is excellent, and I highly recommend it, having actually paid for it, and read it.