Dark Schemes Herald the End of the World
Reanimation of the classic Call of Cthulhu campaign.
The new edition of Masks of Nyarlathotep is a complete revision and updating of this epic multi-part campaign set in 1925, in which steadfast investigators must unravel secrets and battle the minions of darkness in an attempt to stop world-shattering events from destroying humanity.
Get the Omnibus PDF Edition!
Masks of Nyarlathotep has been comprehensively revised and updated for use with Call of Cthulhu 7th Edition, but may also be run with the Pulp Cthulhu supplement.
Global campaign covering seven countries in five continents!
Packed with encounters, side-track adventures, detailed adversaries, geographical information, and more!
Presented in full color, with new artwork, maps and floor plans, and ready to use player handouts.
Appendices collect spells, tomes, artifacts, and travel advice.
Ultimate edition, packed full of advice and tips.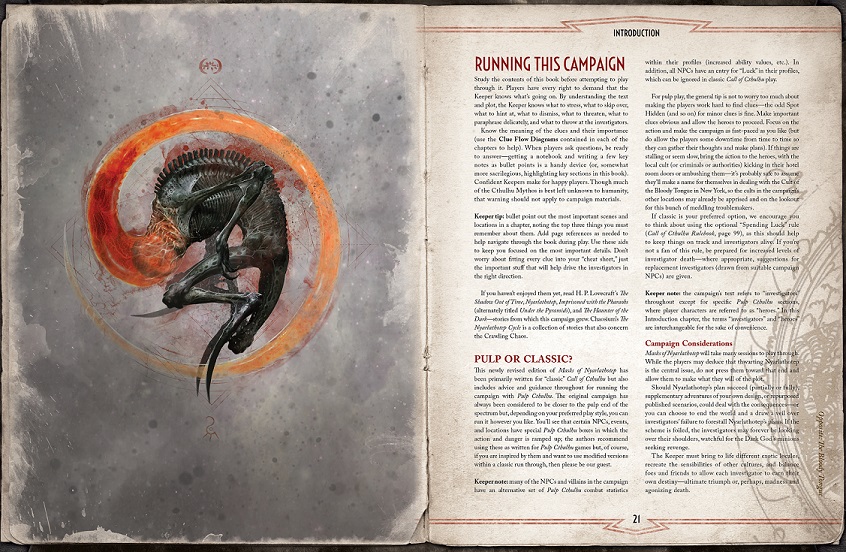 Requires the Call of Cthulhu Keeper's Rulebook (7th edition) to play, and is optionally usable with Pulp Cthulhu.
The original six-chapter campaign featuring adventures in America, England, Egypt, Kenya, Australia, and China have been developed and updated by Mike Mason, Lynne Hardy, Paul Fricker, and Scott Dorward, and feature enhanced and new encounters, sub-plots, and on-point guidance for the Keeper.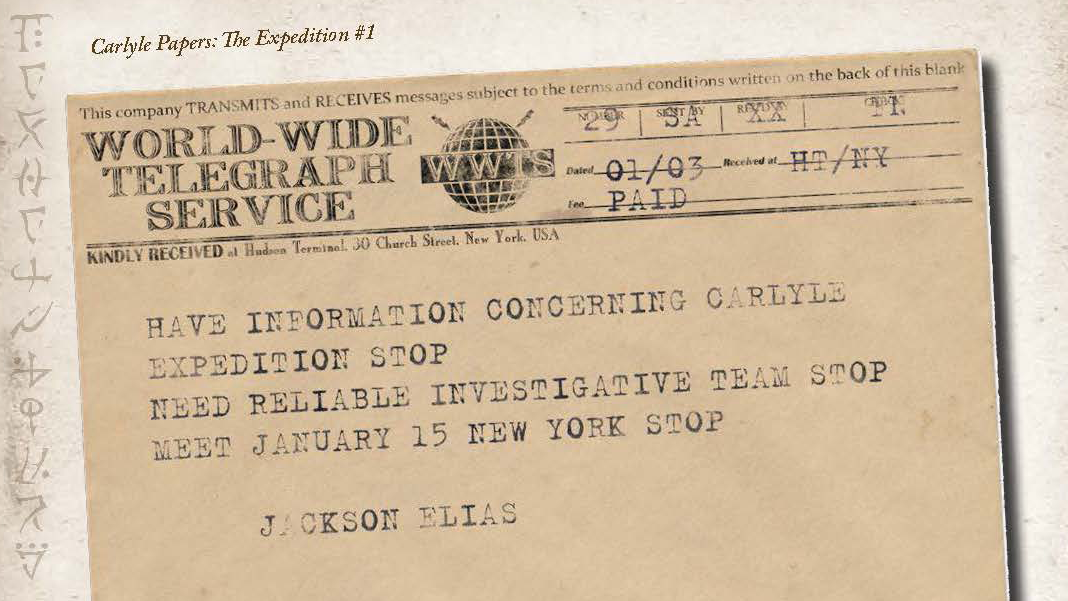 Now written to be playable with either standard Call of Cthulhu or Pulp Cthulhu, the text guides the Keeper and allows for both gritty or action-packed pulp styles of play.
The Introduction chapter features a new foreword by Mask's creator, Larry DiTillio, and goes on to provide an overview of the campaign, it's key players and their goals and differing agendas, and the important locations the investigators will travel to while they seek to understand the mystery unfolding before them. Additional material looks at the dark god Nyarlathotep, his cults, and his role in the campaign. Guidance is also provided on running the campaign, including considerations of historical depictions, pulp or standard play styles, and lethality level (just how much danger should the investigators' face). Rounding things out is plenty of advice on creating investigators for the campaign, replacement characters, and ten ready-to-play investigators for those wishing to dive straight into the adventure.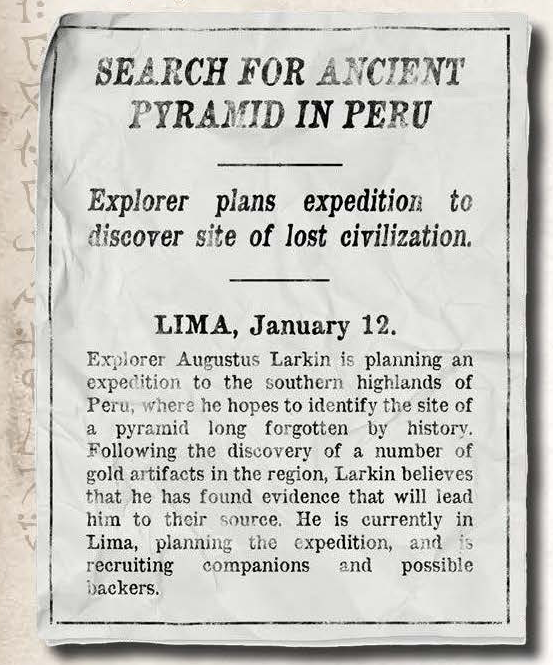 Complete with a Brand New Chapter...
Set in Peru, this new scenario takes place in 1921 and provides an exciting introductory prologue to the campaign, where the investigators meet Jackson Elias, the industrious and charming author, whose researches lead into the globe-spanning mystery. Embarking on an expedition to find a lost South American pyramid, the investigators come face to face with ancient horrors that foreshadow the task ahead.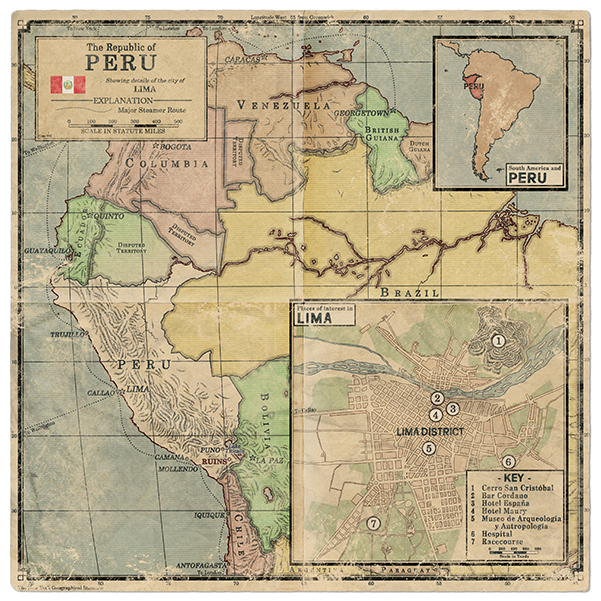 ... and Even More!
And for an added bonus, a Grand Conclusion chapter helps the Keeper to determine just how successful the players have been in tackling the dark schemes of Nyarlathotep's cults, as well as discussing ways to extend the campaign in a variety of ways.
Each chapter has been tirelessly crossed-referenced to help those running the campaign to keep track of the many locations, characters, player handouts, and items thrown up by the players' investigation. With new appendices collecting spells, tomes, and artifacts, running the campaign is easiest it has ever been.
We have added Detailed New Appendices!
Running Masks of Nyarlathotep has never been easier thanks to these extensive appendices:
Travel – detailing travel times across the world, means of transport, rest and recuperation for traveling investigators, travel events, and also guidance for investigators wishing to learn new skills and improve existing ones.
Spells – collects campaign-important spells together for handy reference, with over 30 spells detailed. Including Call the Black Sphinx, the Seal of Nephren-Ka, and the Ward of Anubis, to name but a few.
Tomes – during their investigations the investigators may come across a wide range of Mythos tomes, each bulging with forgotten and dark wisdom. This appendix gathers all of the tomes encountered in the campaign, with over 20 detailed listings, each providing background the tome, the lore within, and relevance to the campaign's plot, be it the dreaded Necronomicon or the abhorred Black Tome.
Artifacts – just as there are numerous tomes to be discovered, there are also plenty of strange artifacts to be found (some useful, some deadly). Here, fifteen artifacts are gathered, from the Mask of Hayama to the Headdress of Eyes, from the Adornments of Nitocris to the very strange Device of Rods, Wheels, and Mirrors.
This Massive PDF Package Includes:
Masks of Nyarlathotep Book - 666-page PDF Omnibus of both volumes
6-page Keeper Screen you can print out to fit over your existing Call of Cthulhu Keeper's Screen
12-page NPC Portraits pack with 105 portraits
85-page Keeper Reference Booklet
96-page Handout Booklet with Maps and Pre-generated Characters
High-resolution images of the amazing covers by Sam Lamont and Rhys Pugh
10 Pre-Generated Characters with Character and Background Sheets
What are you waiting for? Go Save the World!
Downloads for this Product
Product Configuration
Physical Product Settings
Is Physical Product: [N]
Has Inventory: [Y]
United States: [Y]
United Kingdom: [Y]
Europe: [Y]
Australia: [Y]
Canada: [N]
Is PDF Available: [Y]
PDF Product Name: [RuneQuest: Roleplaying in Glorantha - PDF]
PDF Product Link: [/call-of-cthulhu-keeper-rulebook-7th-ed-hardcover/]
PDF Settings
Has Physical Product: [Y]
Is Physical Available: [Y]
Physical Product Name: [Masks of Nyarathotep Slipcase Set]
Physical Product Link: [/masks-of-nyarlathotep-slipcase-set/]
Product Footer
Footer Name:[ChaosBrandPulpCthulhu]
Version:

7th Edition Call of Cthulhu

Year Released:

2018

Page Count:

666 plus many handouts

Format:

Full-color PDF

Authors:

Larry DiTillio, Lynn Willis, Mike Mason, Lynne Hardy, Paul Fricker, Scott Dorward

Cover Artists:

Sam Lamont, Rhys Pugh

Artist(s):

Caleb Cleveland, M Wayne Miller, Jonathan Wyke, Victor Leza, Eric Lofgren, Petr Stovik, Löic Muzy

Cartography:

Andrew Law, Olivier Sanfilippo

Handouts:

Andrew Law, Nick Nacario

Layout:

Nick Nacario
I normally do not leave reviews but it ticks me off to see non-customers using the review system as an attack platform. Its one thing to not like the product you purchased, but just sad to low ball reviews on something you have no intention of purchasing. Quick review: It is very apparent that at lot of time and love went into this new edition/handouts, and the quality is outstanding. Hopefully going to get this to the table in a month or two after I consume all the information. Keep up the good work!

Great product! Ignore low reviews!

I'm one of the first 4 reviewers, and I notice two of the others gave the item very low scores simply because of the price being too high in their view. It seems likely that these people chose to give a low review without buying the product or seeing the content (Which is fantastic and well worth the price.) Don't trust the reviews of people who don't own the product and don't want to pay for it!

As someone who actually bought this (unlike a few above me) the level of quality and workmanship here is astounding. Fabulous reworking of a classic adventure, countless hours of content, beautifully rendered and illustrated, and a worthy successor to an all time great campaign. Money well spent for the CoC enthusiast. You can absolutely see the work that went into it, which easily justifies the price (the same as many video games that will deliver far less long term enjoyment).

I was really looking forward to this but £45.61 for a PDF is ridiculous! I will wait for the physical release and see how much is expected for it. I want to support the game but that price is silly.

Sixty dollars for a PDF?? Nope!