Women in Tabletop Gaming Month #1: Chaosium interviews Linda M. Jones
Posted by Michael O'Brien on 2nd Jun 2018
Lynne Hardy interviews Linda M Jones about her life as an artist in the games industry for Women in Tabletop Gaming Month
Serious ones first:
1. What is your background?
Although I did very well in art initially at school, I ultimately left disappointed with my final results (not being so good at lengthy written coursework, which damaged my grades)—although, in an ironic twist, the staff bought my final work as a gift for the headmaster.
Afterwards, I primarily did art as a hobby or for private clients whilst working in retail. Deviant Art was recommended as a place to put my art online and talk with other artists. Meanwhile, I taught myself Paint Shop Pro, initially, and then Photoshop, which is my preferred software today.
When first learning to paint digitally, I didn't know anything about graphics tablets. I only had a laptop and I would paint with my finger on the touchpad. My poor finger would be raw after doing all the shading and gradients of the full-coloured images. That made for an interesting talking point when I first started chatting to the talented Anne Stokes, which led to a friendship that is still ongoing (we both love dragons!).
Today, I work not just within the gaming industry, but predominantly licensing my art for use on products, such as T-shirts, giftware, and canvases, etc.
2. How long have you been gaming? What attracted you to it in the first place, and how were you introduced to it?
I was in my late teens to early twenties when my sister's then boyfriend ran a game of Dungeons & Dragons, which until then I knew absolutely nothing about. At that time, I had a very limited exposure to fantasy, but was attracted by dragons and elves and various fantastical monsters. Despite that first exposure, it wasn't until I had already started working in the gaming industry some considerable time later that I actually played again, not knowing anybody local to me who played. In this case, it was a game of Doctor Who at a convention, in which I gamed alongside my now husband, who at the time played the entire session as a naked Captain Jack.
3. How did you get into the gaming industry?
Some years after my initial game of Dungeons & Dragons, I discovered R. A. Salvatore's The Lone Drow in a shop and was drawn to Todd Lockwood's stunning cover art. Having bought the book and looked him up, I realised that it was possible to make a living from drawing fantasy. From there, I discovered other fantasy artists, such as Larry Elmore, while generally researching the genre.
Having already started out doing T-shirt designs and private commissions, I was constantly looking at who other fantasy artists worked for. I then eventually attended my first gaming convention to have a chat with various companies, portfolio in hand, and from there took away contact information and ultimately got my first gaming illustration work with Mongoose on RuneQuest.
4. What was the first gaming product you worked on, and in what capacity?
My first gaming illustration was for Mongoose's RuneQuest Monsters II in 2007, where I got to paint my first black and white monsters, a subject which I still particularly enjoy.
5. What was the last gaming product you worked on, and in what capacity?
The last gaming illustration was for Andrew Peregrine's Cabal, for which I provided a detailed full-page black and white piece of art, riddled with hidden references and starring (not for the first time) my weekly gaming group. While not the first product in which both myself and my husband are credited, it does mark the first product in which we are credited since being married.
6. What has been the most challenging gaming product you've worked on, and why? (Alternatively, this could be the gaming product you've learned the most from working on)
My most challenging gaming illustration would probably be my full-colour Dunwich Horror spread for Call of Cthulhu 7th Edition's Investigator Handbook. Although I love horror, I'd not actually read the story, but I really wanted to make it true to the story and recognisable to anyone familiar with it. I read it and very carefully studied the description of the scene, extrapolating as much as I could, but as anyone who has read Lovecraft knows, his monsters are frequently indescribable. While much of this scene had been defined, there was still a lot to capture and a lot of detail to the chaotic mess of his final scene. I received several positive comments from fans who instantly recognised it, even when displayed outside of the context of the book.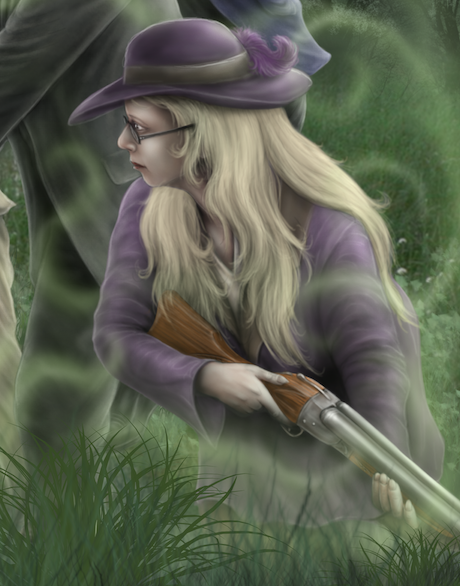 7. What has been the most enjoyable/rewarding gaming product you've worked on, and why?
The piece of art I think was both my most rewarding and enjoyable (and which I have on canvas in our gaming room) was the other spread I did for the Call of Cthulhu 7th Edition's Investigator Handbook of the investigators approaching the cultists in the swamps. This was the first time I had featured our gaming group in an illustration and the first piece of work in which I made a cameo in my own art. My husband, our group's GM, featured not only as the hooded cultist, but also the victim, which I thought was fitting.
As with my Dunwich Horror illustration, I have received a lot of positive comments for that piece; many saying how they can relate to that easily being their own group. Probably the one comment that stands out the most, was from a women with blonde hair and glasses who, pointing at my cameo (at the time, I also had blond hair), saying how refreshing it was to see a woman with glasses illustrated in a gaming product who wasn't a librarian or scientist but instead looked to be equally as capable a fighter—armed with the shotgun no less—as anyone else. As this was actually a picture of me and I had, quite literally, called shotgun, this was something that simply hadn't occurred to me when painting, but I find quite a satisfying facet.
And now for some more frivolous ones:
8. Just how large is your dice and/or stationary collection?
I have about three decent-sized dice pouches and a few dice bricks. I can't help myself, they are so shiny!
9. What is your favourite gaming snack?
Not so healthy, but classic: at a convention, it has to be curly fries (when available!); at home, you can't beat salt & vinegar party mix!
10. What's the most unusual/exotic location you've gamed in? Or that one of your games has been played in?
During my pregnancy, we played a lot of board games in the hospital waiting room. We even received a compliment from a nurse, who said that we had the right idea. This has since become a tradition for any hospital visit during which we anticipate any waiting around. In a twist on this, my water broke with our first child while we were playing Agricola, just after my husband had played the "family growth" action. The game remained on the table until we returned home and finished it on the same day, now with our real-life plus one token.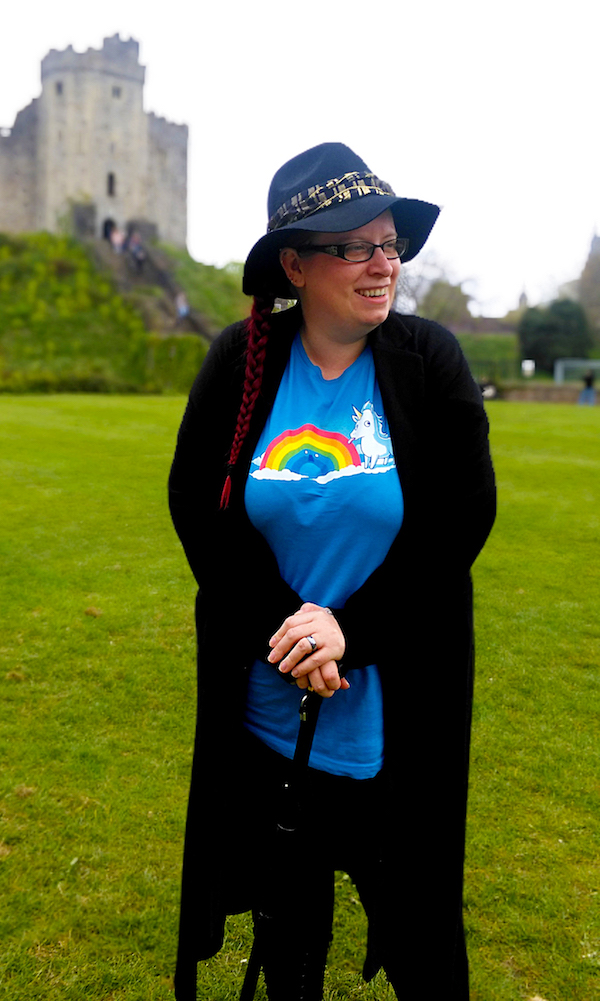 LINDA M. JONES
Linda Jones is a full-time freelance artist based out of Cardiff, with a love for dragons, fantasy, cute animals (such as cats), faeries, and the Gothic. Linda has worked for many companies within a variety of industries, including gaming, apparel, and giftware. She has worked with Chaosium, Cubicle 7, Mongoose Publishing, Triple Ace Games, Postmortem Studios, and Corone Design, amongst others. Her art has been licensed to several companies including The Mountain, Something Different, World of 3D, Nemesis Now, Inked Gaming, Wildstar Hearts, GeckoRouge and Darkside Clothing.
Visit www.sheblackdragon.com to see more of her work.