Miskatonic Monday: plenty of new Call of Cthulhu community content!
Posted by Michael O'Brien on 25th Nov 2019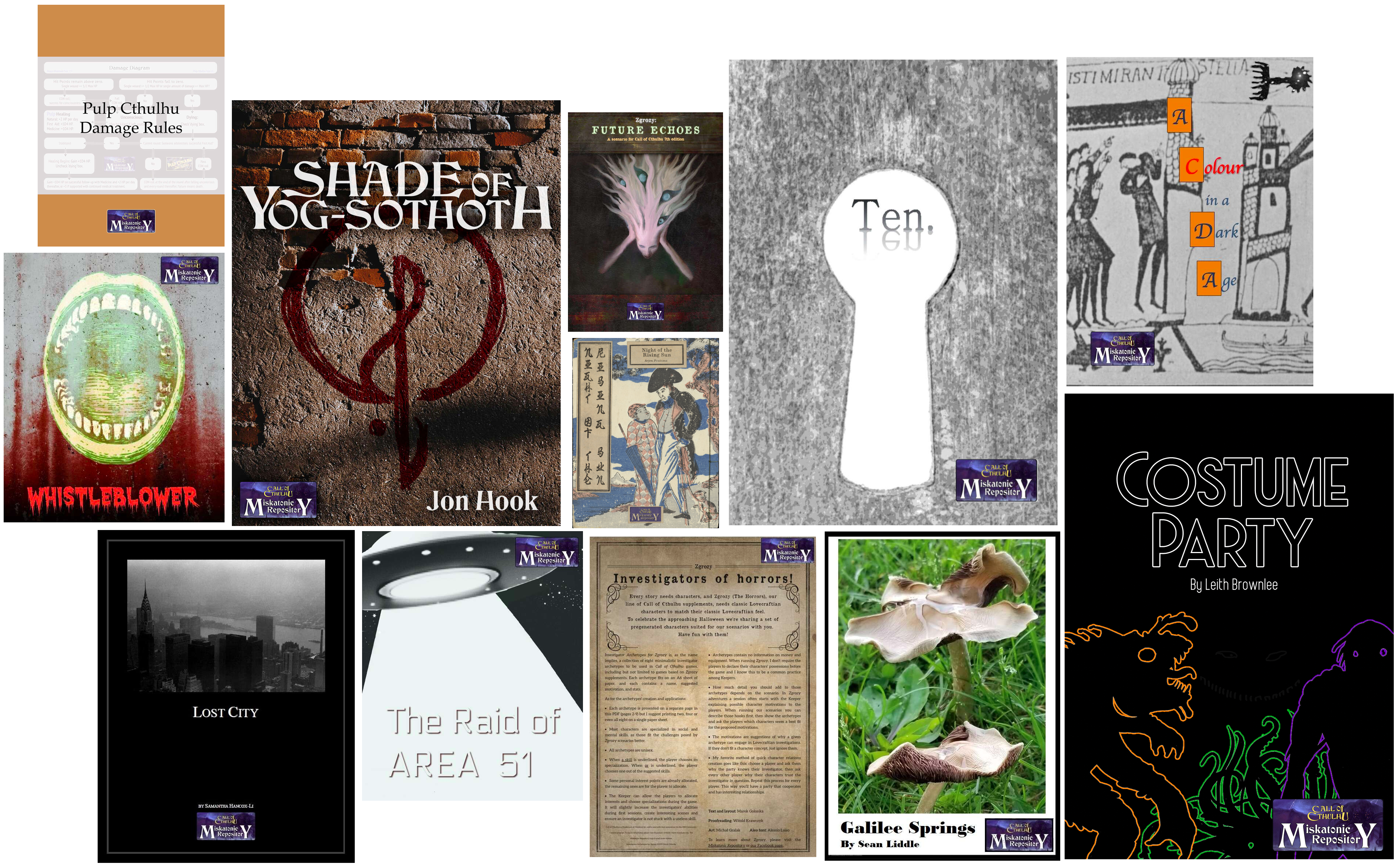 It's Miskatonic Monday, and here's plenty of new Call of Cthulhu community content to check out at the Miskatonic Repository on DriveThruRPG!
A Colour in a Dark Age
Jonathan Baxter ($0.99; 19 page PDF)
Europe in the Middle Ages. Dark lands swept by ignorance, fear, and superstition. This Medieval scenario for 7th Edition Call of Cthulhu plunges the players into the wild forests of Germany where they will encounter warring factions, occult practices, religious persecution, and an other-worldly infestation.
Lost City
Samantha Hancox-Li ($6.99; 54 page PDF)
A story about a black leap of faith, and the abyss waiting for you if you fall. Artists, bohemians, and New York City weirdos: these are the characters of this adventure. The adventure begins as the investigators attend a soiree at the Greenwich Village townhouse of Mr. Leslie Blake, a noted critic who can make or break a budding artist's career.
Night of the Rising Sun
Arjen Poutsma ($4.99; 28 page PDF)
Night of the Rising Sun is a historical Call of Cthulhu scenario set on the island of Dejima, the Dutch trading post that served—for almost two hundred years—as the exclusive link between Japan and the outside world.
Galilee Springs
Sean Liddle ($1.00; 14 page PDF)
Is it just another day in the peaceful perfect little town of Gallilee Springs? You know it isn't... A quick adventure from the early 1970s.
Costume Party
Leith Brownlee (pay-what-you-want, recommended price $1.99; 10 page PDF)
In this Halloween special, a group of 3-5 Investigators must run, drive, and scream around the small fictional 1930s New England town of Green Bridge as they investigate a curse that has transformed everyone around into whoever or whatever their costumes portray.
The Raid of AREA 51 - Time RIP 1
Daniel Profeta ($10.00; 27 page PDF)
Join us, if you dare, for a frightfully good time in unravelling the mystery of Area 51.
Whistleblower - Time Rip 2
Daniel Profeta (pay-what-you-want, recommended price $1.00; 4 page PDF)
This scenario hook takes the "Whistleblower complaint" and gives it a dark comedic twist.
Ten
초ㅑ(pay-what-you-want, recommended price FREE; 7 page PDF)
To get out of this place, please buy the key from the vending machine. A scenario for one keeper and two players.
Also available in original Korean.
Future Echoes - a Zgrozy scenario
Marek Golonka, Witold Krawczyk ($2.49; 14 page PDF)
Anastasia Stillman, a well-born criminal, has recently discovered a ritual that allows to glimpse the future. Using this knowledge, she pulls off a spectacular robbery – but she also becomes addicted to echoes of the future. Now she has a new, occult goal and the investigators will be the only ones to stop her…
This is the English version of the second non-English electrum bestseller on Miskatonic Repository: Zgrozy - Powidoki Przyszłości.
Investigator Archetypes for Zgrozy
Marek Golonka, Witold Krawczyk (pay-what-you-want, recommended price $1.50; 9 page PDF)
Features eight archetypical characters for players to use in Call of Cthulhu games (Artist, Athlete, Dilletante, Doctor of Medicine, Journalist, Librarian, Police Detective, Professor) and advice on personalizing them and creating relations between them.
Also available in original Polish.
Shade of Yog-Sothoth
Jon Hook ($0.99; 4 page PDF)
A brand new spell and creature; a malevolent shadow that eats the victim's personality, until the shade fully consumes that personality and replaces it with their own.
Pulp Cthulhu Damage Insert,
Paul Zane (pay-what-you-want; 1 page PDF)
A Keeper's Screen insert to replace the core damage rules with the Pulp Cthulhu damage rules.
Plus:
In Italian:
In Korean:
In Polish:
In Spanish:
WHAT IS THE MISKATONIC REPOSITORY?
Are you a Keeper looking for new scenarios and story elements? A player looking for something mysterious to spark a character idea? Is your group looking for eerie ideas to use in your game? The Miskatonic Repository is where you can find —and create —self-published material for the Call of Cthulhu roleplaying game.
Interested in submitting content? Go here to see the guidelines, and here for the additional guidelines. No extra license is required. Get started and download the MS Word template or the InDesign template for Miskatonic Repository submissions, and check out our other free creator resources.