Unnatural Selections: Recent Chaosium Reviews of Note #7
Posted by Michael O'Brien on 27th May 2018
Chaosium licensees produce releases that supplement and support our own.There is a huge and unslaked demand for quality Call of Cthulhu RPG and related material, and we are fortunate to be able to collaborate with so many talented and diligent creators to help meet that demand.
Here are some recent reviews of licensed products well worth your time!
THE BROTHERHOOD OF THE BEAST (HP Lovecraft Historical Society)
"How does this radio talkie tie into gaming? BHOTB is based on the classic globe trotting Call of Cthulhu RPG campaign, The Fungi from Yuggoth (later to be renamed and republished as The Day of the Beast)... Branney and Leman have flawlessly adapted the scenario into an enjoyable adventure filled with many 'tips of the hat' to its gaming roots."
—Games Vs Play reviews the audio drama The Brotherhood of the Beast, available from our friends The H.P. Lovecraft Historical Society (who BTW are also working on a six hour radio play adaption of Masks of Nyarlathotep! And speaking of the Crawling Chaos, check out Games Vs Play "exclusive" interview with Nyarlathotep himself...)

HUDSON AND BRAND (Stygian Fox Publishing)
Rolling Boxcars says "Gaslight never looked so good... a great base of operations for your next Gaslight campaign" about Stygian Fox's licensed Call of Cthulhu release Hudson and Brand, Inquiry Agents of the Obscure.
Hudson & Brand was successfully Kickstarted by Stygian Fox last year and is now available in general release via DriveThruRPG in various formats.
HARLEM UNBOUND (Darker Hue Studios)
Reckoning of the Dead describes Darker Hues' Harlem Unbound, set in 1920s Harlem, as "a brave, ambitious project that deserves all of your–all of our–attention, and demonstrates the powerful political work that tabletop games can accomplish".
Harlem Unbound is available direct from Darker Hues Studios, and on DriveThruRPG.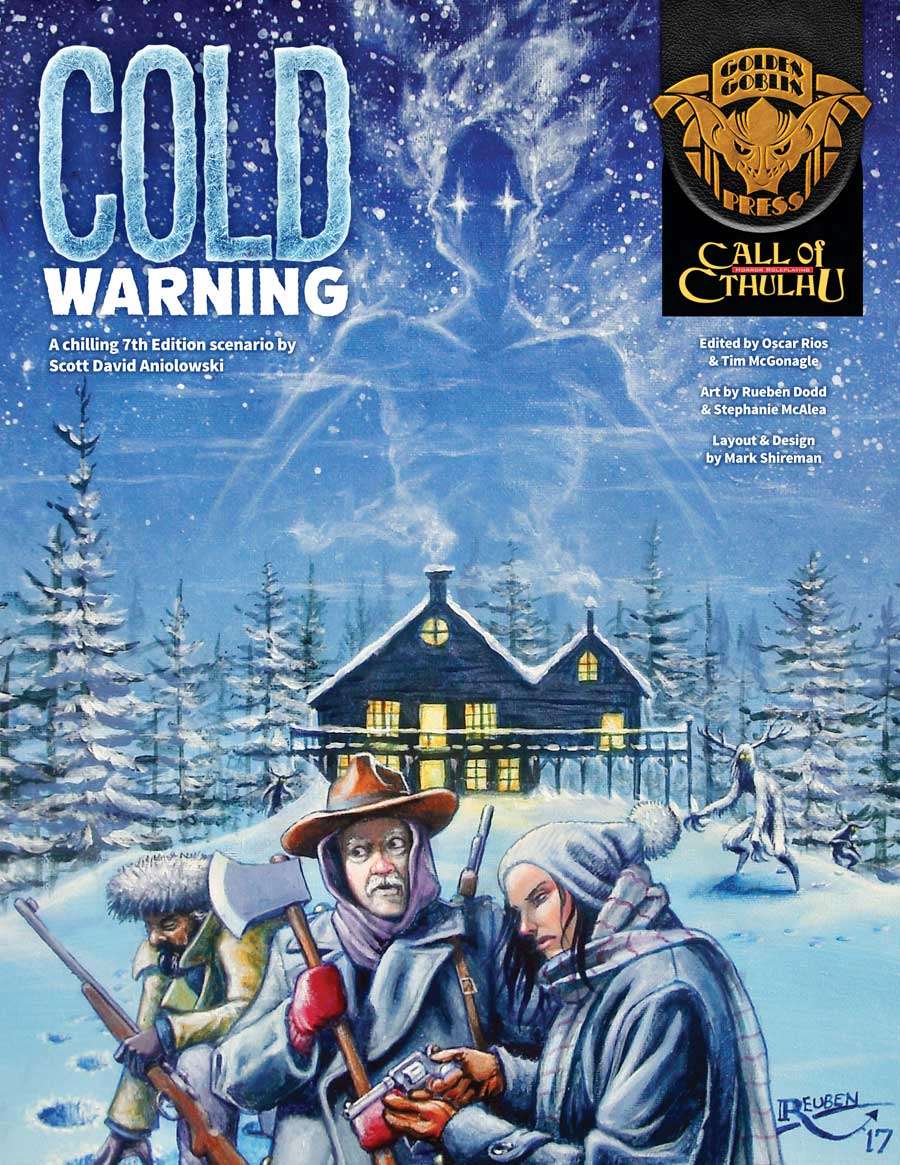 COLD WARNING (Golden Goblin Press)
"Whether as a chilling one-shot or a cold and bleak confrontation as part of an ongoing capture, Cold Warning manages to pack a lot into its few pages", says Reviews from R'lyeh.
Cold Warning was originally intended to be included in a never-published Chaosium supplement a quarter of a century ago, and then was under consideration by Keith "Doc" Herber's Miskatonic River Press. We are pleased this work has finally been published by Chaosium licensee Golden Goblin Press after a successful Kickstarter! It is now available as a softcover color book and PDF from DriveTruRPG.
SUN SPOTS (Weird 8)
Seth Skorkowsky unboxes Weird 8's Sunspots, and likes what he sees. We ourselves think "Doc" Herber would be proud of this release too, which had its genesis ten years ago under his editorial guidance. This is another successful Call of Cthulhu licensed Kickstarter now available in general release via DriveThruRPG.
.
MASKS OF NYARLATHOTEP FOR ELDRITCH HORROR (Fantasy Flight Games)
Fantasy Flight Games has released its Masks of Nyarlathotep expansion for the Eldritch Horror boardgame. ICv2 writes that the expansion:
"brings the experience of that classic adventure campaign [Chaosium's Masks of Nyarlathotep] to the tabletop, allowing fans of Fantasy Flight's board game to confront the same challenges. In addition, the expansion set adds some new mechanics to the game. Now each investigator can pursue their own individual "Personal Story" during the game. These stories reveal more details of the character's history, while possibly giving them new advantages to help, or unfortunate consequences to contend with."
On that, The Pit Stop likes the 110 card deck of new investigators (and the fact your characters can go to Sydney to improve their cricket game by playing with Don Bradman):