Climbing the Pegasus Plateau! The new release for RuneQuest: Roleplaying in Glorantha
Posted by Michael O'Brien on 14th May 2020

By Jason Durall
RuneQuest Creative Director
At Essen 2018, after seeing the tremendous feedback to the Call of Cthulhu Starter Set, the Chaosium team decided that it was time to put the RuneQuest Starter Set into development, a project we had long since wanted to do.
The goal was to present an all-in-one boxed set introducing RuneQuest to a new generation of players, those who might not have otherwise have heard of the game, or had always wanted to try it but might have found it daunting. The reasons to do a starter set are obvious. The RuneQuest Quickstart & Adventure was hugely popular and helped introduce the new edition of the core rules.
One of RuneQuest's greatest strengths—and an admitted weakness—is that it is not casual, and sometimes challenging for new gamemasters. The percentage of people who get a taste of RuneQuest and then jump into it wholeheartedly is quite high, but we always ask ourselves is "What happens after new players get excited about RuneQuest and Glorantha? Where do they go next?"
To that end, I planned a collection of short scenarios suitable for starting players and gamemasters. Ideally, these should be playable in a single session, and do not require extensive prior knowledge of the setting. They could be played with new adventurers, or with the pregenerated adventurers from the core rulebook. The collection was pushed ahead of the RuneQuest Starter Set in development because it was important to have it available for new players who have just purchased that and want to keep playing in Glorantha.
I wanted a diverse group of contributors, including people new to Glorantha, to best spotlight the many different approaches to playing RuneQuest and in Glorantha. I cast the net wide when it came to contributors: some people who I'd worked with on other game lines, some people who'd inquired about writing RuneQuest materials, and a few who submitted materials cold, with no query letter.
Jeff Richard provided a list of suitable locations to the writers. A couple of contributors suggested their own. A few entries didn't make the final product for various reasons—too similar to another adventure or simply too brief to cover the content adequately. Those will see print elsewhere.
In all, the experience seemed to be an enjoyable one, at least as far as the creative team has indicated. When asked for feedback on their experience working on The Pegasus Plateau & Other Stories, here are some of their replies:
Helena Nash, author of "The Rattling Wind"
I've been playing and writing roleplaying games since the early 80s, but "The Rattling Wind" was my first chance to write something for RuneQuest, so I was more than a little daunted by the prospect. Even more so when I learnt that the adventure would be first published as part of the #WeAreAllUs celebrations of Greg Stafford's life and work.
There's a lot of history in RuneQuest's world of Glorantha. Fifty-plus real-life years of material from the minds of Greg and others, if I'm not mistaken. So since this was intended as an introductory adventure for players new to the game world, I decided to set it in an isolated hamlet far from the famous cities and villages that others have already covered in classic adventures as Apple Lane. Likewise, I chose to keep the number of antagonists relatively small, and concentrated on two of my favourite fantasy RPG concepts: vengeful undead and belligerent ducks.
The plot of "The Rattling Wind" contains large helpings of both mystery and horror; themes which feature strongly in certain other Chaosium RPGs of course, but also draws on the trope of 'supernatural threat to small village' which formed the backbone of many a beloved Pendragon game in my youth. And, as the original art for "The Rattling Wind" (by the talented Sarah Miller) indicates, I was also inspired by classics like The Legend of Sleepy Hollow, Robert E Howard's "Black Colossus", and countless heavy metal albums. Hope you enjoy it.
Steve Perrin, author of "The Pairing Stones"
It's a great opportunity for me to finally reveal the true secrets of the Pairing Stones! Greg Stafford made a point of naming geographical features of Glorantha after the folks who test played his games. For the Nomad Gods boardgame, the first appearance of Prax in Glorantha Lore, I and several friends were so immortalized. Steve Henderson (who went on to contribute to RuneQuest and several other projects) became Hender's Ruins. Clint Bigglestone became the Biggle Stone, Jeff Pimper (who I had done All the Worlds Monsters with) became Pimper's Block. My wife Luise contributed artwork to Chaosium projects and I wrote for them (this was just before I became an employee) so we became the Pairing Stones. I've had a soft spot in my heart for this formation ever since, so of course it became the focal point for my story in this volume.
Steffie de Vaan, author of "The Pegasus Plateau"
I adore the spiritual aspect of Glorantha and was keen to explore that in the Pegasus Plateau. I don't want to give too much away, but the adventure is all about celebration and unity. I think groups will have a lot of fun with it.
Rachael Cruz, author of "The Ruin on the Stream"
One of the very first RPGs I brought home was the RuneQuest Deluxe 3rd Edition boxed set. Tantalized by the richly-painted adventurers and wondering at the faded ruins they were exploring, is it any surprise that I leapt at the chance to create my own?

I loved that the "Ruin on the Stream" had been just a name on a physical map, but within Glorantha, its history had never been fleshed out. It was a perfect chance to take the mystery from the physical object and turn it into a mystery to be solved in Glorantha itself.

There are many secrets to be found in "The Ruin on the Stream". I really hope players have as much fun discovering them as I had creating them!
Sarah Miller, artist
It's so exciting to see the book together with all the other amazing artists and contributors. So happy to be a part of the project!
Dimitrina Angelaska, artist
The book looks great, It's an honor for me to be part of this project. I really like how all the illustrations, together with the graphic design, and the minor details - frames and everything bring this fantasy world to life!
And so, here we have The Pegasus Plateau, a collection of adventures suitable as an introduction to Glorantha. Welcome (back) to Glorantha! Stick around… it will only get more interesting.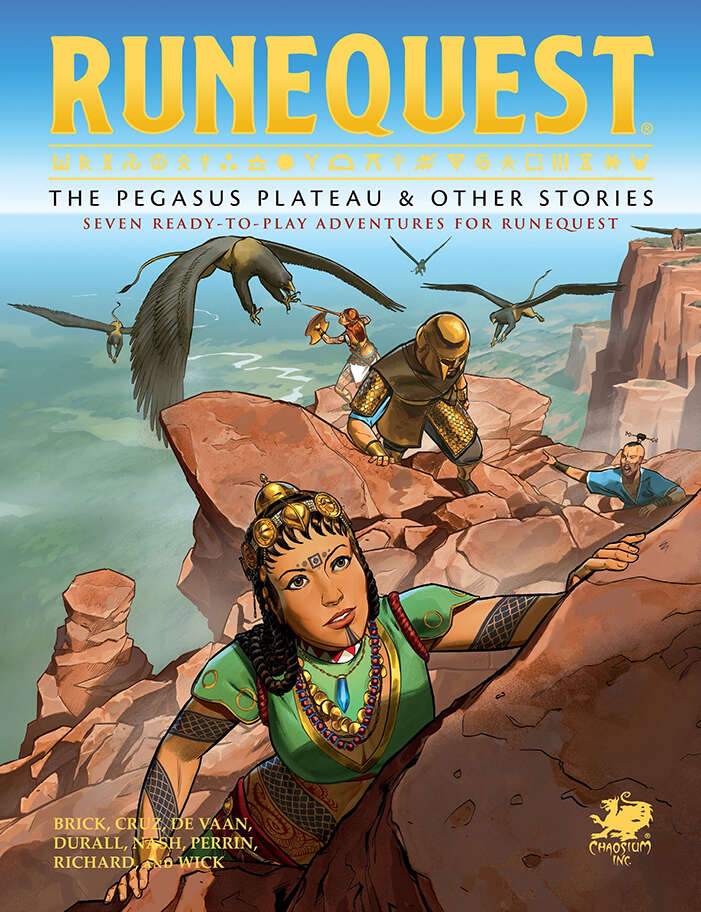 THE PEGASUS PLATEAU & OTHER STORIES
Seven Ready-to-Play Adventures for RuneQuest.
160 pages, full color.
Available from
—Chaosium
—and DriveThruRPG.
*Buy the PDF direct from Chaosium.com now and get the full price of the PDF off the hardcover print version when it is out later this year.
Art shown here:
'The Bone Chariot' by Sarah Miller
'Pairing Stones - the Pack Train' by Dimitrina Angelaska
Cover art by Andrey Fetisov