Play the Old Classic Adventures, including one never printed before
The Old School RQ Source Pack - consists of four of the earliest RQ1/RQ2 supplements published: Militia & Mercenaries, Scorpionmen & Broos, Trolls & Trollkin and the Balastor's Barracks scenario. It also includes The Sea Cave, an unpublished Gloranthan scenario written by Greg Stafford back in the same era. Each is 24 pages in length with a color cardstock cover.
The bundle includes:
Balastor's Barracks - Travel into the old ruins of Pavis to recover the weapon of a fallen hero.
Creatures of Chaos - A statted list of broo,scorpionmen, and other chaos horrors to throw at your players.
Militia & Mercenaries - Friends or foes? Use these statted characters in your RuneQuest campaign.
Trolls and Trollkin - Choose from the list of dangerous Uz and sneakly Enlo stats to bring into your game.
The Sea Cave - A never-before-released adventure written by Greg Stafford himself.

What the Critics Say
"An unpublished gem"—Reviews from Rl'yeh, reviewing Greg Stafford's The Sea Cave.
"…cracking fun, with tense, spectacular moments, (and) plenty of atmosphere."—The Grognard Files about The Sea Cave.
"A hidden gem of RuneQuest history that has been rediscovered and shared for all."—Bud's RPG Review (video review of The Sea Cave).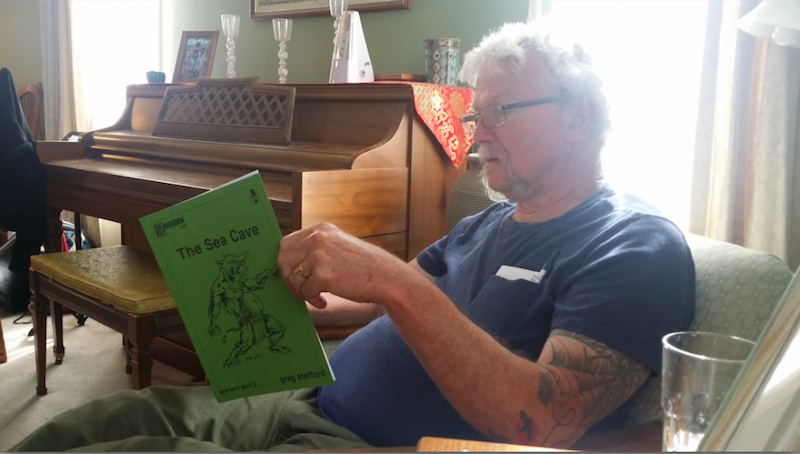 Greg Stafford, reacquainting himself with his own "lost treasure" from 1979.
Product Configuration
Physical Product Settings
Is Physical Product: [N]
Has Inventory: [Y]
United States: [Y]
United Kingdom: [Y]
Europe: [N]
Australia: [N]
Canada: [N]
Is PDF Available: [Y]
PDF Product Name: [Argan Argar Atlas Softcover - PDF]
PDF Product Link: [/argan-argar-atlas-pdf/]
PDF Settings
Has Physical Product: [Y]
Is Physical Available: [Y]
Physical Product Name: [RuneQuest Old School Resource Pack]
Physical Product Link: [/runequest-old-school-resource-pack/]
Product Footer
Footer Name:[ChaosBrandRuneQuestClassic]
Runequest Old School Resource Pack - PDF

Fantastic value PDF of older Runequest materials. Great way of inserting some old fun into the new RQG campaigns.