Women in Tabletop Gaming Month #2: Chaosium interviews Michelle Lockamy
Posted by Michael O'Brien on 4th Jun 2018
Lynne Hardy interviews 13th Age Glorantha and RuneQuest artist Michelle Lockamy for Women in Tabletop Gaming Month
Serious ones first: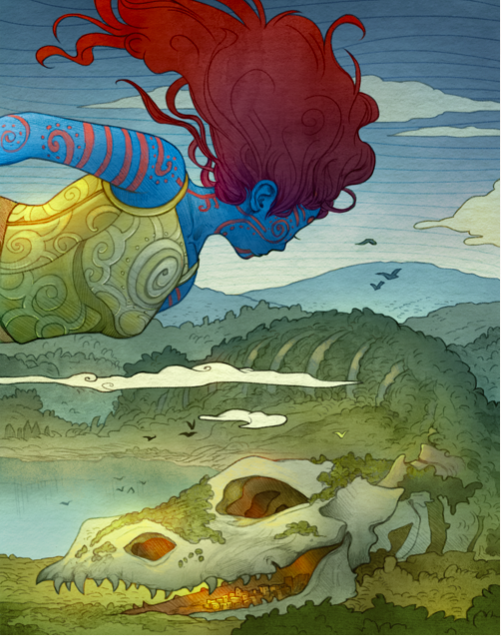 1.What is your background?
I studied illustration and business at Moore College of Art and Design. Now I work as a gallery manager and exhibition coordinator at a Philadelphia gallery, and do freelance illustration on the side. Personal projects get snuck in during down time. Lately, I've been letting my artistic voice loose by developing a few stories close to my heart.
2.How long have you been gaming? What attracted you to it in the first place, and how were you introduced to it?
Household games like Scrabble, Monopoly, and The Game of Life were part of my childhood. They were fun, but eventually I craved something with more world building. Tabletop roleplaying games would have been fabulous if I had been aware of them at the time! But, I got my first real introduction to gaming with the Nintendo 64. I still have the old thing sitting in my closet.
3.How did you get into the gaming industry?
When I went to my first Spectrum Fantastic Art Live convention after graduation, I was exposed to game art in ways that I had never seen before. It was here that I met a contact who liked my work. She decided to give me a chance on an upcoming project.
4.What was the first gaming product you worked on, and in what capacity?
The first product I worked on was a card game by Fantasy Flight Games. I got to illustrate a few of the cards. They even used one of these illustrations on the packaging, which was a pretty neat surprise!
5.What was the last gaming product you worked on, and in what capacity?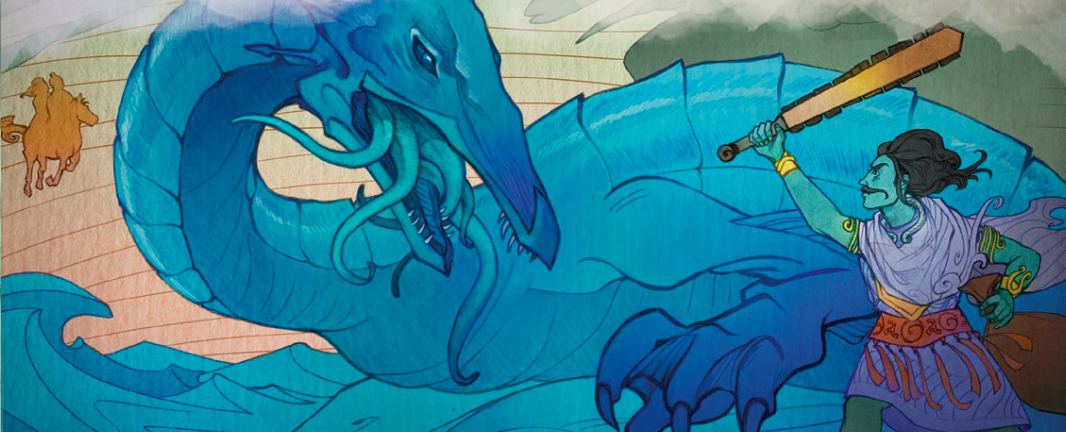 Chaosium's RuneQuest book was the last product I contributed to. I got to work on art that deals with the Otherworld.
6.What has been the most challenging gaming product you've worked on, and why? (Alternatively, this could be the gaming product you've learned the most from working on)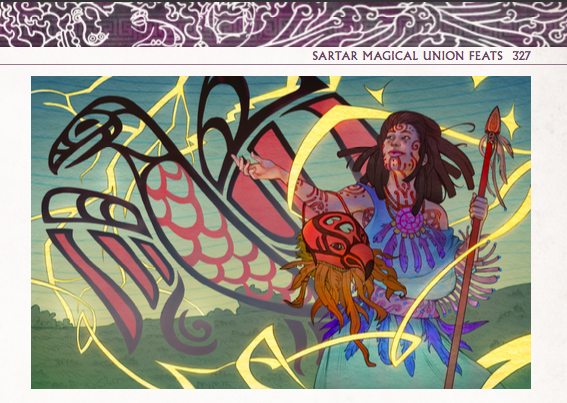 The 13th Age Glorantha book was the most challenging and rewarding product to date. I had previously worked in the Glorantha universe on the Six Ages game, so I was familiar with the different cultures and mythology that went into it, but 13th Age took it to a whole new level. It was like my Visual Anthropology class all over again! That said, I learned a lot from the diversity to be found in Glorantha, and I think my personal work has greatly benefitted as a result. Plus, it was fun getting to know the characters.
And now for some more frivolous ones:
7.What is your favourite gaming snack?
Almonds (they're guilt free). But if I can get my hands on a bag of chocolate, all bets are off.
MICHELLE LOCKAMY
Michelle Lockamy is an illustrator based in southern New Jersey, sailing between the realms of kidlit and fantasy illustration. She takes inspiration from art history, nature, and classic fairytales to help people remember the beauty that they can find in this world. She is a firm believer that adults need stories to remind them of their childhood, just as children need stories to help prepare them for adulthood.
Her work has appeared in Infected by Art, Cred Philly, and the Writers of the Future anthology. It has also been in odd places like on the cover of a convocation program, as a street banner, and even as a window display in a department store.
Clients include: Tethered by Letters, Space Between Entertainment, Chaosium LLC, A Sharp LLC, Fantasy Flight Games, Odinseye Publishing, and independent authors.
Visit michellelockamy.com for more of her work.