We've sold out all our events at Gen Con, so we now need more GMs!
Posted by Michael O'Brien on 12th May 2018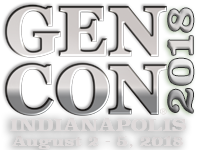 With 80 days to go to Gen Con 2018, Chaosium has 3/5ths of the GMs we need to cover out commitment. That's right on par with our recruitment efforts last year. Awesome!
Of our 500+ table-hours, we sold nearly every ticket in just three days after event registration opened—all but two events now are down to either one ticket or sold out. That's over 160 sold out events!

We work with YOUR schedule. Sign up for games,volunteer with us, and then tell us your availability. We'll work with you to get you one session or three sessions that fit your schedule. And, as you probably know, three sessions gets you a free GM badge for the event. (Remember, Gen Con sold out last year!)
Just contact Todd@Chaosium.com to join the team!