Unnatural Selections #41 - high praise for our community content releases
Posted by Michael O'Brien on 30th Mar 2021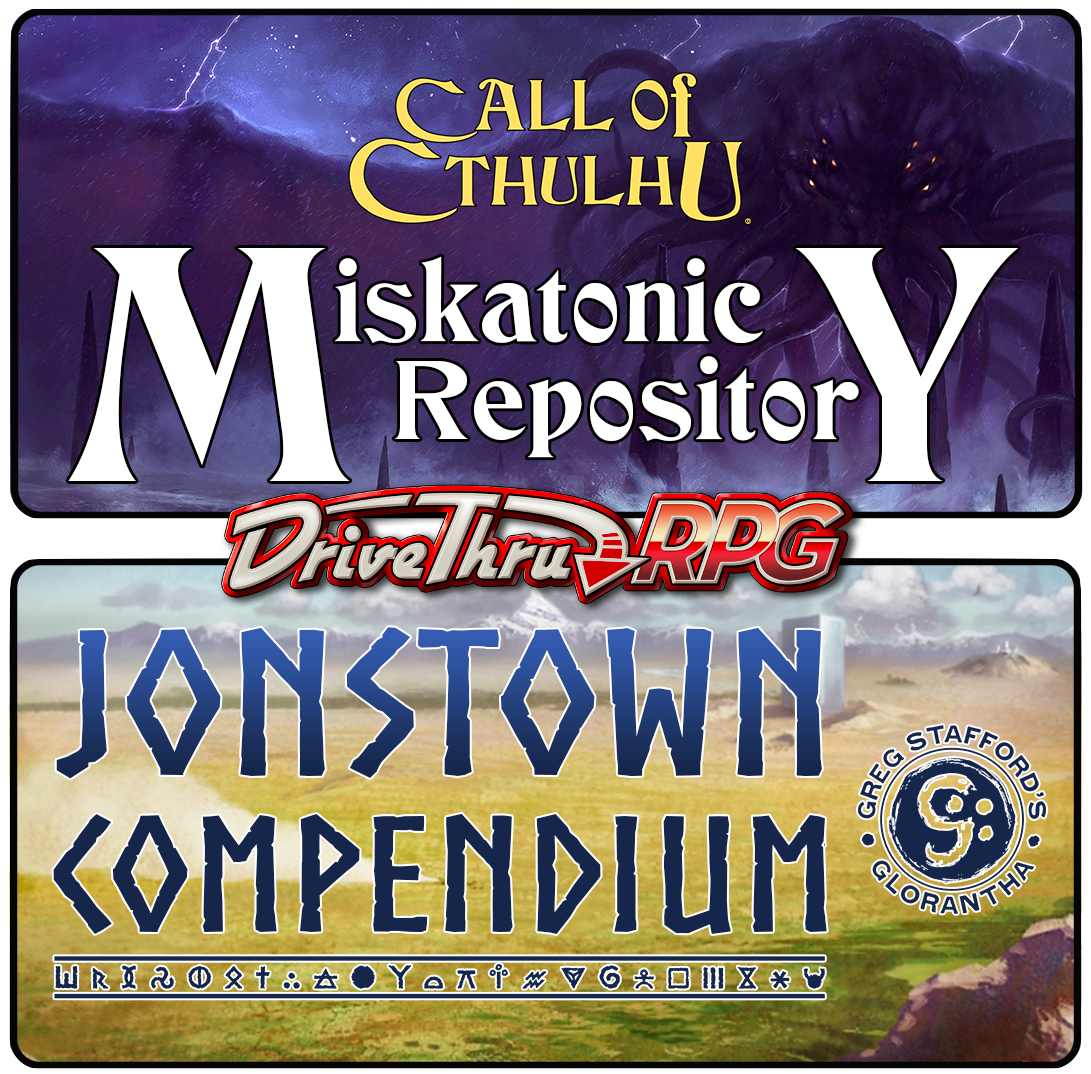 While we're of course pleased to see our official releases receive critical and popular praise, it's positively delightful to see releases by independent creators in our community content programs at DriveThruRPG getting great reviews in the wider gaming press too! Here are some of them: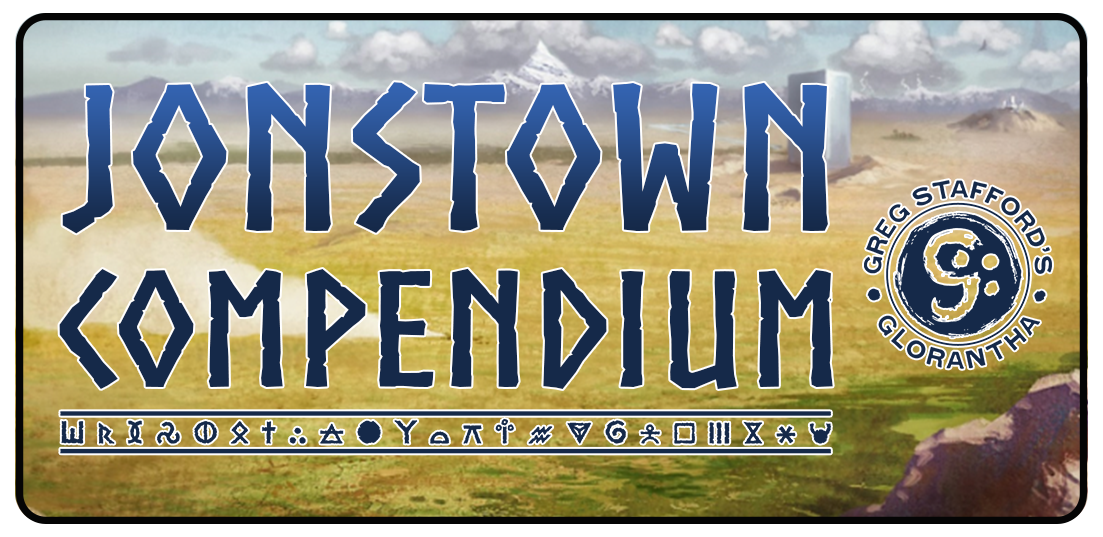 JONSTOWN COMPENDIUM (RuneQuest-Glorantha)
Six Seasons in Sartar (Gold Bestseller)

"A fantastic jumping-off point for the larger world of Glorantha. Players with doubts about Glorantha will be engaged in the narrative, entrenched in Glorantha, and desperate to continue by the conclusion of the story."— Imp Familiar.
"A superb treatment of community, myth, and tragedy in Glorantha, grounding the players and their characters in the community, pulling them into the myth, and having them play out the tragedy. Whilst the tools and the discussion are undeniably useful, as a campaign starter it has no equal—it should be one of the first titles a prospective Game Master of RuneQuest: Roleplaying in Glorantha should purchase from the Jonstown Compendium." — Reviews from R'lyeh.
A Rough Guide to Glamour (Gold Bestseller)
"5 Stars: This could have been just another roleplaying sourcebook. At the hands of Gidlow, Brooke, Hagen, and others it still would have been brilliant. But instead of taking that staid, traditional route, the group did something entirely different and better... Overall, a wonderful bit of Glorantha lore, highlighting the Lunar Empire as seen by its biggest fans in the '90s. Oh, and it's wonderfully produced with beautiful art and great design. Get the POD, it's a great looking hardcover." — Shannon Applecline, DTRPG Featured Reviewer.
Valley of Plenty (Electrum Bestseller)
"Another great introduction to roleplaying in Glorantha, which takes both players and their characters step-by-step into the setting, its mythology, and drama." — Reviews from R'lyeh.
Sandheart - Tales of the Sun County Militia Vol 1 (Electrum Bestseller)
"An example of how it is getting harder to tell the Compendium and the Chaosium books apart [and] marks another step forward not only in the development of the Jonstown Compendium but in the entire Gloranthan Renaissance... What we have now is an embarrassment of riches, with better and better Gloranthan material coming at us every day. Sandheart is a worthy successor to Sun County, and it looks to be just the beginning." — Andrew Logan Montgomery.
Jorthan's Rescue Redux (Silver Bestseller)
"The simple premise is perfect for beginners in the world of Glorantha... very easy to insert in an ongoing campaign." — El Runeblogger.
The Dregs of Clearwine (Silver Bestseller)
"You will not be disappointed with what is inside." — EN World.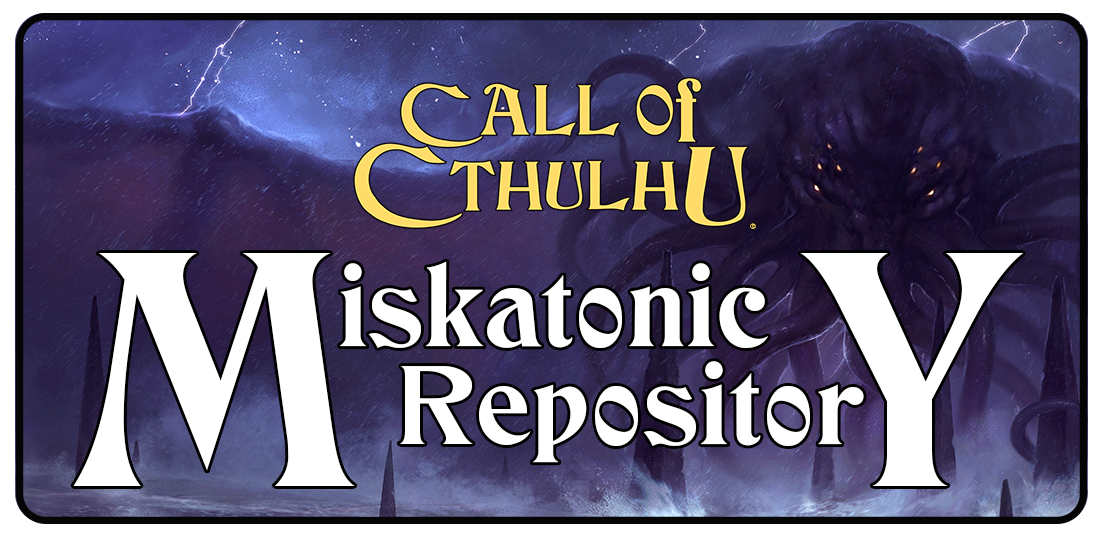 MISKATONIC REPOSITORY (Call of Cthulhu)
Full Fathom Five (Silver Bestseller)
"If you're looking for a different type of scenario to pitch to your players, Full Fathom Five should be on the top of your list. The unique setting, strange murder plot mechanism, and fast-paced scene structure make it all worth it!" — Rolling Boxcars.
The Mummy of Pemberley Grange (Silver Bestseller)
"Your purchase includes an 11-page PDF, a pair of well-rendered hand-outs, 5 pregenerated 1920 Call of Cthulhu characters ready for play, and really fantastic blueprints of Pemberley Grange, the setting. A Keeper will be literally ready to run this in ten minutes... By relying on a trope we all know and love, The Mummy of Pemberley Grange is able to tell its story from start to finish in four pages, and the twist here is simply delicious... If further "Seeds of Terror" contains similar clever twists, count me in." — Andrew Logan Montgomery.
We Are All Savages (Silver Best Seller)
"Potential Colonial Gothic one-shot... strongly plotted." — Reviews from R'lyeh.
The Wystdovja Vale Gazetteer and Kiss of Blood (both Copper Bestsellers)
"A pair of perfect little love letters to Hammer horror for Call of Cthulhu." — Andrew Logan Montgomery.
"For a small publisher using a community license (it) is a good quality product. It has some very good maps, good artwork, a clean layout, and an excellent flow of content from beginning to end." — Roleplayers' Chronicle.
"Makes the most of its setting change to shakeup the usual aesthetic without betraying its narrative origins. It ties into both the mythos and real history, making for a perfect blend of mundane and eldritch that is the solid base of any good CoC scenario. Its an innovative take that doesn't sacrifice the story for the sake of novelty, and definitely a great choice of adventure for anyone looking for a modern one-shot that could even lead to a larger campaign." — dungeongrumbling.com.
"Not only is it set in a fascinating historical time period, but the way in which Miller has seamlessly fused together historical facts and fiction is a real treat. The Mythos antagonist is not one used all that often, and it's exciting to see it used to such good effect—adding a nice creep factor. If you enjoy scenarios with rich historical detail that are not your typical run-of-the-mill "classic" era scenarios, this is one you should add to your Miskatonic Repository wishlist." — Rolling Boxcars.
"Without a doubt Too Close to Home is worth picking up! ...As I prepare for the fall convention season, Too Close to Home has been added to my list of scenarios that I will rotate through at the conventions and store events I plan to attend. The long and short of it—grab this scenario!" — Rollingboxcars.
Refractions of Glasston (ENnie's Judges' Spotlight Award Winner)
"Serves up a (mason) jarful of rural noir and body horror with a degree of transparency... At its core, Refractions of Glasston is a good mix of background and plot, with some nicely creepy—and well thought out—aspects to the body horror that plagues the town." — Reviews from R'lyeh.