Unnatural Selections #26 - a high regard for Chaosium lines
Posted by Michael O'Brien on 16th Aug 2019

Some reviews about our game lines in general show the gratifyingly high regard in which they are held:
GLORANTHA
"Glorantha is one of the richest and most vivid created worlds in fantasy, a world where everything from the dirt to the stars is literally made of mythology."—The New York Review of Science Fiction, Editorial June 2019.
CALL OF CTHULHU
"…certainly one of the most beloved [RPG] properties of all time."—rollforgeek.com.
PENDRAGON
"Since its release in 1985 there has never been an argument about what the best Arthurian RPG is, just what edition of Pendragon is the best one."—Polyhydra.
SEVENTH SEA
"If you're looking for a game that delivers rope-swinging swashbuckler-y fun with the ability to take your own story by the reins, then this is the game for you. John Wick clearly knew what he wanted to do with the game, and didn't waste time killing sacred cows to make it happen."—Philgamer.
And here are some recent reviews about specific products in those game lines: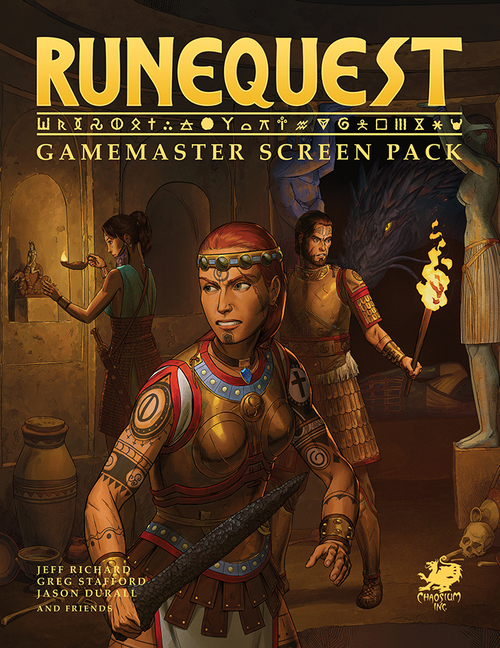 RUNEQUEST GM SCREEN PACK
(Available from Chaosium and DriveThruRPG)
"…sets a benchmark by which every other Game Master Screen and support pack will be measured"—Reviews from R'lyeh.
CALL OF CTHULHU KEEPER RULEBOOK
(Available from Chaosium and DriveThruRPG)
"A fine polishing of an already solid system which brings the Call of Cthulhu game into the cutting edge of modern gaming... a strong testament to how a roleplaying game book should be designed and presented."—Cyberatech.
CALL OF CTHULHU VIDEO GAME
(Available on PS4, Xbox-One and PC, and from Steam)
"…hands-down, is one of the most atmospheric Lovecraft-inspired video games ever developed."—Dragonblogger.
SHADOWS OVER STILLWATER
(Available from Chaosium and DriveThruRPG)
"The scenarios from Down Darker Trails were just a tease; Shadows Over Stillwater is where the real action is… Saddle up, but your guns might not help you."—Antonios S. review, RPGNet.
THE GREAT PENDRAGON CAMPAIGN
(Available from Chaosium and DriveThruRPG)
"One of the most incredible books ever written for role-playing games… Comparable to Masks of Nyarlathotep (for Call of Cthulhu)"—TAG Sessions.
Winner of the 2007 Diana Jones Award for Excellence in Gaming; Ranked the #1 out of 7,500+ roleplaying titles on RPGGeek.com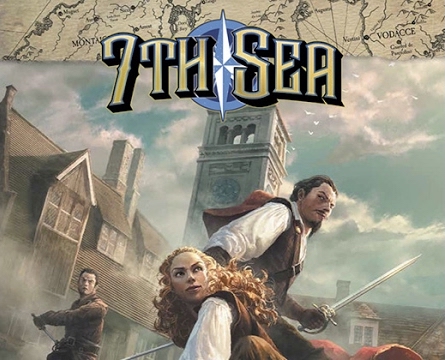 7TH SEA CORE RULES - 2nd Ed
(Available from Chaosium and DriveThruRPG)
"The game basically ended up as a way to just let our imaginations run wild… as my two friends and I started getting lost in the story we were telling, the dice and mechanics took a back seat to pure role playing. I actually found myself exhausted by the end of the session, but I was also exceedingly happy from having such a good time… In a world where throwing dice seems to be the main point of RPGs, 7th Sea gave me a breath of that fresh ocean air of storytelling."—The Coolship.
"Have you ever wanted to be a pirate? If not, why not? What about a swashbuckling hero along the lines of Inigo Montoya, Guybrush Threepwood or the Musketeers of Dumas' stories? Or maybe you want to run a game, stranding a bunch of heroes on an island filled with wonders, horrors and buried treasure? I have found and run such a game… If you like swashbuckling adventures and heroic characters, this is definitely the best system."—Who Dares Rolls.