New team at the Cult of Chaos
Posted by Michael O'Brien on 11th Jun 2023

The Cult of Chaos is Chaosium's official Gamemaster program for Game Masters and Keepers running demonstration games and games at events. Members run games at local game shops, events, conventions, or online to introduce new players to awesome Chaosium games including Call of Cthulhu, RuneQuest, Pendragon, and 7th Sea.
There are some very exciting changes happening within the Cult of Chaos as we restructure the program in 2023! This includes higher financial incentives, streamlined content, new communication protocols, and more!
The Cult of Chaos also has a new leadership team!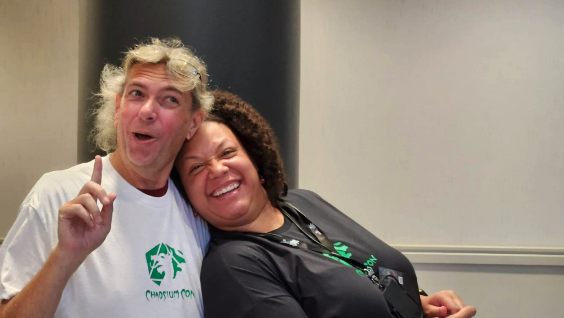 Please welcome Bridgett Jeffries, our new Community Coordinator who is now leading this program. Bridgett is an awesome force of nature and brings a megaton of energy with her. Bridgett is currently reorganizing everything, working with GM organizations in preparation for upcoming North American conventions including Origins and Gen Con, while meanwhile juggling an enthusiastic pack of dogs.
Please also welcome Dustin Wright, who has stepped back into a more active role with the Cult of Chaos! Fun fact– did you know that Dustin originally launched this program in 1997? Dustin will mostly be handling awarding Chaosium.com store credit for the events Cult of Chaos GMs report using our handy-dandy online form. He'll also be fielding general questions, applications, and helping as he can in between Customer Service, Distributor Sales & Support, chasing his corgi, and Convention support.
We'll be communicating all the changes to the program as they roll out. Until that is ready for launch, it's business as usual! If you'd like to join the Cult of Chaos yourself, check out the Cult of Chaos pages at the Chaosium website.
And if you have any questions/concerns, feel free to reach out to Dustin or Bridgett via: cultofchaos@chaosium.com.