Dustin Wright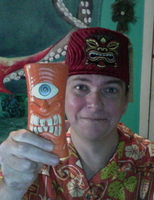 Projects! Propaganda! Customer Service! Distributor & Retail Support!
Our customer support and order processing specialist Dustin works out of his home in hot, humid Mudport on the Texas Gulf Coast.
Chaosium dude since 1996. Contact Dustin for questions about convention prize support, volunteering to run games at conventions, retailer & distributor support, information on upcoming titles, Chaosium news, offers of free whiskey, etc.
dustin[at]chaosium[dot]com
Dustin enjoys tiki culture, corgis, all things zombie, whiskey, ridiculously fruity rum drinks, and post apocalyptic fiction. He is currently in an abusive relationship with his treadmill.