Kiwi Chaosium fans - we're coming to Armageddon Expo in Auckland this October!
Posted by Michael O'Brien on 7th Sep 2019

ARMAGEDDON EXPO is New Zealand's biggest pop culture, gaming, and geekdom convention - and Chaosium will be attending for the first time this year.
We look forward to meeting Kiwi Chaosium fans in Auckland this October! Chaosium will sharing a booth with our friends the amazing prop makers at TYPE 40, and we'll be running game demos throughout the show.
Special Preorder Opportunity for New Zealand Chaosium Fans!
We know the cost of shipping to the Land of the Long White Cloud can be prohibitive. So we're sending over a pallet of Chaosium products specially for Armageddon from our Sydney warehouse.
Prior convention experience shows that stuff is almost certain to sell out. If you're coming to Armageddon and want to be guaranteed to get the items you want, we have this special, one-off preorder opportunity:
- This offer is for New Zealand customers only -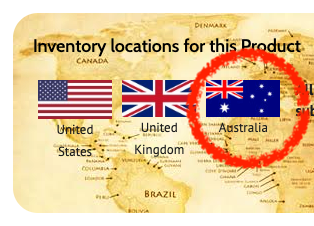 Create your Chaosium account if you don't already have one and ensure your shipping country is New Zealand.
Purchase any item currently available from our Australian warehouse until 12 noon NZST September 19th.
Items selected must be marked with the Australian flag (see right):
On checkout use the coupon code ARMAGEDDON2019 on your order. This will remove the cost of shipping.
We will manually process the order, and bring it to Armageddon. You can collect your order from the booth any time during the show.
This special preorder must only include items available from the Australian warehouse. If you also want to purchase something that is sourced from our US or UK warehouses, you will need to do a separate order for those items, and they will be shipped to you (normal shipping charges apply).
Volunteer GMs needed for New Zealand!
We need volunteer GMs for Armageddon to help run Call of Cthulhu and RuneQuest. We'll supply the convention scenarios, and in return for your time and expertise you'll get FREE ENTRY to Armageddon, a Chaosium t-shirt and Chaosium swag. If you would like to take part, please contact our Australia/NZ convention coordinator Andrew andrew@chaosium.com ASAP to sign up!