Journey to Jonstown #6 - more new releases for gaming in Glorantha
Posted by Michael O'Brien on 2nd May 2020
Check out these new releases at the Jonstown Compendium!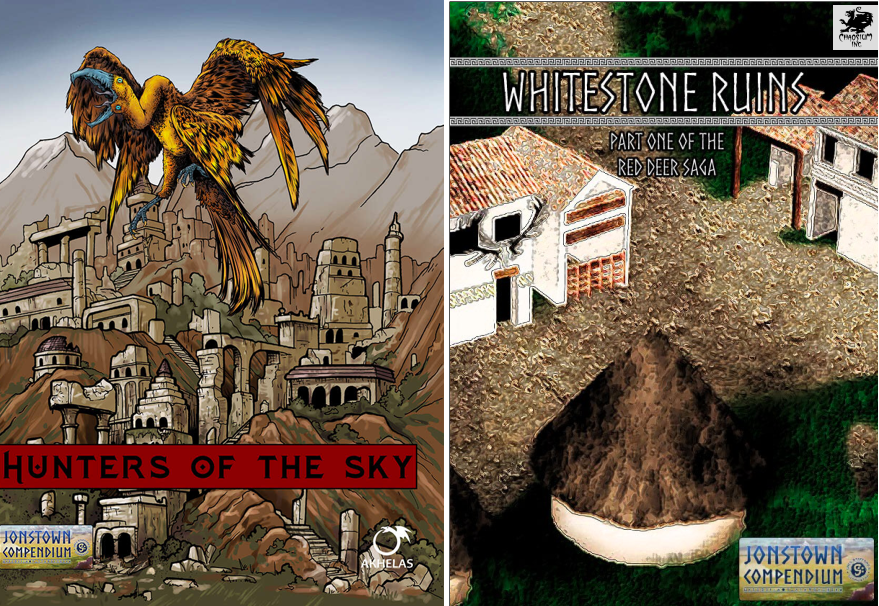 White Stone Ruin
Paul Baker ($10.00, 88 page PDF)
Background and source material for the Namoldin Clan of the Malani tribe for Runequest: Role Playing in Glorantha.
Hunters of the Sky
Akhelas, Austin Conrad ($1.50, 10 page PDF)
Monster of the Month #4 — April 2020: Hunters of the Sky introduces a strange new species to the skies of Glorantha, the Sky Hunters, and their hunting partners the scarlet falcons
Zenith Counters by Dario Corallo
Artist of The Rough Guide to Glamour Dario Corallo has created a series of counters for play with Virtual Tabletops. (Now more than ever, it can be difficult for you and your friends to get together in the same place for a session of tabletop roleplaying, and playing online is one solution. For an introduction to using VTTs, see the helpful "Online Gaming - Getting Started" introduction our line editors have put together.)
Trolls and Trollkin 1
Dario Corallo ($4.37, 12 page PDF)
Gloranthan Trolls and Trollkin for play with virtual tabletops.
Trolls and Trollkin #2
Dario Corallo ($4.37, 12 page PDF)
Death Lords of Zorak Zoran, Prince of Hate, and their minions. Happy slashing! ;-)
Gloranthan Chaos 1
Dario Corallo ($4.37, 12 page PDF)
A bunch of Chaotic Monsters, a small vanguard of endless legions…
The Flying Trollkin
Dario Corallo (Pay-What-You_Want, suggested price $1.09, 8 page PDF)
A scenario aid (Brontosaurus Map and counters) for the classic RuneQuest adventure from Into the Troll Realms.
Giant Baboons (and the Lost Temple of the Simian God)
Dario Corallo ($3.28, 8 page PDF)
A band of Gloranthan Giant Baboons and their clan base, a lost temple in vulture country…
Antelope Lancers
Dario Corallo ($3.30, 11 page PDF)
A Squadron of Sable Antelope Lancers.
Take part in the Jonstown Compendium Community Content Program yourself...
Under the Jonstown Compendium community content license, fans of Greg Stafford's world of Glorantha can sell and share their own material on DriveThruRPG.
Check out the Jonstown Compendium Guidelines and start creating!