Journey to Jonstown #55: To the Edge of Empire and beyond, new releases in the Jonstown Compendium
Posted by Michael O'Brien on 12th May 2023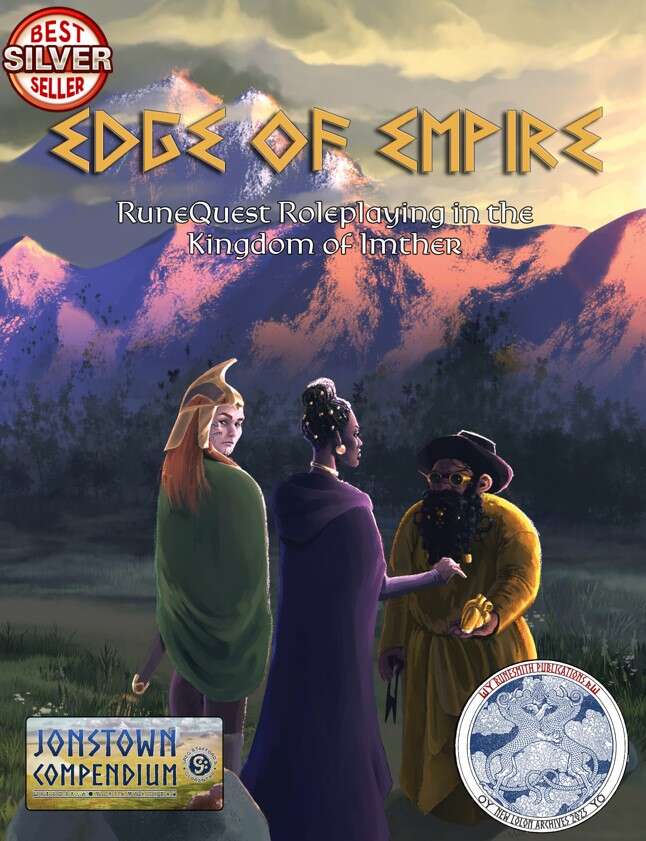 Creators have been busy in the Jonstown Compendium, our community content platform for independent content for RuneQuest and the world of Glorantha. Here are latest releases at DriveThruRPG!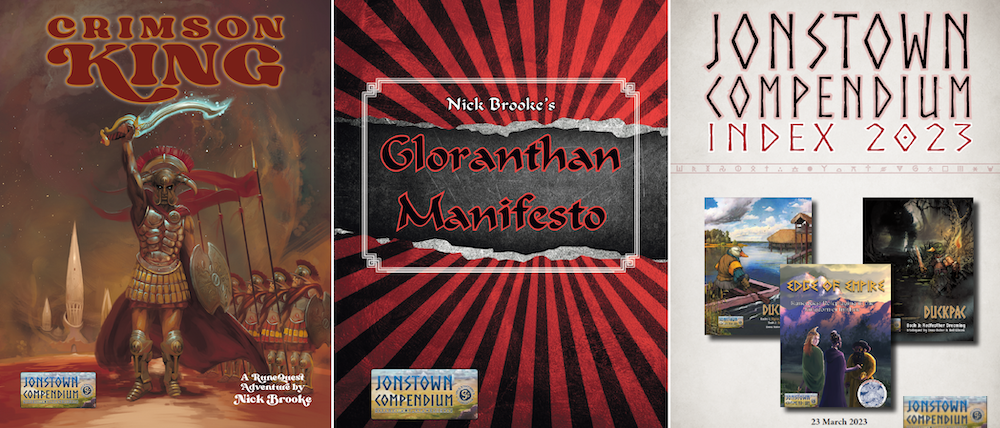 Edge of Empire
Harald Smith ($24, 224 page PDF, also available as hardcover POD)
The Kingdom of Imther is a small, seemingly bucolic, mountainous province at the edge of the mighty Lunar Empire. It is home to herders, hunters, and cheesemakers whose king maintained a trade relationship with the mysterious dwarfs. But... the king is dead, the dwarfs have closed their brass gates, clans have rebelled, and ambitious leaders stake their claims. The HERO WARS have come to this fair and pleasant land.
Edge of Empire presents a new Homeland for RuneQuest. It is part of the Lunar Empire, yet extends into rugged mountains and wild woodlands.
Crimson King
Nick Brooke ($11.95, 71 page PDF, also available as softcover POD)
Crimson King is a game of intrigue and conspiracy in the highest echelons of the Lunar Empire! Players take on the roles of the heroes and rulers of this Gloranthan superpower, confronted by treachery and betrayal on all sides.
The lavishly-illustrated scenario is a sequel to The Duel at Dangerford and Black Spear, and can be used as a stand-alone adventure or in an ongoing campaign. It builds on the Lunar Empire as presented in A Rough Guide to Glamour and Life of Moonson, but GMs do not need either book to run their game.
Nick Brooke's Gloranthan Manifesto
Nick Brooke (Free PDF, 212 page PDF, also available as softcover POD)
An archival selection of Nick Brooke's opinion pieces about Chaosium's RuneQuest role-playing game and its setting: Greg Stafford's sword-and-sandal mythological fantasy world of Glorantha.
Jonstown Compendium Index [2023]
Nick Brooke ($1.50, 57 page PDF)
Nick Brooke's index to new RuneQuest & Glorantha scenarios and sourcebooks (and sundry other releases) available from Chaosium's Jonstown Compendium community content web store on DriveThruRPG. The index includes full details for every product released after 1 October 2022, plus summary listings for everything else in the store (for full details of earlier releases, see my Jonstown Compendium Catalogue 2022 or earlier indexes and catalogues).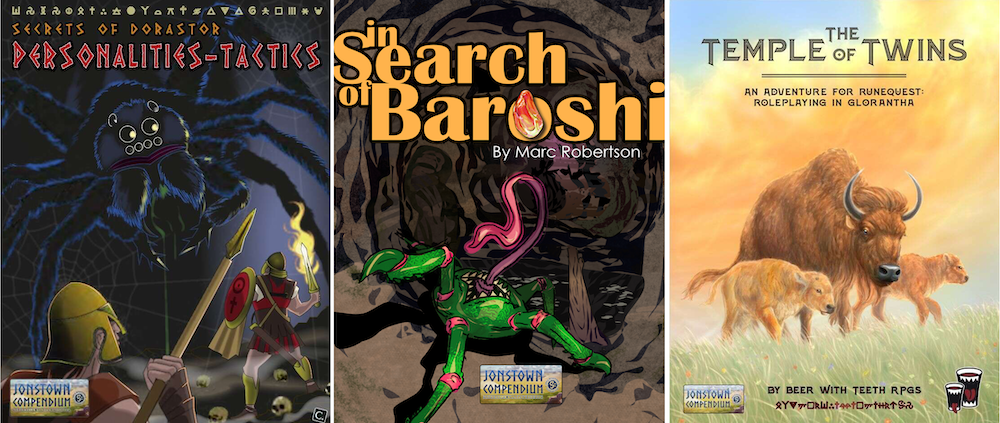 Secrets of Dorastor Personalities - Tactics
Simon Phipp ($14, 108 page PDF)
"The Personalities of Dorastor are horrifying in many ways. Each one fights in their own special way, and few know of all of their tactics. I am lucky that I have seen several of them fight, at different times, and have survived to tell the tale, normally by being far enough away to not be in the combat itself. Some of the Personalities are true monsters, transcending normality. Aranara, the Great Gorp, Heidi and the Chaos Dragon are examples of these. Such creatures are to be feared and avoided. " — Ickigore the Well-Travelled
Companion-piece to Secrets of Dorastor, including the major Personalities of Dorastor with an expanded portion of their Tactics, and beautifully illustrated by Dario Corallo.
In Search Of Baroshi
Marc Robertson ($2.95, 27 page PDF)
The ancient Godling, Baroshi, who had been released from his frozen state, has now had his body destroyed, and his spirit bound. The spirit, Nurse, has reached out for help. Will the party be able to find and rescue Baroshi before his spirit is destroyed(or worse)?
Easily adapted to work with any campaign, or it can be played as a stand-alone adventure.
The Temple of Twins
Erin McGuire, Diana Probst ($8.00, 52 page PDF)
A complete adventure for RuneQuest, designed to last an evening. It fits into any Praxian campaign, and is designed to stand alone, but can go well with Beer With Teeth's other Praxian scenarios. The adventure is designed to be highly challenging for warriors and outsiders to Prax, and much easier for women. Eirithans in particular will find their skills called on, and Ernaldans will be useful. Combat is much more likely if characters fail at walking Eiritha's path, but can be avoided by wise or skillful women.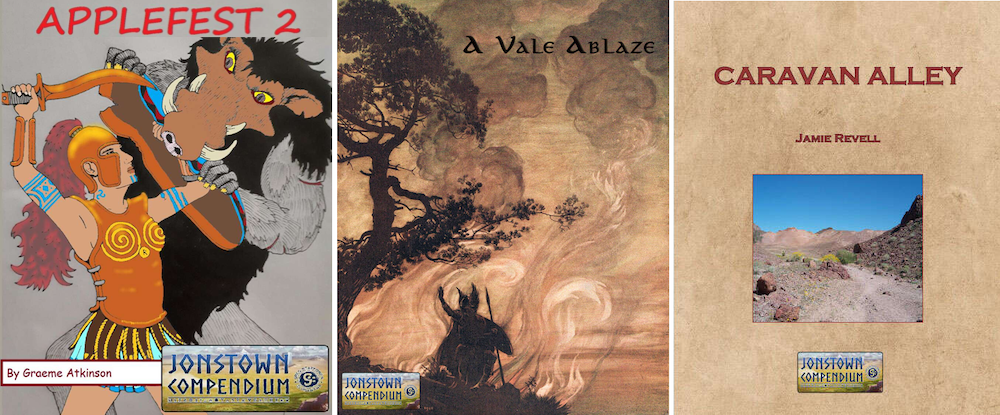 Applefest 2
Graeme Atkinson ($5.99, 65 page PDF)
After last years Applefest and the manifestation of the gods it seem like this years festival will be well attended. Every parent secretly wants their child to be posessed by Orlanth!
Adventurers will have to chaparone the childrens quest, entertain a queen and visiting dignataries, protect everyone and perhaps wonder around dressed as a pantomime monster. On top of this a dark cloud hangs over Pig Hollow and Wakboth's hoofprints are found leading to Apple Lane. Let's not forget a dark conspiracy and elven vengeance.
A Vale Ablaze
Vivien Prigent ($11.50, 137 page PDF)
A Vale Ablaze contains four scenarios designed to be played in the setting described in In a Merry Green Vale, for adventurers who are the children of exiles from the Lysang clan trying to win back acceptance in their clan after an amnesty proclaimed by the Lunar authorities.
Caravan Alley
JK Revell ($4.50, 36 page PDF)
Caravan Alley is the main trade route from Dragon Pass into southern Prax. But merchants are not the only people to travel its length, for each of the oases along it has its own pull.
This is a mini-sandbox setting describing two oases along Caravan Alley and is a follow-up to Day's Rest. In addition to descriptions of the oases, it includes twenty-one NPCs that can provide interaction or story possibilities.
Tula Landmarks
Zed Nope (Pay-what-you-want, recommended price $4.00, ZIP file)
More art for use in Jonstown Compendium releases, with credit.
Call up the Fyrd - Stock Art
Zed Nope ($4.00, ZIP file)
They're not heroes, but they'll fight if they're needed. Four armed civilians, in a loose sketchy style. For use in Jonstown Compendium releases, with credit.
Temple Hill Acropolis
Dario Corallo ($10.94, 10 Maps)
VTT Maps of the Acropolis on Temple Hill in the Big Rubble.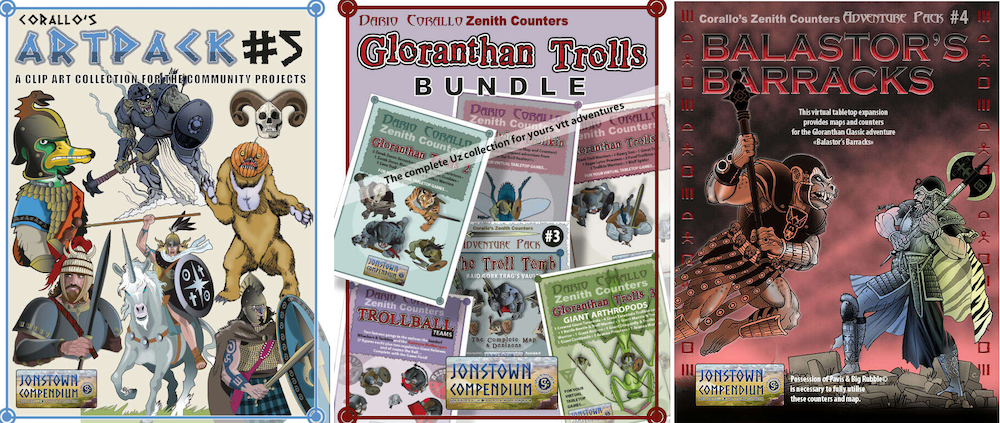 Corallo's Artpack #5
Dario Corallo ($16.41, 40 images)
Fifth Artpack of the series, dedicated to support the authors of the Jonstown Compendium with fast clip-art. The main resource here is illustrations from Secrets of Dorastor - Personalities - Tactics.
The Complete Trolls - Zenith Counters (Troll Bundle)
Dario Corallo ($7.66, 96 images)
All the VTT Zenith Counters from the six packs dedicated to the Uz in a single bundle.
Zenith Counters Adventure Pack #4: Balastor's Barracks
Dario Corallo ($3.28, 18 images)
Virtual Tabletop Map and tokens for Balastor's Barracks in Gloranthan Classic's Pavis & Big Rubble.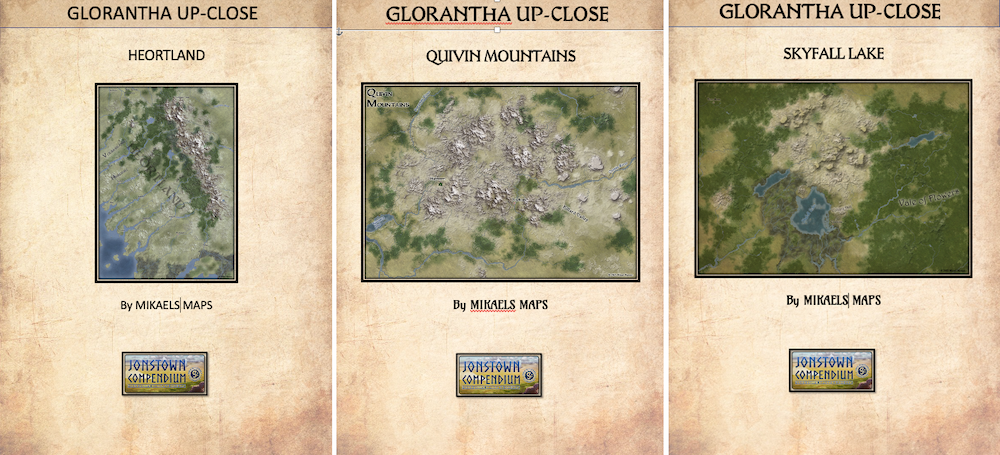 Quivin Mountains - Glorantha Close up
Mikael Mansen ($4.05, 4 maps)
Four close up maps of the Quivin Mountains.
Heortland - Glorantha Close up
Mikael Mansen ($4.05, 2 maps)
Two close up maps of the Heortland region.
Skyfall Lake - Glorantha Close up
Mikael Mansen ($4.05, 4 maps)
Four close up maps of Skyfall Lake.
Elkoi Expansion
Anders Tonnberg ($9.85, 34 page PDF)
Includes Elkoi city map, Kings Inn, Elkoi Megaron, Cyriel's Trading House, Elkoi Wyter and the Black Oak, and Elkoi Necropolis with the Elkoi's tomb and the legendary ring are all depicted in full color. The Hunted Caves is a new area.17 full-color, high-resolution detailed maps with enlargements and descriptions.
Wind Lords - Cheerful Vingan
Zed Nope ($5.00, 3 images)
A watercolour illustration of a Vingan Wind Lord, flying in woad. For use in Jonstown Compendium releases, with credit.
Wind Lords - Thunder Caller
Zed Nope ($5.00, 3 images)
A watercolour illustration of a Wind Lord, flying in woad, readying lightning to blast the battlefield below. For use in Jonstown Compendium releases, with credit.
Under the Jonstown Compendium community content license, fans of Greg Stafford's world of Glorantha can sell and share their own material on DriveThruRPG. If that appeals, check out the Jonstown Compendium Guidelines and start creating!