Journey to Jonstown #26: over 2000 pages of new RuneQuest community content!
Posted by Michael O'Brien on 4th Sep 2021
One of the latest additions to the Jonstown Compendium is a whopper: 2000 pages! Of Pimper's Block: The Complete Collection, Six Seasons in Sartar and Company of the Dragon author Andrew Logan Montgomery says:
"Really, this is the sort of thing the Jonstown Compendium was made for. Pimper's Block The Complete Collection is the kind of utility that a publisher like Chaosium would not want to tackle, but which in retrospect everyone is going to want. I certainly will never been hard-pressed for NPCs again... Look, if you run Runequest this product is worth ten times its price. I cannot imagine any GM regretting the purchase."
Here are the most recent new releases on our community content platform at DriveThruRPG for all things RuneQuest and Glorantha: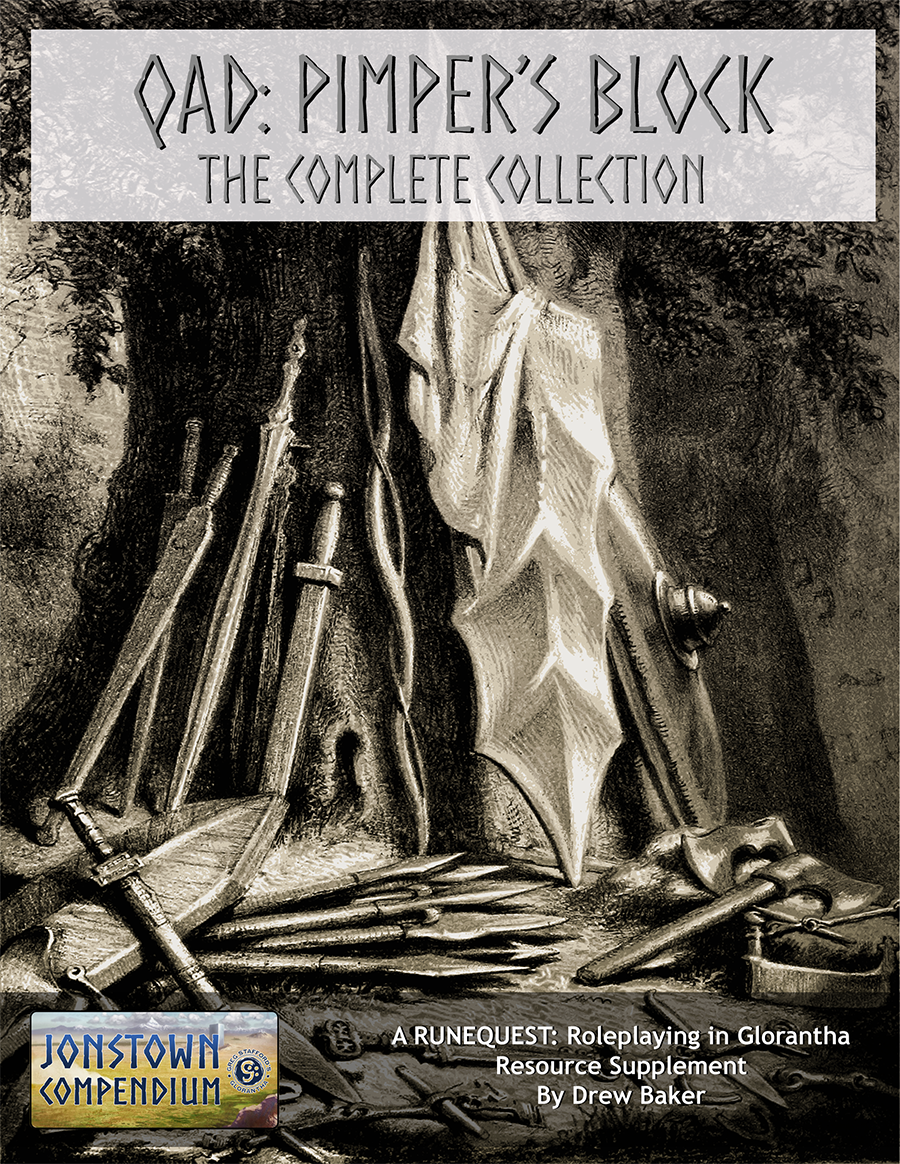 QAD: Pimper's Block - The Complete Collection
Drew Baker ($33.00, 2000 page PDF set)
Whether you need a drop in character, a group of NPC villagers or just stats for an encounter QAD: Pimper's Block has you covered. The Complete Collection contains all 10 volumes for the series covering all the homelands in RuneQuest Roleplaying In Glorantha and the five Praxian nomad tribes. Overall that's 3120 characters ready to use 520 detailed characters and 2600 NPC's, literally a cast of thousands at your fingertips!
South Pelorian Highlands
Anders Tonnberg ($5.90, 8 page PDF)
Eight high-resolution pictorial maps of South Pelorian Highlands (4266 x 2400 pixels: 14.22 inches x 8.00 inches, roughly US Legal paper size at 300 DPI), drawn in Wonderdraft based on the maps from Argan Argar Atlas. There are four base maps (Players', Game Master's, Detailed and Political), each presented in hex-free and 5 mile hex formats. The Players' map is in a different style to the GM and Detailed maps; the detailed map names every City as well as the major regions, roads and rivers.
The Bad Winds
Akhelas, Austin Conrad ($1.25, 6 page PDF)
The Bad Winds are umbroli deceived and corrupted by the goddess of disease, Mallia. They wield her magic to bully mortals across Glorantha into "loving" them with propitiatory sacrifices. Part of the 'Monster of the Month' series from Akhelas.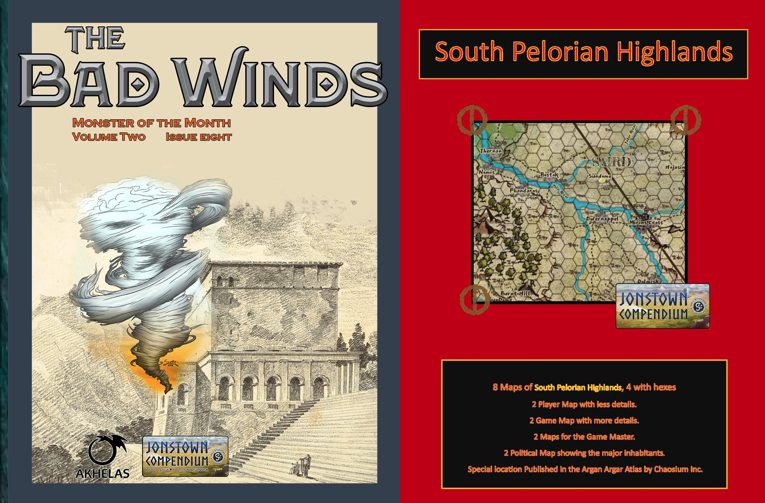 Under the Jonstown Compendium community content license, fans of Greg Stafford's world of Glorantha can sell and share their own material on DriveThruRPG. If that appeals, check out the Jonstown Compendium Guidelines and start creating!