Journey to Jonstown #18 - two Jonstown Compendium titles make Reviews from R'lyeh's Post-Christmas Dozen list
Posted by Michael O'Brien on 4th Jan 2021
Two Jonstown Compendium Titles make Pookie's Christmas List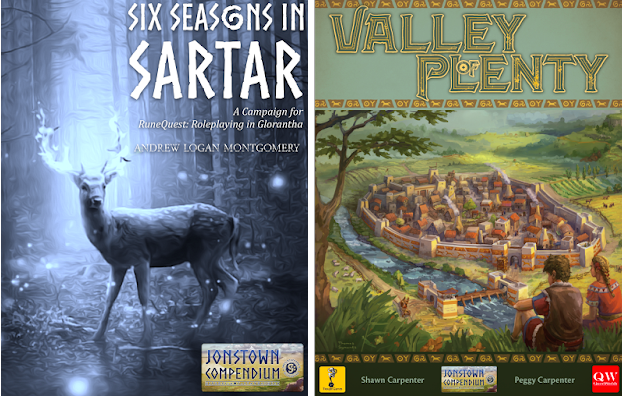 Prolific reviewer Pookie's annual (post-)Christmas Dozen list - "what you should purchase yourself to read and play in the months to come" - recommends two works from our Jonstown Compendium community content program at DriveThruRPG. This is a testament to the depth and quality of what creators are doing here for gaming in the world of Glorantha!
Reviews from R'lyeh says Andrew Logan Montgomery's Six Seasons in Sartar is "a fantastic introduction to a fantastic world, one of the first titles a prospective Game Master of RuneQuest should purchase from the Jonstown Compendium."
And says Shawn and Peggy Carpenter's Valley of Plenty is "is another great introduction to roleplaying in Glorantha, which takes both players and their characters step-by-step into the setting, its mythology, and drama."
New Releases in the Jonstown Compendium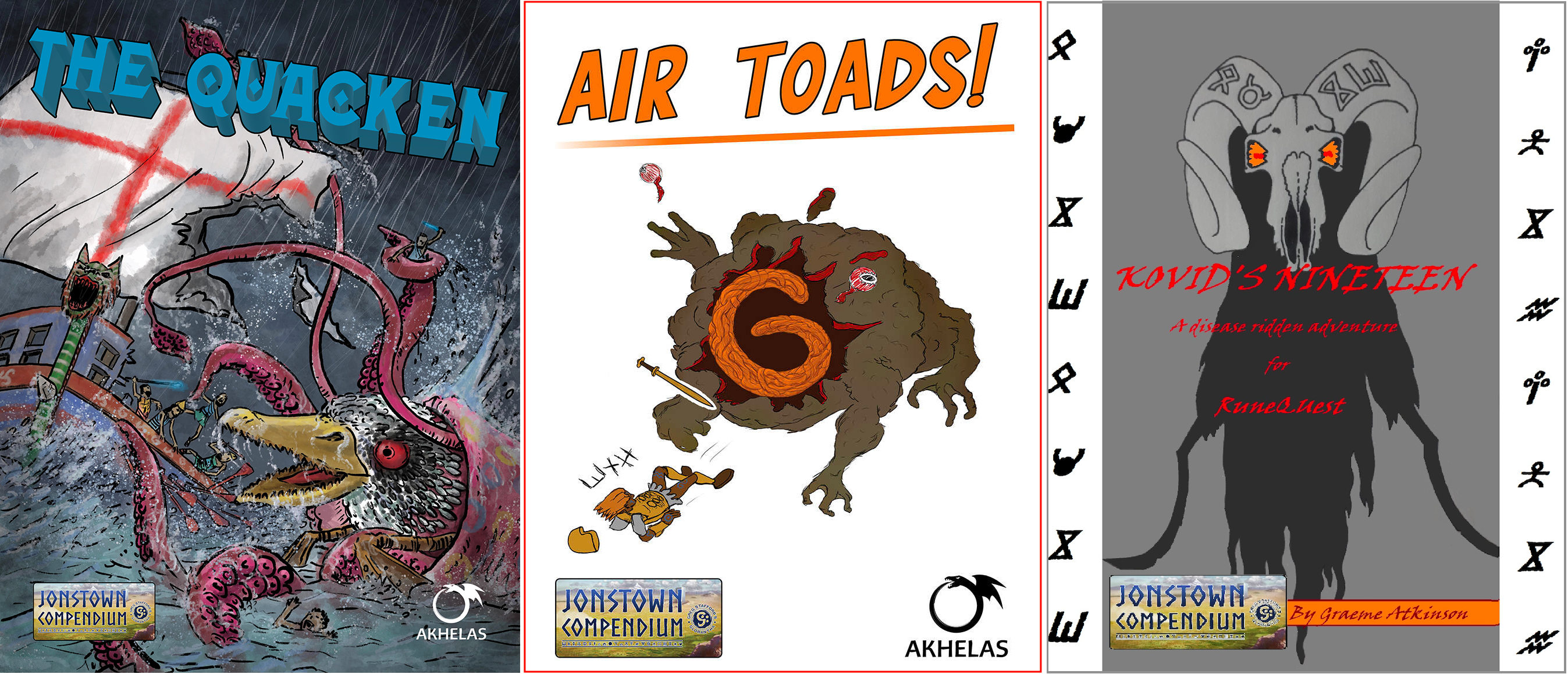 The Quacken (Monster of the Month - Dec 2020)
Akhelas, Austin Conrad ($5.00, 42 page PDF)
A terrible new sea monster to your RuneQuest bestiary. Monster of the Month is a series of bestiary entries for Chaosium's RuneQuest: Roleplaying in Glorantha. In addition to statblocks and behavior, most issues include supplemental detail and advice for gamemasters and/or new adventurer options for players.
Air Toads! (Monster of the Month - Nov 2020)
Akhelas, Diana Probst, Austin Conrad ($1.50, 10 page PDF)
Brings an amphibian with explosive temper to your games of RuneQuest. A cousin of the common cliff toad, air toads can be found on mountain crags and in sullen marshes anywhere in Glorantha.
Kovid's Nineteen
Graeme Atkinson ($4.67, 62 page PDF)
Set in Sartar in darkseason, near the dragonrise, with winter on its way, the adventurers stumble of a desperate plea for help. One that they should not ignore. How much help they give is up to them, but taken to its conclusion the scenario will pit them against a mighty Malian priest, sort of... The exact nature of events will be heavily dependent on the adventurers.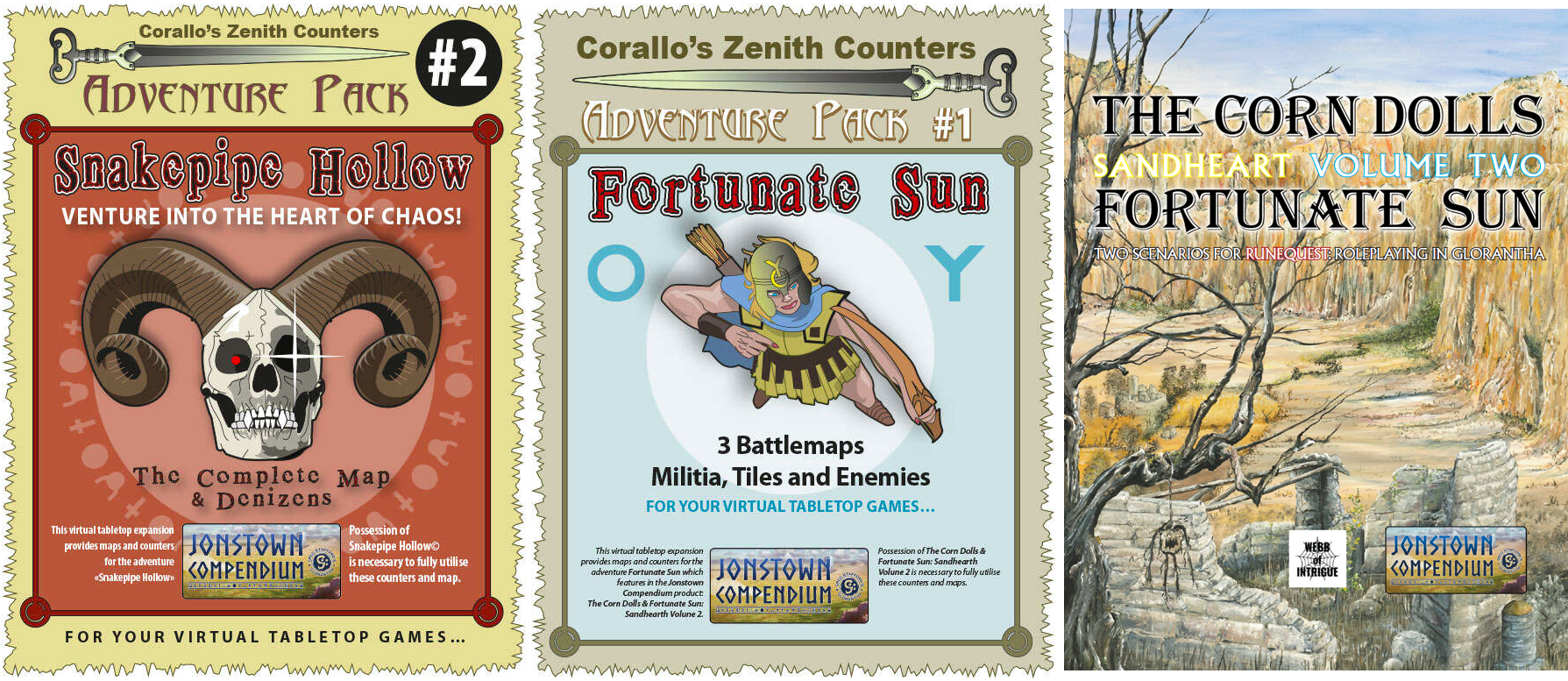 The Rough Guide to Glamour artist Dario Corallo has created a series of counters for play with Virtual Tabletops. These two new 'Adventure Packs' also come with VTT maps:
Snakepipe Hollow Map & Denizens Adventure Pack
Dario Corallo ($12.95, 19 counters plus map in zip file)
Map and Denizens for the Old Chaotic Nest SnakePipe Hollow for your VTT.
Fortunate Sun Adventure Pack
Dario Corallo ($3.67, 16 counters plus 3 battle maps in zip file)
Battle maps and VTT counters for the adventure "Fortunate Sun" which features in the Jonstown Compendium release The Corn Dolls & Fortunate Sun: Sandheart Volume 2. Now available as a premium, hardcover book!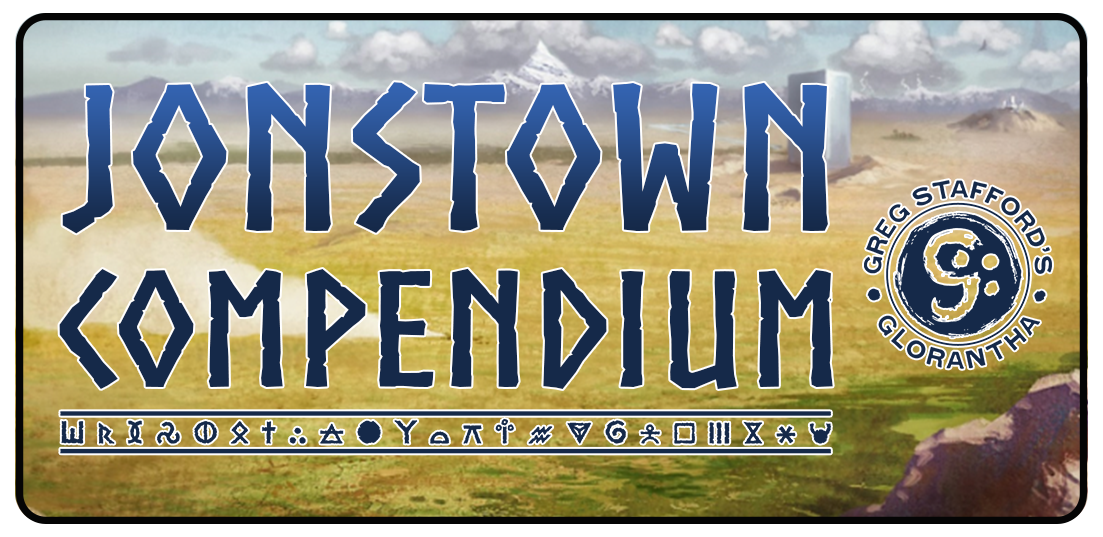 Take part in the Jonstown Compendium Community Content Program yourself...
Under the Jonstown Compendium community content license, fans of Greg Stafford's world of Glorantha can sell and share their own material on DriveThruRPG.
Check out the Jonstown Compendium Guidelines and start creating!