ENnies 2018 Spotlight: Reign of Terror
Posted by Michael O'Brien on 16th Jul 2018
There are "times when the players — the actual players — will want to run screaming from the room. It's scary and it's creepy and it's gross and it will definitely give your more impressionable players nightmares. Just like it ought to", said Reckoning of the Dead in their review of Call of Cthulhu's Reign of Terror.
Perhaps that's why the ENnies judges nominated our "Mythos Horrors in the French Revolution" book for BEST SUPPLEMENT.
Reign of Terror is by the same masterminds behind the ENnie award winning Horror on the Orient Express - Mark Morrison and Penelope Love, with co-writers Darren Watson and James Coquillat. The artwork is Victor Leza, and the maps are by Oliver Sanfilippo and Stephanie McAlea (who incidentally, is up for the BEST ELECTRONIC BOOK ENnie for her licensed Call of Cthulhu release Hudson & Brand).
Liberté, égalité, lose SANité! Forward the revolution! Here's where you can show your support by voting for BEST SUPPLEMENT and all the other Chaosium nominations!
Voting is live and runs until 11PM EST on July 21st.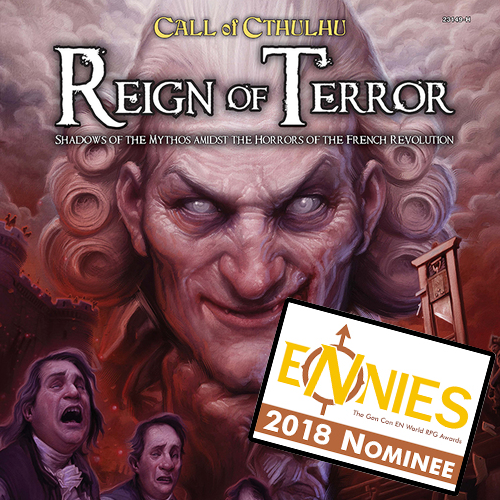 Reign of Terror product page here.
More about the Call of Cthulhu RPG here.
Chaosium ENnies Nominations
BEST ADVENTURE—The Two-Headed Serpent
BEST ART COVER—Down Darker Trails
BEST FAMILY PRODUCT—Khan of Khans
BEST FREE PRODUCT—RuneQuest Quickstart and Adventure
BEST MONSTER/ADVERSARY—Down Darker Trails
BEST PRODUCTION VALUES—The Grand Grimoire
BEST RPG-RELATED PRODUCT—Khan of Khans
BEST SUPPLEMENT—Reign of Terror
FAN FAVOURITE PUBLISHER—Chaosium