Announcing CTHULHU CHRONICLES - the official Call of Cthulhu interactive fiction game
Posted by Michael O'Brien on 10th Jul 2018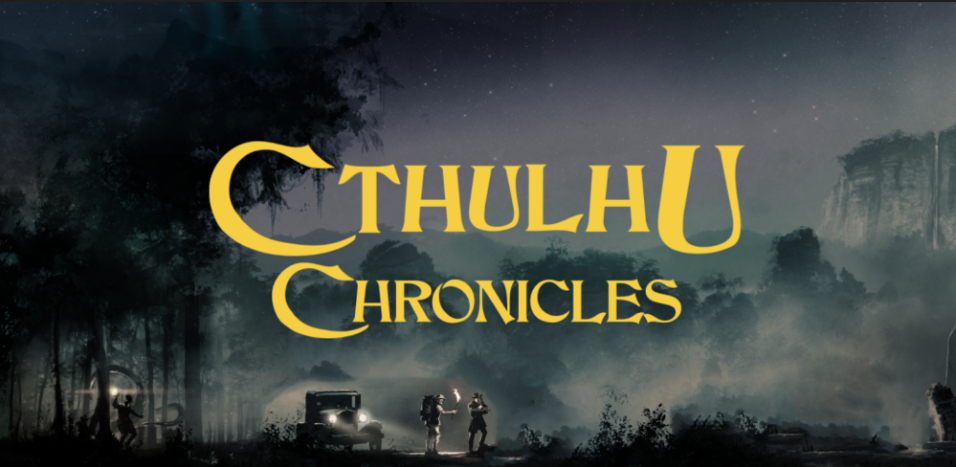 We are delighted to announce the official release of Cthulhu Chronicles, a single-player narrative horror mobile game based on the Call of Cthulhu RPG.

Developed in partnership with MetaArcade, the Seattle-based developer of interactive fiction, Cthulhu Chronicles distills the essence of the award-winning Call of Cthulhu roleplaying system into a story-driven, intuitive experience designed for mobile gamers.

This narrative-driven, immersive campaign experience comprises multiple stories set in the 1920s New England. You play as one of several investigators, trying to untangle the mysteries involving crazy cults, sinister creatures, and horrors from beyond space.
We're commencing with an iOS version; an Android version is planned after release.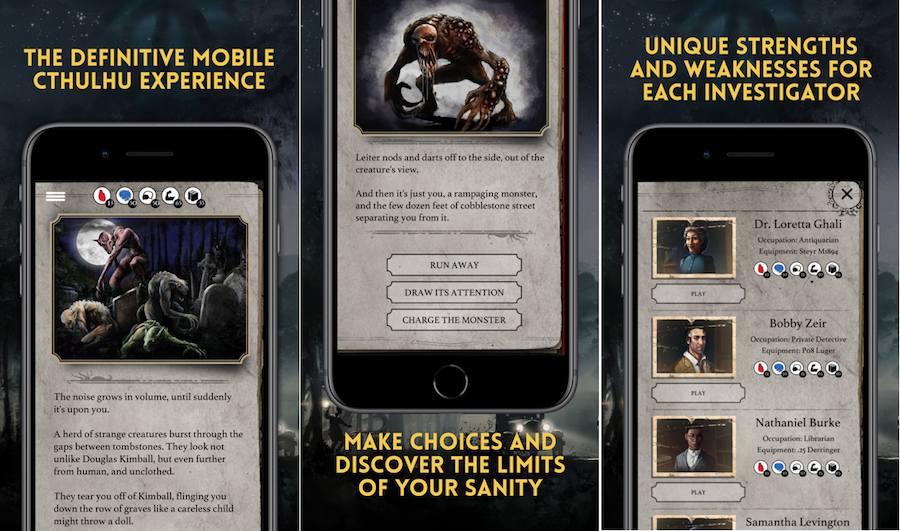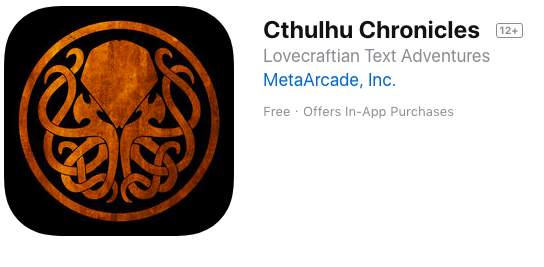 Chaosium's Call of Cthulhu line editor Mike Mason says:
Cthulhu Chronicles brings the terror and fun of Call of Cthulhu to life on your mobile device. It emulates the tabletop experience, giving you choices to make, each one taking your investigator down different paths with differing conclusions. Mystery, intrigue, horror, and madness await your investigator, who can gain insights and lose sanity while charting his or her way through the scenarios.
At launch, the game includes five unique scenarios created with MetaArcade's proprietary Adventure Creator tool, with four more coming soon. Together, these scenarios comprise the first Cthulhu Chroniclescampaign, Investigations in Lovecraft Country. Additional campaigns are planned after launch; there will also be an opportunity for the community to create their own Cthulhu Chronicles stories in the future.
Download Cthulhu Chronicles and give it a try: players get three 'trials' each day to play any story for free, and can buy stories via in-app purchase to unlock them permanently for unlimited plays.
Cthulhu Chronicles App Store Preview