13th Age Glorantha and The Glorantha Sourcebook are 50% off in DriveThruRPG's RuneQuest Classic Sale
Posted by Michael O'Brien on 26th Mar 2019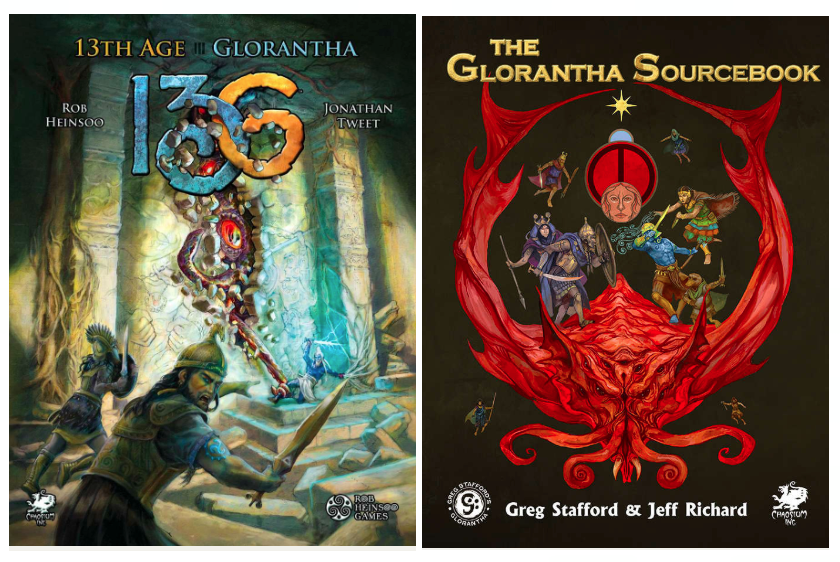 Okay, they are not RuneQuest Classic titles, but 13th Age Glorantha and The Glorantha Sourcebook are both 50% off in DriveThruRPG's RuneQuest Classic Sale, running this week only.
13th Age Glorantha enables you to create a unique Gloranthan campaign using 13th Age: the d20-rolling game of heroic fantasy, escalating combat, One Unique Things, and limb-ripping owlbears! Developed by Rob Heinsoo and Jonathan Tweet.
The Glorantha Sourcebook is an essential resource for Greg Stafford's world of Glorantha, one of the most extensively developed and renowned fantasy settings of all time. It is a systemless book, usable with any RPG rules, or just as a reference guide.
And there are an additional 20 titles that are 50% off in the RuneQuest Classic sale, the Argan Argar Atlas, and Greg Stafford's King of Sartar!