Talking to Mike Mason about A Time to Harvest
Posted by Michael O'Brien on 29th Apr 2016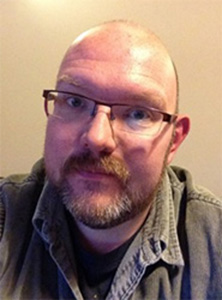 A Time to Harvest is Chaosium's new organized play campaign, unfolding over six months. It's offered free to all members of The Cult of Chaos, Chaosium's Game Master and Organized Play Program.
Written by established Call of Cthulhu authors Brian Sammons, Charles P Zaglanis, Glynn Owen Barrass and Mike Mason, A Time to Harvest is an an ideal campaign for novice Keepers and players alike, with plenty of advice throughout, but veteran players will also find it engaging and fun too.
Installment One was released several weeks ago, so we thought we'd catch up with one of the co-authors - Mike Mason, who also happens to be Chaosium's Call of Cthulhu line editor...
Q: What has the reception to A Time to Harvest been?
Mike: There's been a tremendous response, with almost 1000 Keepers around the world downloading the first chapter to play in local games stores, conventions, online, as well as with home-based groups. The Chaosium G+ community is abuzz with reports of games and notices for players.
Q: How are different groups running the first installment?
Mike: While some hardcore groups have run the episode in an eight hour block (!) others are taking a more sedate approach, playing weekly or fortnightly in three to hour hour sessions. The campaign is quite flexible, allowing each group to decide on their preferred format and session length.
Q: Where can Keepers get tips, advice or resources for the campaign?
Mike: We've set up a private forum at BRP Central for Cult of Chaos Keepers running the campaign. Already there's plenty of threads popping up discussing the campaign, offering advice, and sharing ideas. One thread in particular has become a repository of play aids collected by various Keepers, with NPC portraits, location images, and other period photographs available to use in your games. I'd like to thank Morgan Hua for kicking this thread off and supplying a stunning range of play aids.
Q: If someone wanted to start now, can they?
Mike: Sure! All they need to do is join the Cult of Chaos and they'll be able to download the first part and get going. Thanks to Ben Wilson we also have a set of pre-generated student investigators that could help them or any busy Keeper get started quickly - check them out here.
Q: When does episode two come out, and what's in store for the players?
Mike: Episode Two will be out on 15th May and brings the investigators back to picturesque Miskatonic University in Arkham, where they start the academic year and return to their studies. Unfortunately, shadows are falling upon the university and it isn't long before the dire consequences of Episode One catch up with the investigators. The scene is set for dark deeds, paranoia, and danger in the learned halls of MU!