"Poker Alice", another real historical character you might meet Down Darker Trails...
Posted by Michael O'Brien on 26th Nov 2017

By Mike Mason, Call of Cthulhu line editor
One of the great things about playing Call of Cthulhu is dropping real historical characters into scenarios, or creating adventures inspired by their real life events.. Within Down Darker Trails, Chaosum's new Call of Cthulhu supplement for the Wild West, an array of personages is detailed.
Many names will be familiar: Billy the Kid, Sitting Bull, Doc Holliday, Jesse James, Wild Bill Hickok, to name but a few. But it's not just the men who ventured into the West to carve a piece of history. In a previous DDT post, we talked about the exploits of the cigar-smoking, gun-toting African-American woman Mary Fields, and how she got her nickname "Stagecoach Mary".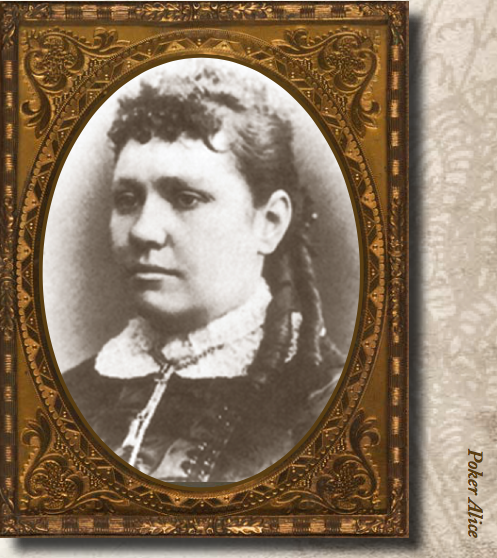 Today we'll talk about another real life personage featured in Down Darker Trails: Alice Ivers, a.k.a Poker Alice.
Alice Ivers was born in Devonshire, England, and moved with her family to Colorado. There, she met and married Frank Duffield, a mining engineer and enthusiastic poker player. Alice would accompany her husband into gambling halls and it didn't take long before she was sitting in on games and showing an uncanny skill at poker and other card games. When Frank died in a mining accident, Alice used gambling to pay her way.
Traveling around the various mining camp, she acquired the nickname "Poker Alice." Not only a player, she also worked as a dealer in Alamosa, Central City, Georgetown, and Trinidad. She must have been quite a sight, wearing fashionable frilly dresses while puffing on large cigars. She carried a .38 revolver and accounts say that she wasn't afraid to use it.
In New Mexico, Poker Alice broke the bank at the Gold Dust Gambling House in Silver City, winning $6,000. Later, in Deadwood, South Dakota, she grew to be a local legend. She carried on playing cards into her sixties and lived into her seventies, passing away in 1930 in Rapid City.
Alice claimed once to have won more than a quarter of a million dollars at the gaming tables and to have never cheated. One of her sayings was, "Praise the Lord and place your bets. I'll take your money with no regrets."
Down Darker Trails is available now in full color hardback and PDF at Chaosium.com.
DOWN DARKER TRAILS
Mythos Terror in the Wild West

Rules: 7th Edition Call of Cthulhu
ISBN: 978-156882-448-2
Page Count: 256
Format: Color Hardcover
Authors: Kevin Ross, Mike Mason, Scott David Aniolowski, David Cole, and Todd Woods
Cover Art: Sam Lamont