Call of Cthulhu 7th Edition wins Best RPG at 3rd Annual Beasts of War Awards
Posted by Michael O'Brien on 4th Dec 2017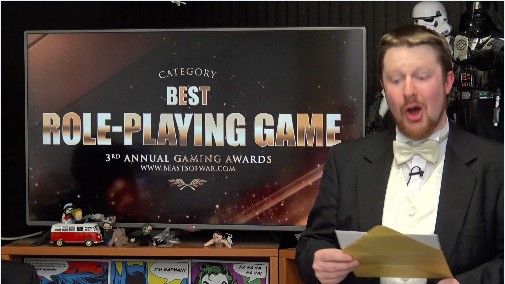 And the winner is... Call of Cthulhu 7th Edition was named "Best RPG" at the 3rd Annual Beasts of War Awards yesterday.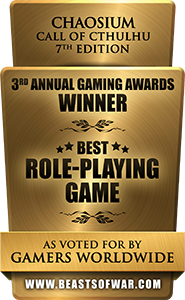 Beasts of War is a popular UK-based wargames, miniatures and general gaming site with a large following. Beasts of War community members voted for their favourite RPG title from a field of five selected nominees - Call of Cthulhu 7th Ed, Adventures in Middle Earth, Apocalypse World 2nd Ed, 7th Sea, and Faith: A Garden in Hell.
Chaosium thanks Beasts of War, the judging panel, and the Beasts of War community for their support of Call of Cthulhu.
Watch the 3rd Annual Beasts of War Awards here (RPG Award category begins at 2:55:12):