Saddle up! Get yourself a posse together and have a look-see what's over that hill. There's strange rumors coming in from the whisperin' desert. You'd best put a round in that iron and make haste!
Chaosium Unveiled: Inside Down Darker Trails
Watch the unveiling video to see for yourself everything in the book and you get PDFs too!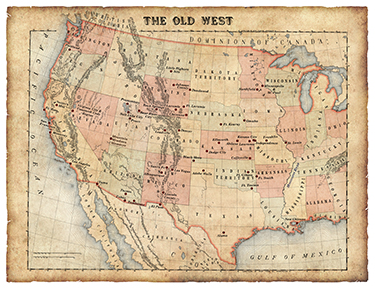 Down Darker Trails is a new setting for Call of Cthulhu—the American West of the late 19th century. The era of gold rushes, outlaws and lawmen, discovery and expansion.
Rub shoulders with the likes of Wild Bill Hickok, Crazy Horse, and Calamity Jane, while journeying through towns like Deadwood and Dodge City—names and places that have transcended history to become legend. Down these dark trails the taint of the Cthulhu Mythos stirs, ready to lure the unwary and tempt the power hungry with whispered secrets of cosmic knowledge. This is a West of hidden worlds, lost treasures and cities, dubious deals and unsavory alliances. A land filled with beauty, mystery, terror—and wild adventure!
Here you will find the means to create Old West investigators, new occupations, new pulp talents, and new skills. Captured in text and image is the history of the Old West, famous individuals, playing American Indian heroes, notable places and sites, as well as inspiration and guidance on bringing the terrors and mysteries of the Great Old Ones into your games.
Two complete towns, the gold-hungry Pawheton and San Rafael on the Texas border, are fully detailed, providing Keepers with ready-made inhabitants and locales from which to stage campaigns. Four different Lost Worlds are discussed, from the weird subterranean world of K'n-yan to the eerie Shadow Desert.
Packed with advice on creating campaigns and adventures, including two complete introductory-level adventures:
Scanlon's Daughter—a murder mystery set between two feuding Texas ranches.
Something From Down There—join the rescue of a group of missing miners whose digging stirred things best left forgotten
The Down Darker Trails product line is useable with both Call of Cthulhu and Pulp Cthulhu. For more adventures in the Down Darker Trails setting see the next release in the line, Shadows over Stillwater.
Down Darker Trails is a trademark of Chaosium Inc.
What the Critics Say
"...CoC has been sorely lacking a weird western sourcebook, so I was very pleased to see Kevin Ross and his friends at Chaosium release Down Darker Trails, a massive full-color 256-page hardcover which lovingly brings Mythos horror to the old west... an excellent addition to Chaosium's catalog"—Black Gate Magazine
"There's something about the people and places of the American West - Deadwood, Crazy Horse, Dodge City, Wild Bill Hickok - that just seem to work with the Cthulhu Mythos. Perhaps it's because the West itself seems as mythic as it does real."—Little Wars Holiday Gift Guide 2017
"Really, almost everything that you need to start adventuring in the Old, Weird, and Wild is included in this book. So, what are you waiting for?"—Microphones of Madness.
"Does Down Darker Trails succeed in offering background material, locations, non-player characters, Mythos creatures, story ideas, and enough tone, mood, and flavor for a complete Western setting? The answer is yes, unequivocally."—Reckoning of the Dead.
"Down Darker Trails is an exceptional supplement. It corrects a historical injustice by customizing a great system for an era that fits supernatural horror perfectly, and provides ample information, both crunch and fluff-wise to enjoy investigations there… The production values (are) the reference point against which other high-end products should be compared. Full colour everywhere, incredible iconography, excellent choice of old pictures and posters, gorgeous pencils on the non-coloured art, and some amazing imagery…"—Antonios S. Review, RPG.Net.
"The weird and the west go together well... If you dig westerns and horror, you'll be happy."—Vintage RPG.
Character Sheets for Down Darker Trails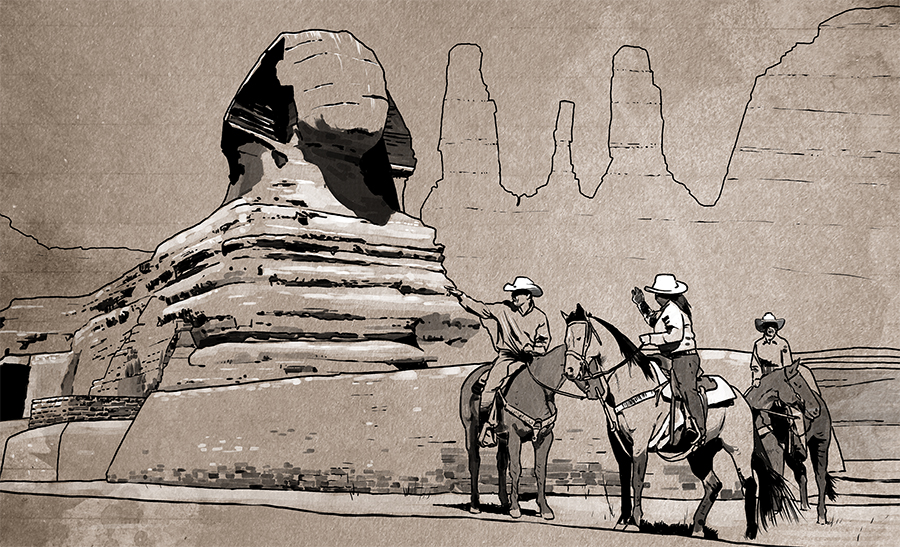 ---
More in the Down Darker Trails line
Can't get enough of the Wild West?
Mozy on over and check out Shadows over Stillwater for ever more fun! We have a full campaign, a standalone adventure, Stonehaven - a new locale to explore, and more adventure hooks.
If you have a hankerin' for adventure, look no further.

Product Configuration
Physical Product Settings
Is Physical Product: [N]
Has Inventory: [Y]
United States: [Y]
United Kingdom: [Y]
Europe: [Y]
Australia: [Y]
Canada: [N]
Is PDF Available: [Y]
PDF Product Name: [Pulp Cthulhu - PDF]
PDF Product Link: [/pulp-cthulhu-pdf/]
PDF Settings
Has Physical Product: [Y]
Is Physical Available: [Y]
Physical Product Name: [Down Darker Trails - Hardcover]
Physical Product Link: [/down-darker-trails-hardcover/]
Product Footer
Footer Name:[ChaosBrandDownDarkerTrails]
Version:

7th Edition Call of Cthulhu

ISBN:

978-156882-448-2

Page Count:

256

Format:

Color PDF

Authors:

Kevin Ross, Mike Mason, Scott David Aniolowski, David Cole, and Todd Woods