You can't keep an old haunt down: reminiscing about the Crack'd and Crook'd Manse
Posted by Michael O'Brien on 7th May 2020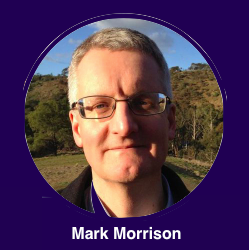 On the release of the new edition of Mansions of Madness, accomplished Call of Cthulhu writer Mark Morrison (Terror Australis, Reign of Terror, Horror on the Orient Express) reminisces about the inspiration for his famous scenario 'The Crack'd and Crook'd Manse', which appears here, updated and revised, for Call of Cthulhu 7th edition:
"In 1983 I moved into a share house in Carnegie with friends Brad Ellis and Leigh Southall. Our landlord was Walter Dodge, and the plaster in the walls was cracking above our heads. We played our first games of Call of Cthulhu by candelight in that house, and when I decided to write for the game, I only had to look up to get my inspiration...
That scenario "The Crack'd and Crook'd Manse" made its debut at Phantastacon 84, and later appeared in the local zine Multiverse, with maps and illustration by Brad. It was picked up by Chaosium in 1990 for Mansions of Madness, with a brilliant cover by Lee Gibbons..
You can't keep an old haunt down: today Chaosium have published the scenario again for 7th edition, with one of the classic scenarios plus three brand new ones. The maps, art and handouts are incredible, the editorial by Lynne Hardy and Mike Mason is first rate, and the layout by Nick Nacario looks easy to use in the dark. And, it has a brilliant cover, by Lee Gibbons.
I'm so pleased that this weird version of my old share house is once again open to unsuspecting investigators. Come inside."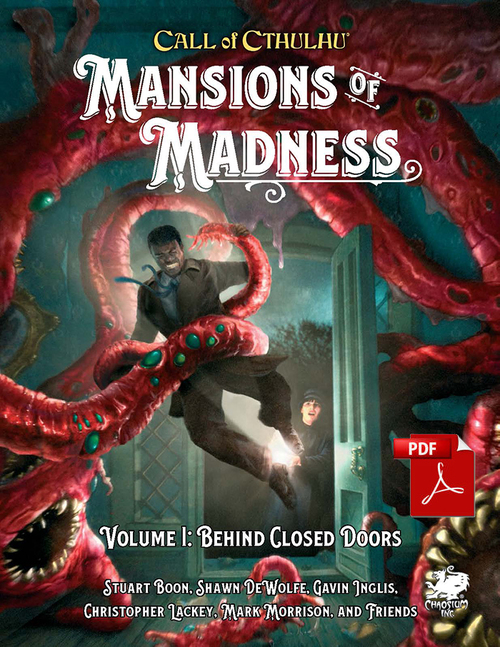 Mansions of Madness Vol 1 Behind Closed Doors – includes updated and revised versions of classic Call of Cthulhu scenarios Mister Corbitt and The Crack'd and Crook'd Manse, plus brand new scenarios The Code, The House of Memphis, and The Nineteenth Hole.
Out now in PDF*
*The full color hardback print version will be out later this year. Buy the PDF direct from Chaosium.com now and get the full price of the PDF off the print edition.