There Is One Week Left To Back Graveyards of Arkham on Kickstarter!
Posted by Michael O'Brien on 30th Jul 2023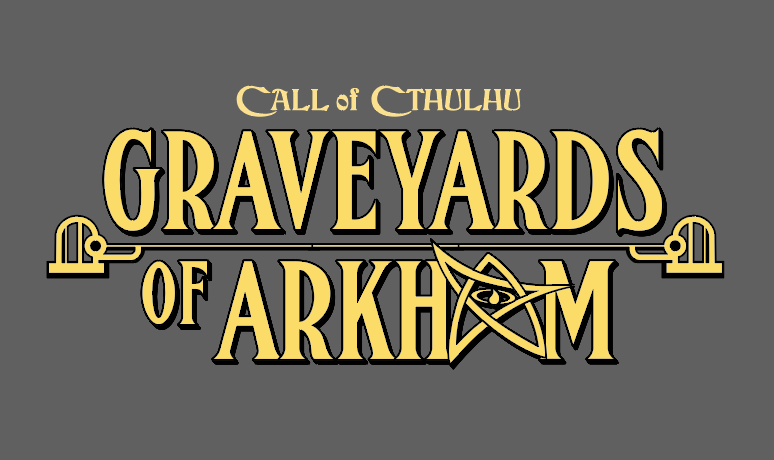 Graveyards of Arkham—the successor to Bookshops of Arkham and the next in Chaosium's anthological Call of Cthulhu Actual Play series—is live on Kickstarter, and is bursting with Call of Cthulhu roleplaying rewards and exclusive goodies for our generous backers!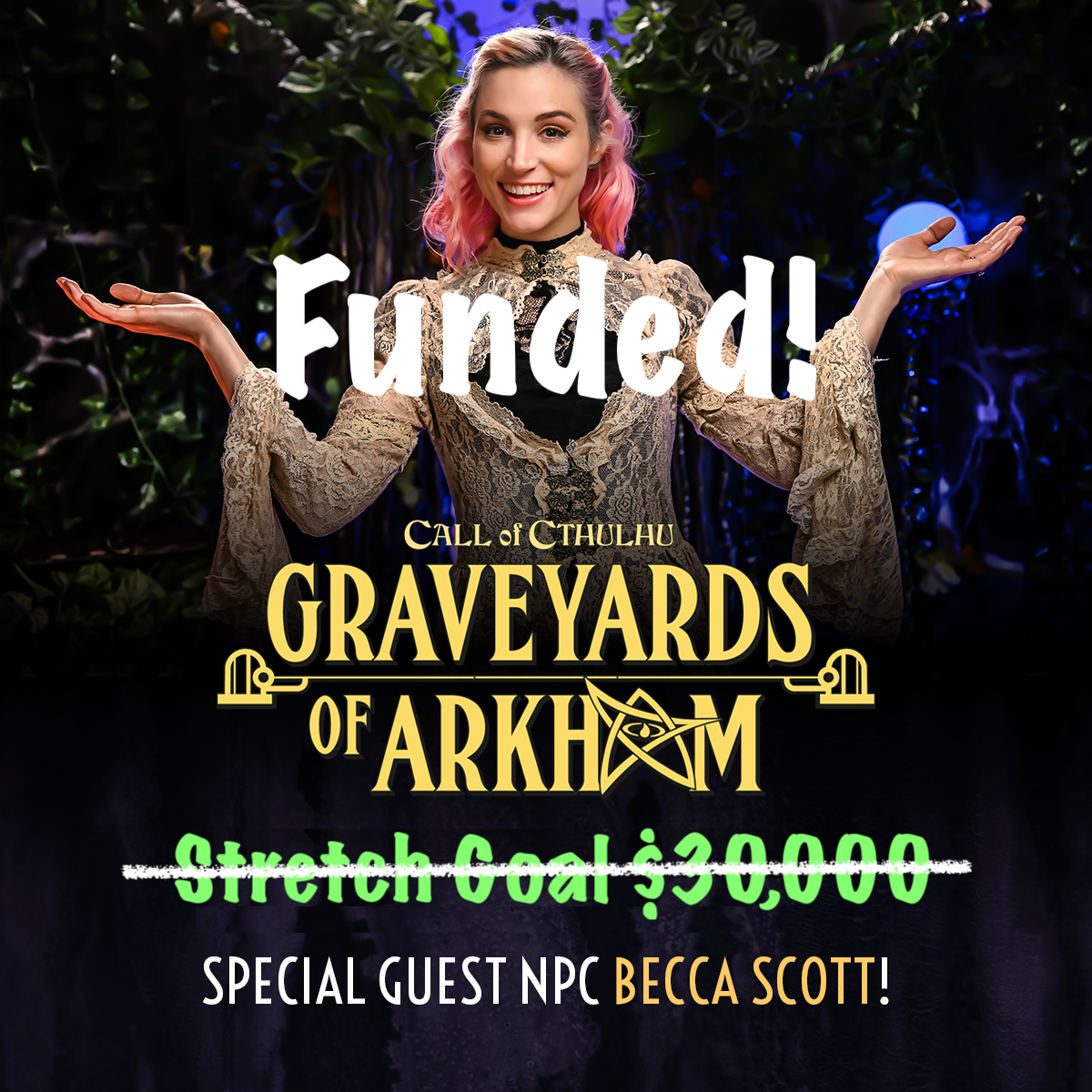 We are so happy that we can now welcome the incomparable Becca Scott to the Graveyards of Arkham cast as a guest NPC!

Our next stretch goal is at $35,000—at which point we'll be adding Paula Deming and Cynthia Marie to the roster of NPCs-come-to-life!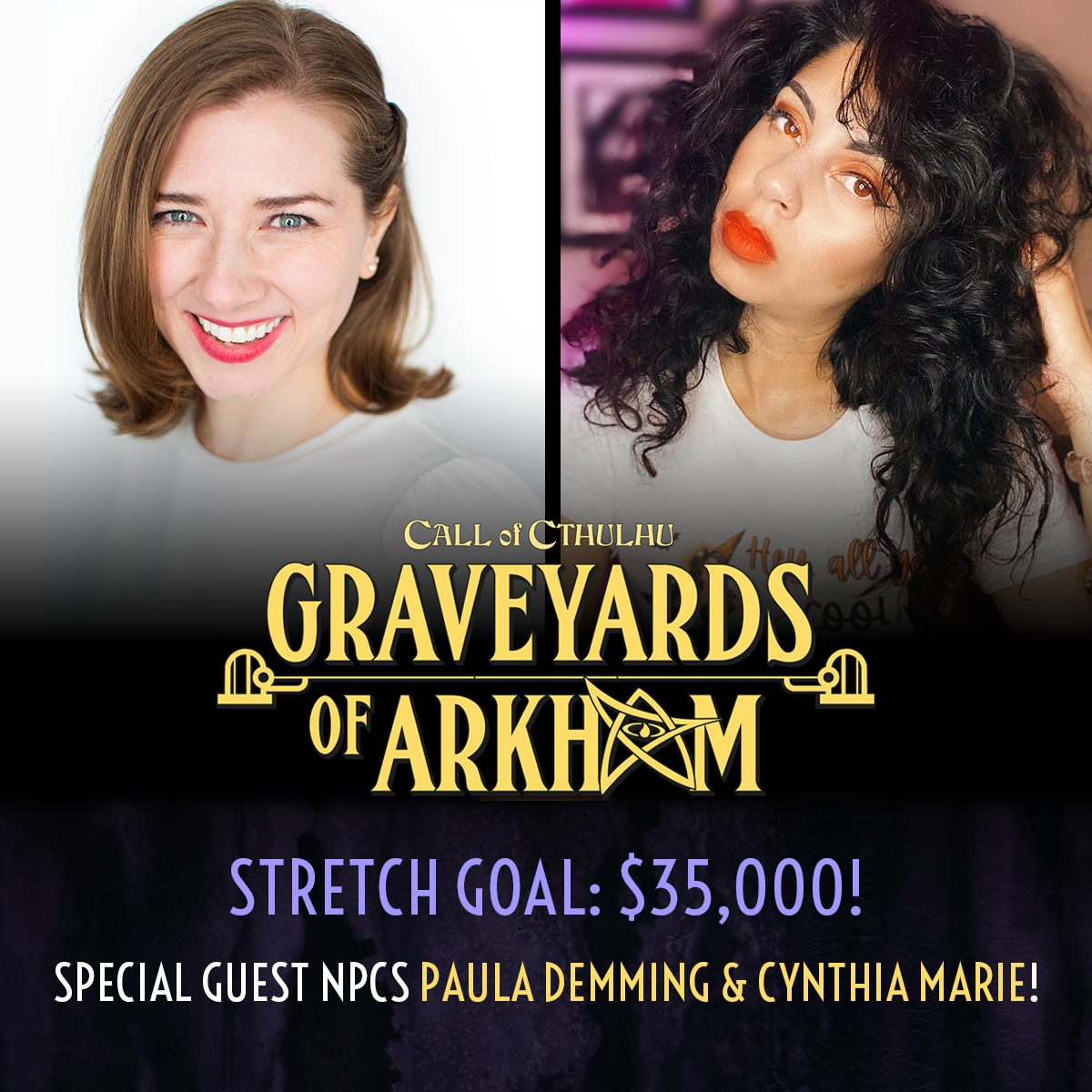 And Look What We've Dug Up...
Additionally, we have heard everyone's feedback, and we're happy to announce that the Old Arkham Cemetery Map—currently being exhumed by our friends at the H.P. Lovecraft Historical Society—is now available as an add-on.
Like the other posters in the campaign, it will be shipped rolled in a tube, and is perfect for using in your games of Call of Cthulhu, or displaying on your wall (and showing off your very own plot, perhaps!)
This add-on is available for all backer levels, and you can add it to your pledge right now. The price includes shipping anywhere in the world.
Premium Backer Level Rewards
The Graveyards of Arkham Kickstarter is home to some once-in-a-lifetime opportunities for premium-level backers!
Play Call of Cthulhu with Mark Meer
A few rare Keepers possess a unique quality: flawless off-the-cuff descriptions of otherworldly beings, a way to read the table and understand what makes the players tick and the type of game they enjoy the most, or the ability to take on the role of an NPC and truly become someone else before your eyes, in just a few words. They fill your imagination with such wonders that the table and chairs and dice all fade away, if only for a few hours.
Mark Meer is one of those Keepers.
Anyone who has watched just five minutes of Bookshops of Arkham can attest to his immersive skills.
If you generously back Graveyards of Arkham at its top $4,000 tier, you and a group of your friends (who of course you can split the cost with!), will experience a once-in-a-lifetime roleplaying experience.
Mark says the players in his game can expect:
A theatrical, interactive experience with plenty of opportunity for role-playing
Challenges, both physical and intellectual.
Bone-chilling eldritch atmosphere.
Fully realized NPCs (some of whom will be portrayed by Bookshops/Graveyards of Arkham writers Belinda Cornish and Darren Ormandy!)
Your favorite Call of Cthulhu session on the Citadel!
You and your friends can experience this super-special game of Call of Cthulhu by backing Graveyards of Arkham at the super-limited $4,000 tier!

The Mythos-Writing Masterclass
For those three lucky backers who generously select the $850 pledge level, you'll each receive your own exclusive one-hour Q&A with Belinda Cornish and Darren Ormandy—the creative minds behind both Bookshops of Arkham and Graveyards of Arkham.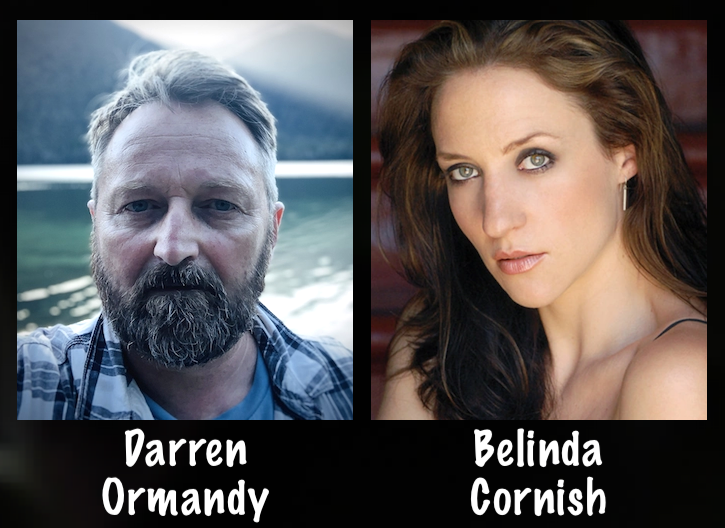 Darren is the Creative Writer at Weta Workshop, the studio that designed and created the buildings, props and costumes for The Lord of the Rings movies. He also makes indie horror films, and won the Best Short Film Award at the H.P. Lovecraft Film Festival in 2014, and to ring the changes he spends the summers at Oxford University teaching literature. Darren has also worked as a prop maker, and made The Book of the Dead which featured The Mummy (1999) starring Brendan Fraser.
Belinda is an award-winning actor, director, and playwright, with 25 years of professional experience in theater, film and television. She is also known for voicing a variety of characters in Bioware's video game series Mass Effect and Dragon Age. Belinda is a passionate storyteller, with a yen for weaving deep lore and myth into everything she creates—she's a nice person who likes to make nasty things.
Campaign concepts: Belinda and Darren can offer guidance on how to develop the spark of an idea into a detailed scenario.
Folklore, myth, and history: Why to weave these elements into your scenarios, and how.
Making sense of cosmic horror: The weird and baffling is always more terrifying when underpinned by twisted reason.
The details make all the difference: Creating rich, memorable non-player characters.
Writing collaboration: how to make it work!
True (and safe!) torture: Personalizing games to your players.
Belinda and Darren are also happy to talk you through how they developed Bookshops of Arkham and their other campaigns. Or perhaps you have an idea for a game or script and want to work with Darren and Belinda to develop it? Or maybe you want to create a great concept from scratch, working with the writers of Bookshops and Graveyards of Arkham!
To take part in one of these strictly-limited sessions with Belinda and Darren, back Graveyards of Arkham at the $850 tier!