The Storytelling Collective's 'Write Your First Adventure' Workshops return for Summer 2022 with a new Chaosium Path
Posted by Michael O'Brien on 15th Jun 2022

New for Summer 2022! The Storytelling Collective's popular 'Write Your First Adventure' workshop series returns with a new Chaosium Path covering both the Call of Cthulhu and RuneQuest TTRPGs.
In this one-month-long, self-paced workshop the Chaosium Path covers Call of Cthulhu and RuneQuest adventure writing. Aspiring creators can focus on either game system, or both! And by the end, they'll have written, produced, and published a 3,500-word adventure!
The Call of Cthulhu Path was designed by co-author of Call of Cthulhu 7th edition, Paul Fricker, author of the bestselling Miskatonic Repository titles Full Fathom Five and Dockside Dogs.
The new RuneQuest Path was designed by Chaosium community content ambassador Nick Brooke, author of the best-selling Jonstown Compendium titles Black Spear and The Duel at Dangerford.
Nick says: "As one of Chaosium's Community Ambassadors, my role involves encouraging new authors. I can't think of a better way to do that than adapting the Storytelling Collective's acclaimed "Write Your First Adventure" class for RuneQuest. I look forward to our first harvest of mythologically-infused sword-and-sandal adventures later this summer, with hopefully many more to follow."
There is also a D&D path and a General TTRPG path. Register for the program here.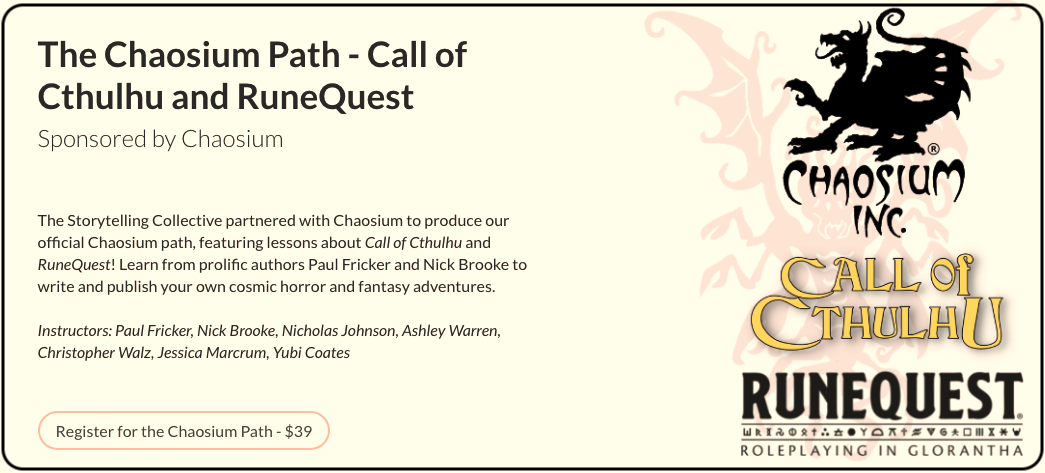 Check out adventures by alumni of the program!
These Call of Cthulhu titles are creations by alumni of previous of the Summer '21 and Fall '21 workshops. We're immensely proud of everyone who published for the first time!