Miskatonic Monday: a whole lot of new community content titles to enjoy!
Posted by Michael O'Brien on 10th Jun 2019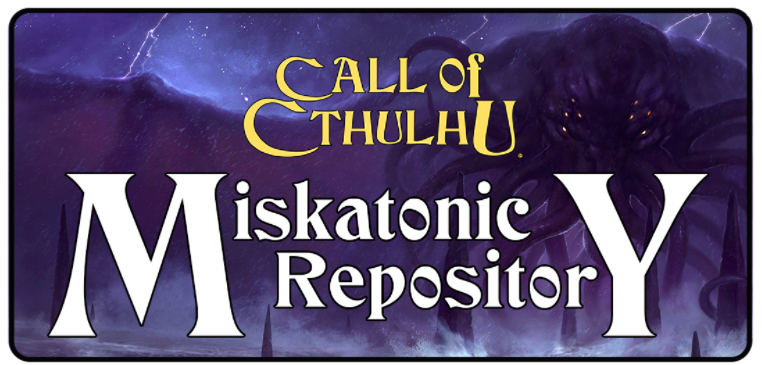 The Miskatonic Repository is going from strength-to-strength! Here are recent contributions from Call of Cthulhu creators from around the world - check them out on DriveThruRPG!: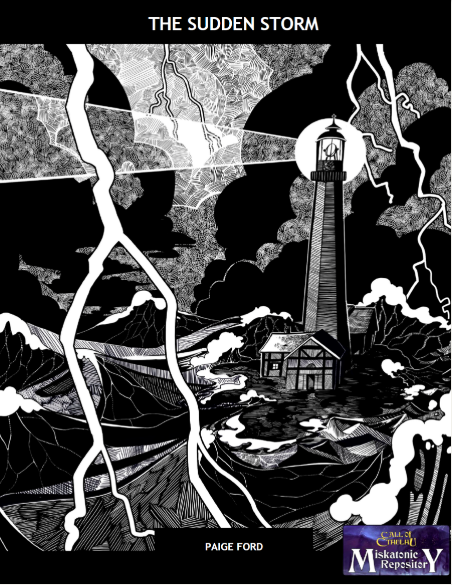 The Sudden Storm
Paige Ford ($5.00, 12 page PDF)
An unexpected storm relentlessly batters the small New England island that your group has decided to vacation on. Through the window and sheets of rain, forms can be seen lurking, waiting for someone to leave the safety of the rental cabin.
Will your group survive the storm and dangers that prowl outside? Find out in this 1920s Call of Cthulhu 7th edition one shot.

Included in this one shot are maps for the investigators.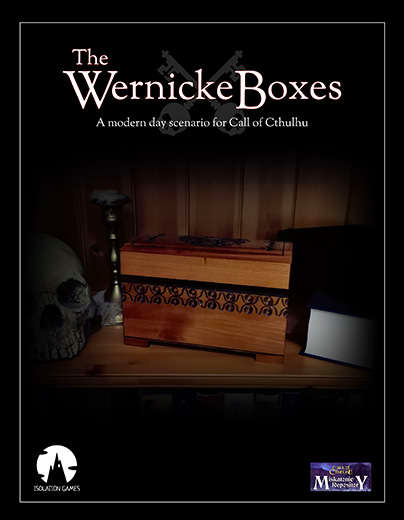 The Wernicke Boxes
Rob Leigh ($5.00, 24 page PDF)
When an old friend apparently commits suicide, the Investigators soon become embroiled in the mystery of a set of antique puzzle boxes, their strange provenance, and the dark curse that follows them.
The Wernicke Boxes is a modern day scenario for Call of Cthulhu 7th Edition that takes the Investigators across Europe in a quest to find the sinister boxes and unravel their mystery.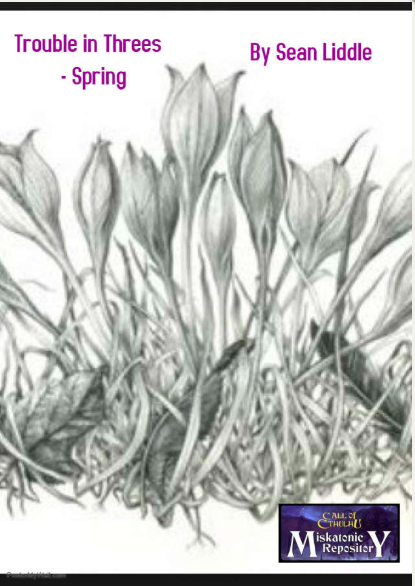 Trouble in Threes - Spring
Sean Liddle ($3.99, 20 page PDF)
Spring is in the air! Three scenarios for Call of Cthulhu 7th Edition are in this release. Seasonal stories to help you ease into summer!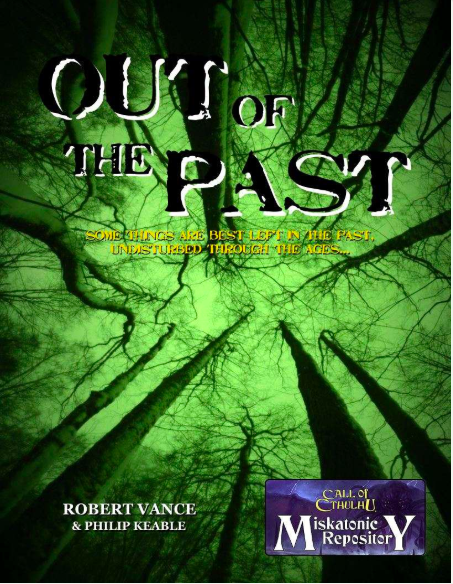 Out of the Past
Robert Vance, Philip Keable ($2.99, 44 page PDF)
For two to six players, Out of the Past can be played in two or three sessions. Set in England in 1925 this scenario leads the investigators around some of London's most iconic institutions and out into the countryside to a sleepy rural village.
Includes six pre-generated characters.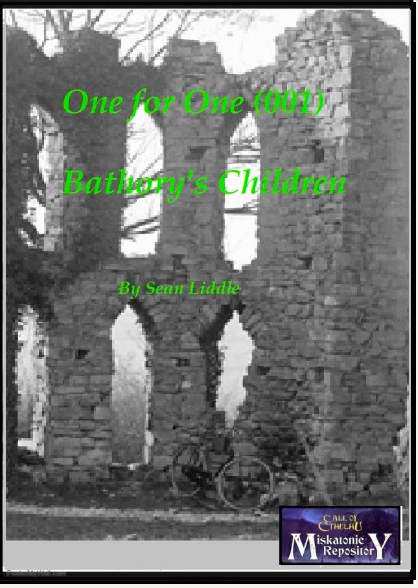 One for One - Bathory's Children
Sean Liddle ($1.00, 4 page PDF)
Need a quickie adventure/scenario? Here you go! First in a series of one-shot, two or so hour adventures for use with Call of Cthulhu 7th Edition.
Bathory's Children is a Black Metal band on hiaitus in Germany after a terrible happening at one of their concerts that caused their tour to end abruptly. They have been travelling incognito while they get back slowly into the metel mindset. But what is this? Their manager brings them an invitation to a small town near Berlin where they are staying, to meet up with a rival band and rock the night away! The guy however, he's a bit of a nut. And jealous. And far far too serious about all that Satanic stuff for their liking. Oh well. They are on vacation of sorts.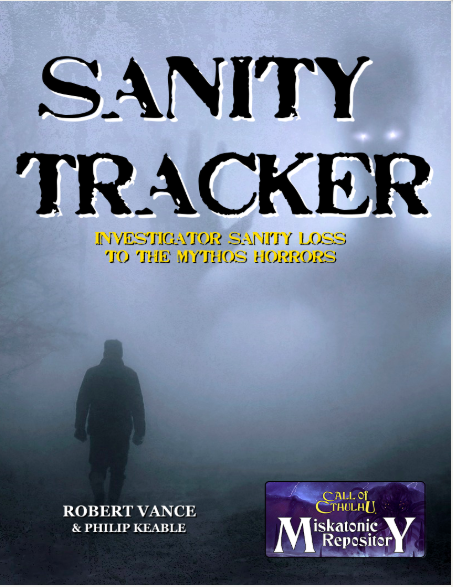 Sanity Tracker
Robert Vance, Philip Keable ($0.50, 10 page PDF)
Tracking an investigator's sanity is straightforward enough using the standard investigator character sheets. However, this does not track the cumulative number of Sanity points lost to any specific entity or situation the investigators may encounter, which has an upper limit dependant upon the horror in question.
Therefore to make this tracking easier this supplement has Sanity Tracker sheets intended to simplify recording the loss of sanity to any given type of Mythos entity or horrific situation.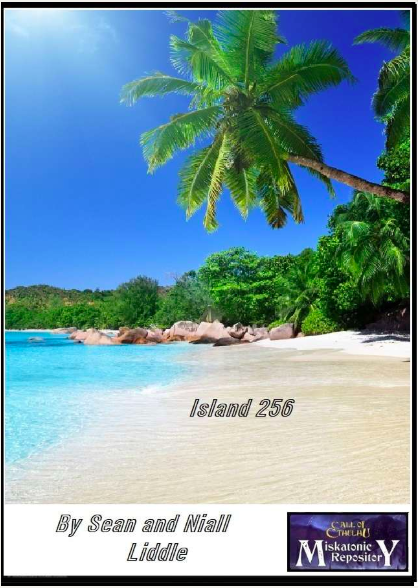 One for One - Island 256
Sean Liddle, Niall Liddle ($1.00, 5 page PDF)
You are part of a small squad of Japanese soldiers on a remote island in the pacific. You have been present garrisoning the island and base for over two years. The war rages on but you have had no contact with the fleet or Japan for over sixteen months. You continue to follow orders and guard against the American forces. There is plenty of food and fresh water and the climate, well you are used to it. Another day dawns and you gather as a group over breakfast to receive your orders.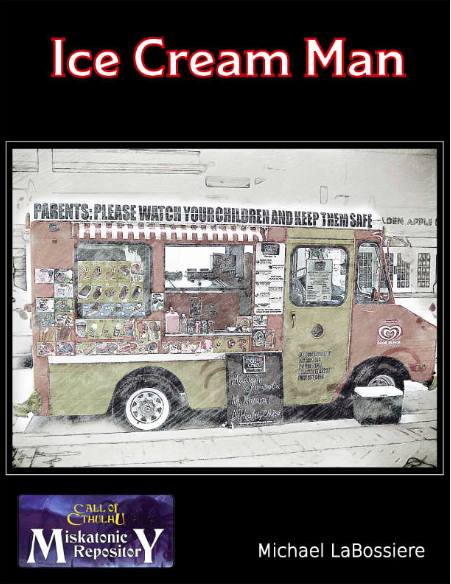 Ice Cream Man
Michael Labossiere (Pay-what-you-want, rec price $1.00, 8 page PDF)
This adventure transforms one of the classic joys of summer, the ice cream truck, into a vehicle of nightmares. A bereaved father wants the investigators to kill the ice cream man. Is he insane or is the ice cream man a monster? Or both?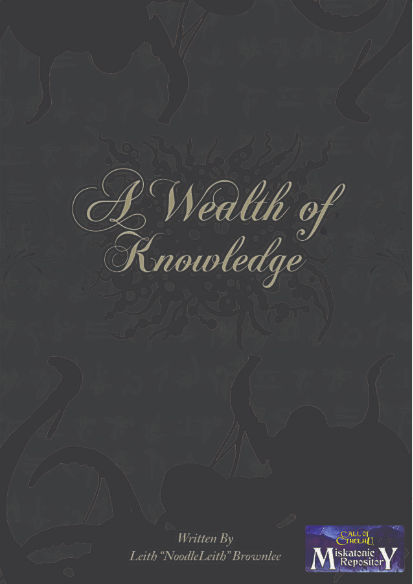 A Wealth of Knowledge
Leith Brownlee (Pay-what-you-want, rec price $1.97, 18 page PDF)
The mundanity of studying is brought to a halt as a new library opens up in the city that seems too perfect to be real, and reports of missing professors, scholars, and students are drastically increasing.
The Students of Miskatonic will have a hard time passing their exams if their professor disappears, and they're about to find out that there's much more on the line than their education.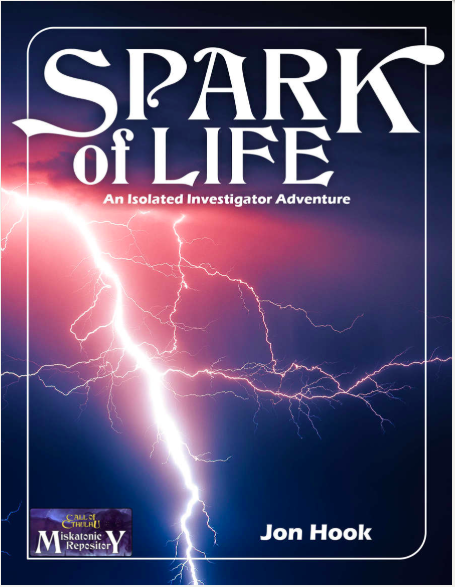 Spark of Life
Jon Hook ($3.00, 24 page PDF)
Designed to be a tension-filled mystery between the Keeper and a solitary investigator. In Spark of Life, a solitary Miskatonic University graduate student becomes the target of a fraternity hazing ritual. What is going on with the Kappa Delta Psi fraternity, and why are they so interested in this one particular graduate student?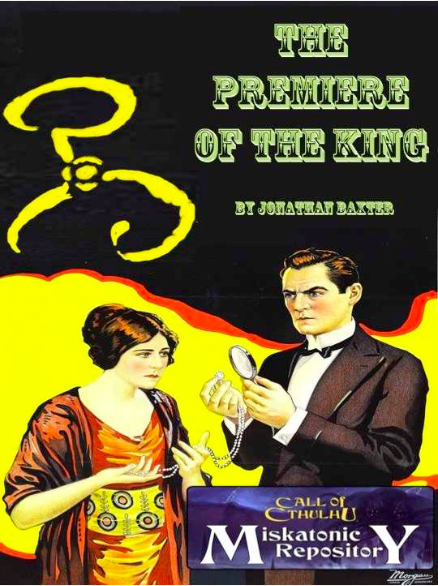 The Premiere of the King
Jonathan Baxter (FREE, 19 page PDF)
Hollywood during the height of the silent film era. A missing woman. A sinister plot to bring America to her knees. This original scenario for 7th Edition of Call of Cthulhu plunges Investigators into the gritty and glamorous world of 1920s Los Angeles. Evil forces are at work to use the new medium of film to herald the coming of other-worldy entities. Only the Investigators can save the country from madness at a national level!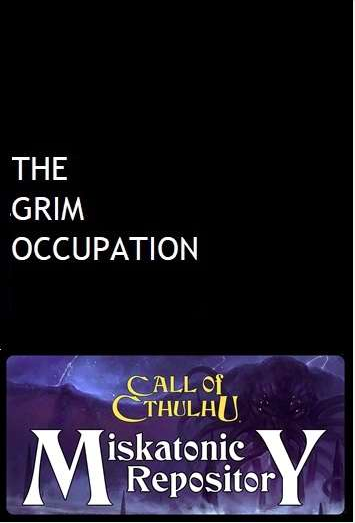 The Grim Occupation
Benton Hodges ($4.99, 35 page PDF)
The year is 1944. The battle to liberate France from Axis control is waging on, leaving a trail of destruction in it's wake. In the face of extreme adversity, an Axis commander resorts to forbidden knowledge in an attempt to change to tide of battle, repeating horrific mistakes of the town's sordid past.
This Scenario is suitable for 7th edition Call of Cthulhu campaigns without requiring any supplement material. Includes pre-generated characters.
Shimmering Sea
Aser Tolentino ($3.49, 11 pages)
Something is wrong aboard the USS Lyndon B. Johnson. A sailor has vanished without a trace, and the investigator looking into his death has committed suicide... amid an escalating series of confrontations between global powers, one thing is certain: if this situation is not resolved, it could mean the start of the next world war.

Shimmering Sea is an modern stand alone scenario for Call of Cthulhu 7th Edition. It includes six pregenerated investigators.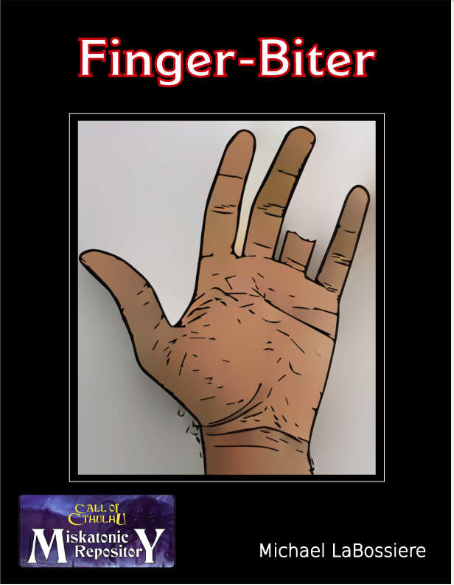 Finger Biter
Michael Labossiere (Pay-what-you-want, rec price $0.99, 12 page PDF)
Set in 1920s Scotland, this adventure sends the investigators on a journey to find who or what has been stealing fingers.
What is the connection between the missing fingers and an old tale of gold, madness and death?
Plus two new entries in Polish, and two new entries in Japanese!

And Mark Morrison's The Saltwater Inheritance, launched exactly one week ago, is still one of the Most Popular Items Under $5 on DriveThruRPG!
WANT TO TAKE PART YOURSELF?
Under The Miskatonic Repository community content license, Call of Cthulhu fans can make their own work for use with the game line available to the public, using guidelines, templates, and art provided by Chaosium.
Whether you share your content for free or put it up for sale, this program is a digital home for terror that joins the dreamscapes of all who peruse it.
—Guidelines for Content Creators