Miskatonic Monday #81 - Journey to Jonstown #63: Nick's 10,000 pages of printed classic and community content!
Posted by Michael O'Brien on 18th Sep 2023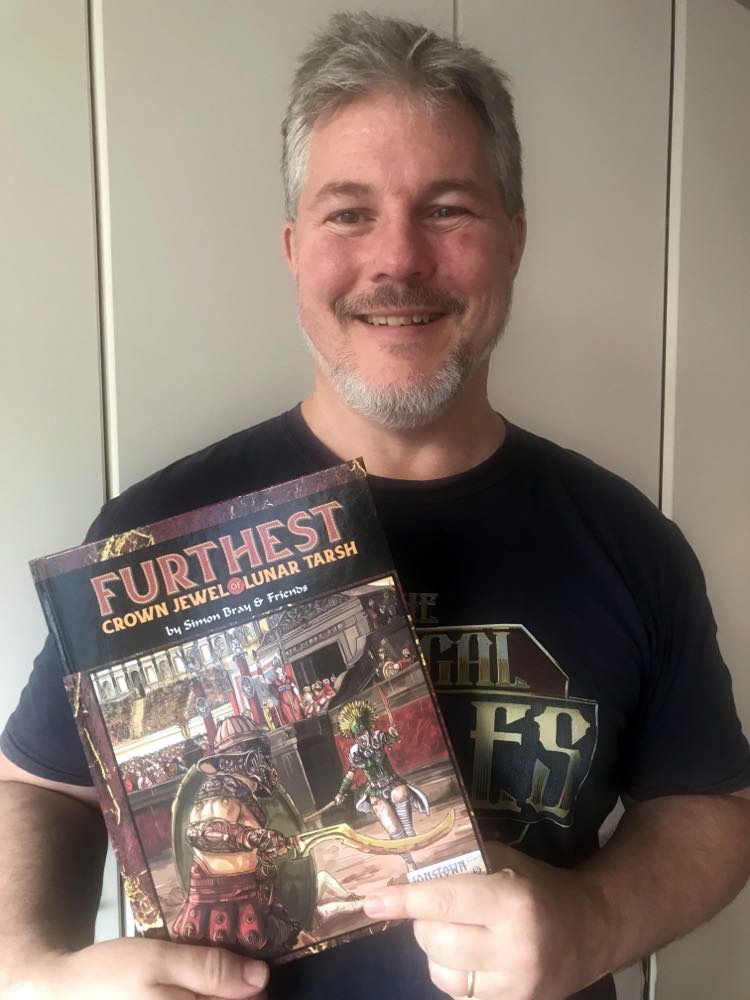 Our indefatigable community ambassador Nick Brooke is celebrating a personal milestone today: Simon Bray's Jonstown Compendium release Furthest, Crown Jewel of Lunar Tarsh is the 100th print-on-demand (POD) community content title he's shepherded through premedia and print production at DriveThruRPG and Lightning Source.
Nick says:
"My main focus has been the Jonstown Compendium, Chaosium's community content programme (CCP) for RuneQuest and the world of Glorantha, where I've prepared 4,800+ pages for print across 35 titles.
In second place are twenty older Chaosium books I converted for POD this year: 3,400+ pages for 7th Sea, Call of Cthulhu and Basic Roleplaying.
Third is the Miskatonic Repository, the CCP for Call of Cthulhu, with 2,500+ pages across 40 titles.
I've also helped Paul Bimler convert two Solo Adventurer's Toolboxes on the Dungeon Masters Guild CCP for Dungeons & Dragons (464 pages), and the Good Friends of Jackson Elias with three issues of the Blasphemous Tome zine (144 pages).
What I do falls into three broad categories:
At one end of the scale, I lay out entire books from scratch using InDesign (20 titles, all for the Jonstown Compendium).
In the middle, I convert existing digital editions for print by dropping PDF pages into InDesign, adjusting for bleeds, ink limits and the like, enhancing art quality and making other tweaks where necessary, and setting up covers for print (61 titles: 31 Miskatonic Repository, 20 Chaosium, 8 Jonstown Compendium and 2 DMs Guild).
And at the shallow end, I support creators by running premedia checks on "print-ready" files they've independently produced and advising on how to meet the print spec (19 titles) — my count doesn't include a few books where the files submitted were already good-to-go.
It's been an absolute pleasure working with Meredith Gerber, Pauline Benney and their colleagues at DriveThruRPG. I've learned a lot from them since I started, and am also eternally grateful to my old comrades from Tales of the Reaching Moon magazine -- Steve Thomas, David Hall, Michael O'Brien, and Rick Meints -- and to the incomparable Dario Corallo for teaching me so much about this publishing lark.
My best advice to aspiring print creators would be to invest in Affinity Publisher or Adobe InDesign and read OneBookShelf's Help Center articles on book printing, especially "Correcting Most Common Print Errors": it's regularly updated and could save you hours of rework. Aside from that, get your head around why bleeds are necessary, never export pages as spreads, and always delete the barcode box from the back of the cover template.
And if you need more help than that, just ask."
Some community content POD stats:
HIGHEST PRINT SALES:
A Rough Guide to Glamour (JC): 112 pages, 390 sales *
The Duel at Dangerford (JC): 40-44 pages, 288 sales (original & deluxe) *
The Solo Investigator's Handbook (MR): 100 pages, 286 sales
The Armies & Enemies of Dragon Pass (JC): 388 pages, 285 sales *
Black Spear (JC): 180 pages, 254 sales *
Full Fathom Five (MR): 60 pages, 253 sales
Tales of the Sun County Militia (JC): 104 pages, 251 sales *
Heinrich's Guide to Character Creation (MR): 156 pages, 234 sales
The Six Paths (JC): 32 pages, 231 sales *
The Corn Dolls & Fortunate Sun (JC): 114 pages, 225 sales *
HIGHEST PAGE-COUNT:
Basic Roleplaying (CHS): 400 pages, 123 sales
Japan: Empire of Shadows (MR): 400 pages, proof-print
The Armies & Enemies of Dragon Pass (JC): 388 pages, 285 sales *
The Solo Adventurer's Toolbox (DMG): 296 pages, unknown sales
BRP: Magic World (CHS): 268 pages, 55 sales
7th Sea Game Master's Guide (CHS): 260 pages, 25 sales
7th Sea Players' Guide (CHS): 260 pages, 32 sales
Life of Moonson, Book One (JC): 244 pages, 89 sales *
Secrets of Dorastor (JC): 244 pages, 136 sales
Life of Moonson, Book Two (JC): 240 pages, 80 sales *
HIGHEST COMBO (other than the above):
Citizens of the Lunar Empire (JC): 172 pages, 194 sales *
The Grindhouse Collection (MR): 140 pages, 128 sales +
The God Skin & Mad Prax (JC): 110 pages, 162 sales *
The Children of Hykim (JC): 170 pages, 86 sales +
Edge of Empire (JC): 224 pages, 65 sales
New Pavis: City on the Edge of Forever (JC): 224 pages, 64 sales
Nick Brooke's Gloranthan Manifesto (JC): 216 pages, 63 sales *
DuckPac, Book 1+2 (JC): 140 pages, 87 sales +
Host and Hostility (MR): 104 pages, 106 sales
The Dragon of Wantley (MR): 60 pages, 121 sales
* layout and design
+ creator support all others are digital conversions