Miskatonic Monday #57: a huge array of new releases including creations from alumni of the Write Your First Adventure summer workshop!
Posted by Michael O'Brien on 22nd Aug 2022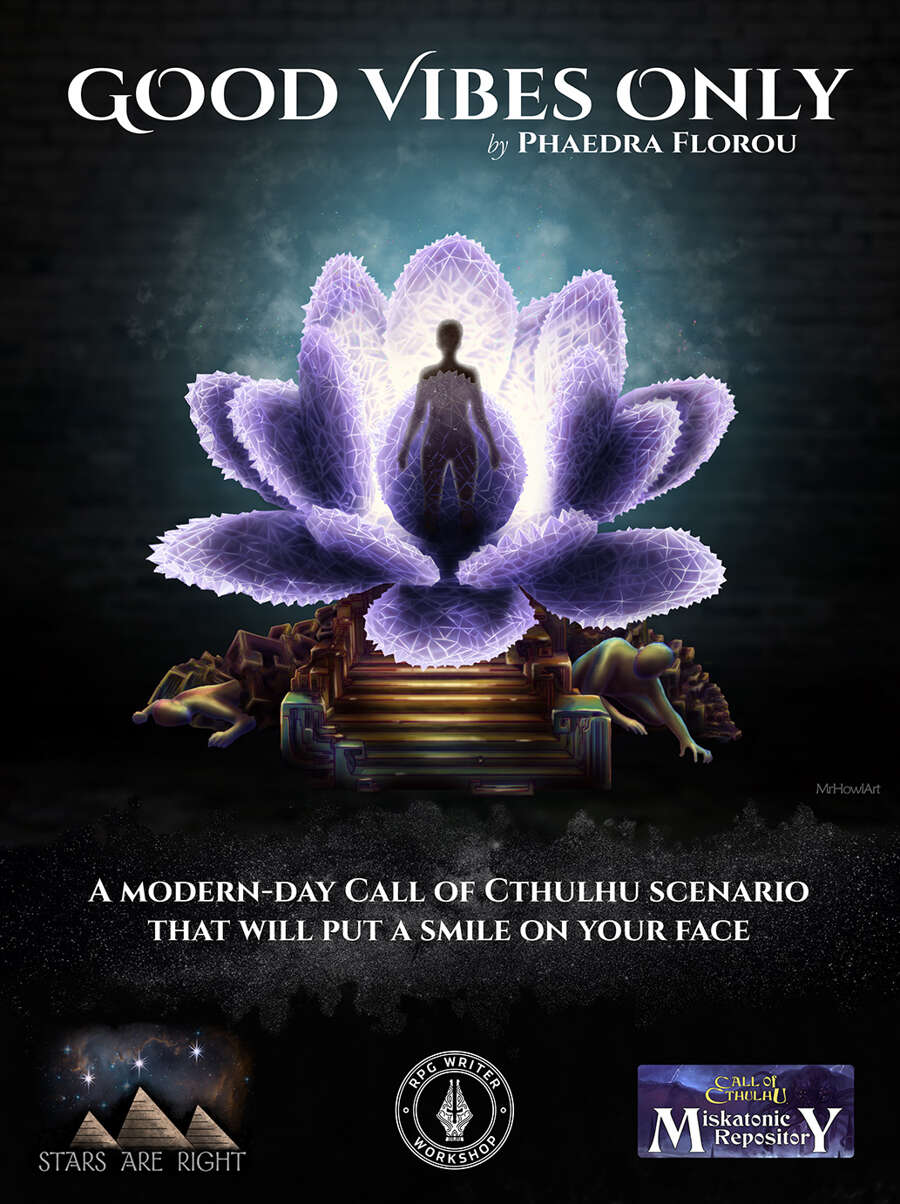 There's a huge array of new community content releases in the Miskatonic Repository! Many were produced as part of the Summer 2022 Write Your First Adventure workshop from the Storytelling Collective. Congratulations to all these independent Call of Cthulhu creators!

Good Vibes Only
Phaedra Florou, Stars Are Right ($5.99, 44 page PDF)
...a Call of Cthulhu scenario that will put a smile on your face.
Come to a spiritual retreat the likes of which you've never seen before!
The Pharaoh's Sacrifice
Keith D Edinburgh ($2.95, 50 page PDF)
Looking into the disappearance of an eccentric lecturer from Edinburgh University sets in motion a chain of events that takes investigators on a journey across - and beneath - the historic 1920s streets of Scotland's capital city.
Radio Killed Verna Starr
Michael Schaal ($0.99, 13 page PDF)
In 1925 radio was sweeping the nation. The invention of the vacuum tube radio meant that everyone could listen to music, news, and sports right in their own home! The appeal was not universal however, as people deemed 'radiophobic' feared the unseen waves were having unknown impacts on the bodies and minds of those they passed through. In the town of Rosebridge, PA, those fears would prove to be completely justified.
An investigation that takes place in the small town of Rosebridge beginning on August 14th, 1925. 1-4 investigators will find they are not always sure who - or what - is reaching out through the airwaves. One by one citizens become tuned to the frequency of the mythos. It is uncertain what the new broadcasts have awakened, but the players will need to stop it before they too become radio controlled.
The Antediluvians
Tiffany Funk ($5.00, 52 page PDF)
Something is lurking in the black blizzards of the Great Plains... August 1st, 1935, northeastern South Dakota: the Great Depression and the severe droughts and dust storms of the Dust Bowl ravage middle American farmland. The town of Tillings is the site of a massive, federally funded construction: the Tillings Hydroelectric Dam. Once complete, the dam will provide much-needed irrigation to neighboring farms, flooding 300 acres of nearly deserted land. Nearly.
Luxtorpeda
Jakub Markiewicz ($3.99, 40 page PDF)
The adventure starts on the 1st of January 1934 in Zakopane, Poland, after New Year's eve celebrations. Investigators will ride the express train "Luxtorpeda" - one of the fastest trains in Europe - to Warsaw. Unbeknown to them, there are nefarious plans in motion. They will need to face ancient Serpent People plotting their comeback, temporal anomalies, and a doomsday cult summoning their god.
What starts like a typical train ride will quickly devolve into a survival scenario in a hostile environment. Will investigators survive and find a way back home? Only time will tell.

Beyond the Veil of Dreams: Susupti
Byron the Bard (Pay What You Want, Suggested Price $0.00, 50 page PDF)
A talented graduate student has gone missing, a book of ancient Vedic secrets has been found, and more than one party seeks knowledge better kept hidden. This multi-session module is set in 1985 around the town of Arkham, Massachusetts, where players must unravel arcane schemes decades in the making.
Cursed
Al Smith ($3.00, 40 page PDF)
In modern Aylesbury, Massachusetts. a group of military veterans have wonderful lives. They have careers, marriages, families, and children. They left everything bad that has ever befallen them in the past, where it belongs. But now, a strange woman is watching them. She has been for some time. They just haven't noticed. You probably don't remember her, but she remembers them... and she is going to take everything that they have... starting with that nice little family...
Introductory scenario for Keepers and investigators interested in modern day adventures and "family" horror, like The Ring, Hereditary, Us, Midsommar, The Babadook, or The Witch, while also serving as a sort of sequel to the HP Lovecraft classic The Dunwich Horror.
All Roads Point South
Michael Bertolini ($2.99, 14 page PDF)
In February 1925 a mysterious document was stolen from Yale University, the document refers to Cthulhu. It was stolen by a cult with the intent to raise Cthulhu from his slumber. The investigators must stop the cult.
A Small Tremor in the Mountains
Laurie Hedge (Pay What You Want, Suggested Price $2.37, 21 page PDF)
In this adventure, a group of thrill seekers and treasure hunters descend into a newly discovered cave system. However as they will soon learn, they are not alone in the caves…
This adventure focuses on exploration, environmental threats, and culminates in a desperate chase sequence to escape from the eldritch horrors below.

The Flooding of Black Tarn
Jonas Morian ($5.00, 22 page PDF)
It is the 1920s and the investigators have been assigned by Swedish construction company Kreuger & Toll to negotiate with villagers in a remote and rural part of Sweden, about compensation for moving so that Hammarforsen river can be regulated through a planned hydropower plant dam. But the village is protected by powerful forces that have held sway over these parts long before any people arrived.
This scenario won first prize in a competition in 2022, to write a scenario for Call of Cthulhu that took place in Sweden during the 1920s. The jury called it "a chilling tale told at the intersection of modernity, folklore and cosmic horror".
Bride of the Wilds
H.S. Falkenberry ($5.99, 28 page PDF)
"For the darkest, deepest wood in our world is but a fleeting shadow, a pale and wavering imitation, of those great Wilds that haunt Mankind's collective Dream, that primeval Forest of the Mind whence Man first emerged from Beasthood, and in which he may with nameless aeons return to his first primordial state." -The Yellow Book, Anonymous
On June 18th, 1932, a young woman goes missing from the lonely Appalachian college town of Belias, Georgia, amidst rumors of evil doings and witchcraft in the wilderness outside the town. This investigation-focused scenario tasks players with heading out into the forest-cloaked North Georgia mountains and tracking down the young woman–before she is condemned to a life more hideous than any death.
St. Mormo's Home for Wayward Girls
Rachel E. Judd ($4.99, 38 page PDF)
In upstate New York, in a rural farming community, is a large stone building calling itself St. Mormo's Home for Wayward Girls. Here, young women (and the gender non-conforming) find themselves warehoused and imprisoned. The Home is administered by Matron Rowena Danvers, a worshipper of the dread triple goddess Mormo. Ruling both her small cult and home with an iron fist, many of the prisoners consigned to St. Mormo's never make it back to their families or freedom.
Maps for a Mad Scientist's Lair (Cliff Manor / Xavier Mansion) - Inspired by Doctor X (1932)
Adam Preset ($2.00, 2 digital maps)
"As a fan of old horror movies I was delighted to discover a classic, Doctor X (1932) from Warner Bros. I recommend it! It stars Lionel Atwill, Fay Wray, and Lee Tracy and is directed by Michael Curtiz, well known for later giving us Casablanca. The first time I watched the film, it activated my Call of Cthulhu Keeper sensibilities. I saw that the film could be translated into a great, but self-contained adventure that my players would enjoy. I made notes for myself of the film and converted them into a format I could use for running a scenario. It went smashingly. But! I needed at least one map for one location. And so that's what you see here - a set of two maps suitable for virtual tabletop or printing."

The Tartarus Intercept
Alex Guillotte ($11.95, 65 page PDF)
At the edge of the solar system, the crew of the CCS Orpheus is about to explore a dark new world...
Scenario that blends hard science fiction with cosmic horror. It includes deck plans of the CCS Orpheus, maps, more than a dozen handouts, new skills, new equipment, new science, and six pre-generated characters.
Tears of a Clown
Paul Mazumdar ($2.99, 16 page PDF)
Cambridge, 1893. The annual Midsummer Fair is open for business and one of the big attractions this year is the Fairground Maxiumus, its steam ride and its team of masked clowns. While looking for a lost friend, the players find themselves getting closer to the clowns than they'd imagined.
A Murder at Heck's Peak
Vovina Games ($4.95, 47 page PDF)
In the summer of 1877, a trio of gruesome murders are committed in the mining town of Heck's Peak, Colorado. The locals are blaming a strange pioneer caravan that passed through the town, but your players may discover that more sinister things are afoot...
Mail-Order Bribe
Jade Griffin ($4.99, 45 page PDF)
Boston, Massachusetts, December 1922. With the turn of a post office box key, investigators are pitted in a deadly game of snake and mouse against a possessed doll that sucks out souls and a creature composed of vermin that is disguised as a Southern belle.
Joerg Sterner ($4.07, 15 page PDF)
The investigators are sent on an easy delivery job which turns out is not as easy as advertised. There are more parties involved and they all have their own agendas. Takes place in the mid 1920s in a large city near the east coast of the United States. The main action taking place on the way to and in a nearby coastal village.
The Dark Web
Jason Lee ($4.99, 24 page PDF)
Takes plays in the 1920s in Australia. The investigators start out in the remote outback town of Stuart (now known as Alice Spring) where they are tasked to find out why miners have gone missing in an unnaturally rich mine deep within the desert.
Their investigation soon takes a turn for the worst when they find themselves trapped deep within the underground mine, in the dark, stalked by unseen monsters, and crawling through tight tunnels…
Mystery of the South Channel Pilot Light
Kim White ($3.00, 32 page PDF)
Set in Port Phillip Bay, near Melbourne, Australia, in 1925. The investigators are tasked with discovering what has happened to the Lighthouse Keepers, vanished without a trace. Danger lurks in the sea as the investigators are forced to spend the night cut off from help, seeking clues, and tracking down an evil force that has existed here for decades.
Once Bitten Twice Shy
HareAndRaven Maps ($4.95, 43 page PDF)
Le Bastion Culinaire is the finest (fictional) culinary institution in France. For the last decade, it has produced some of the best chefs in the world. However, the students and faculty, overprotective of the school and property, have begun raising suspicion with the outside community. Students have gone missing with no real explanation, and those looking for information have been stonewalled.
A whistle-blower has managed to get the word out to investigators that all may not be as it seems, asking for help.

Baba Dochia - Call of Cthulhu folk horror in 1990s Romania
Christopher Dimitrios ($3.50, 13 page PDF)
Mystery of folk horror set in 1990s Romania. Investigators arrive in a remote mountain village plagued by corruption, destitution, the spirit of a tormented mother, and a witch grieving for her lover.
Baba Dochia is a scenario about motherhood, young love, and grief. It is set within the corrupt and paranoid Romanian society in the wake of the dramatic revolution of 1989. It is inspired by the folk legend of Baba Dochia ("old woman Dochia") but interpreted through the lens of the Cthulhu Mythos.
NOTE: Yes, Romania but zero vampires.
Amelia's Friends
Stephen K. Stein ($4.99, 40 page PDF)
A desperate search for a missing aviator. A mysterious island with deadly secrets. Rival cults, desperate villagers, ancient horrors.
Can the heroes avert disaster and restore peace? Or will their bones decorate the beach? Pulp Cthulhu Adventure in the South Pacific.
Leo Milani ($2.50, 30 page PDF)
Welcome to São Paulo, the largest city in Latin America! The year is 2016, and the stars are aligning once again. In this 3-hour scenario, the investigators will have to work together as board members of the Paulicéia Métropolitain condo association. Terrifying, right?
The residential building, built downtown in the late 1950s, has fallen from grace long time ago and is currently half empty. One of the inhabitants is reporting strange noises and leakage coming out from one of the units - which has been abandoned for more than 10 years – and is up to the investigators to find out what haunts Apartment 71.
The Depths of Bermuda
Thomas S. Lawrence ($5.00, 28 page PDF)
It's the 23rd March 1928, Bermuda - A maritime salvage operation to recover gold bullion quickly becomes a battle for survival against a deadly unknown entity.

The Strawman
A Keith Applegarth ($2.99, 42 page PDF)
Urban Legend Comes to Life – Everyone has heard a urban legend of the Scarecrow murdering innocent people. Now it seems to have become real. This small farm town is not your normal tourist destination…
Be My Valentine
T A Newman ($5.90, 88 page PDF)
Happy Valentine's Day! Join us at Gannet's restaurant for a romantic evening of 'speed dating!' You can eat, drink, and dance your way to an evening full of your heart's desire. Hungry for more? Don't you worry. With a guest list to brag about we will be playing your heart strings and making your blood pump with the excitement of true love.
Saturday the 14th
Sabrina Haenze ($4.99, 27 page PDF)
It's Saturday, June 14, 1980. Your crime scene team has been dispatched to Camp Shady Pines to investigate the bizarre deaths of the camp's counselors who had been preparing for the arrival of the campers next week. According to Shelly Peters, the sole survivor, the counselors were attacked and brutally hacked to death by a mysterious masked stranger. It's up to you and your team to find the truth, and fast, so the camp can open on time.
Stolen Grief
Stuart McNair ($4.67, 40 page PDF)
Travelling over the moors in the north of England the investigator's transport breaks down close to the small village of Darachdale. With parts to repair the vehicle not available until tomorrow, they arrange lodging at the local inn. Learning of a tragedy that has befallen one of the villagers they get entangled in a young woman's final attempt to see her daughter one last time.
Plus releases in Chinese, Korean, Polish, Spanish, and Swedish!
Want to take part in the Miskatonic Repository Program yourself?
Under the Miskatonic Repository community content license, Call of Cthulhu fans can make their own work for use with the game line available to the public, using guidelines, templates, and art provided by Chaosium.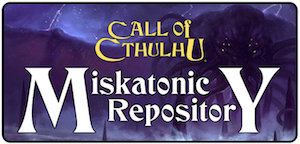 Whether you share your content for free or put it up for sale, this program is a digital home for terror that joins the dreamscapes of all who peruse it.