Miskatonic Monday #55: Hometown Horrors and more
Posted by Michael O'Brien on 18th Jul 2022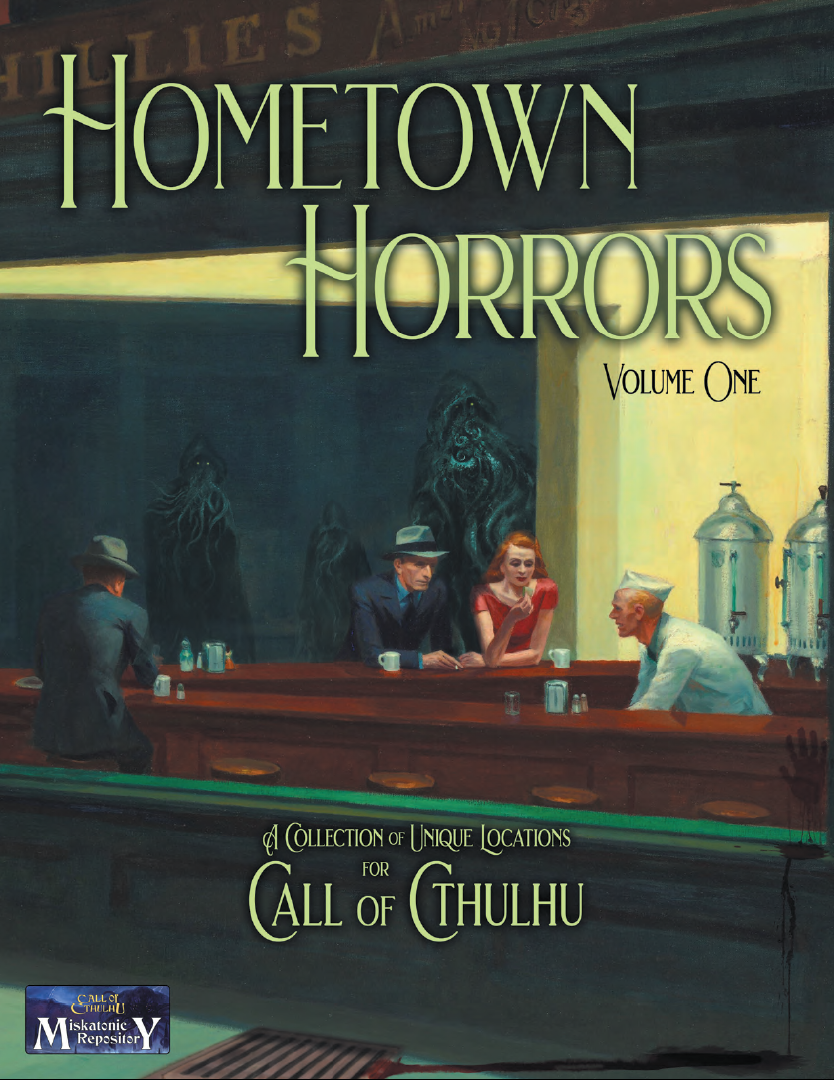 It's Miskatonic Monday – check out these latest releases from independent Call of Cthulhu community creators!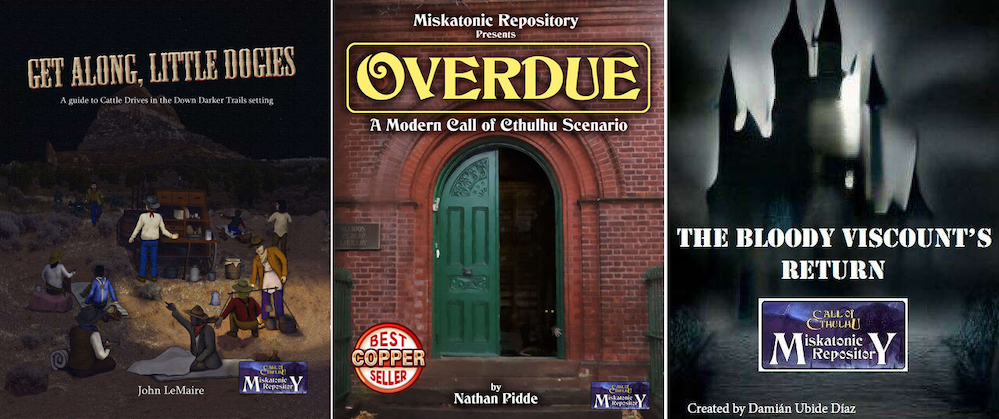 Call of Cthulhu: Hometown Horrors, Vol. 1
Evan Perlman, Elizabeth Hildick, Mei Kurakake, Meghan Kuschner, Jazmin Ospa, Kevin Kreiner, Jonah Knight, Sean Liddle, Brendan Lahey, Josh Beers, Bridgett Jeffries, William Horn, Heinrich D. Moore, Bart Heird, Alonso Aguilar, Phillip O'Brien ($9.99, 35 page PDF)
There's no place like home! Hometown Horrors, Vol. 1 contains 15 guided tours of the creepy, the spectacular, the terrifying, and the downright odd, all from places that our contributors call home. From the vacation homes of Martha's Vineyard to the rural Appalachians, from Montreal to Havana, let our tour guides show you the best their hometowns have to offer for your Call of Cthulhu games.
Get Along, Little Dogies
John LeMaire ($18.99, 134 page PDF)
Welcome to a new sourcebook for Call of Cthulhu's Down Darker Trails Setting!
Overdue
Nathan Pidde ($2.00, 15 page PDF)
Robert "Bobby" Armstrong, the kid in school that everyone likes, has gone missing. After discovering people have been disappearing for years, it's up to the investigators, Bobby's own classmates, to find out what is going on before he is lost forever. Overdue is a scenario set in the modern era and is designed to be run in one session.
The Bloody Viscount's Return
Damix ($5.00, 51 page PDF)
Returned from the dead centuries after his unspeakable transgressions orchestrated by a dark entity that manipulated him, the degenerate bloody viscount will begin his reign of terror anew. It will be the mission of the investigators to contact the last descendant of the cursed lineage and put a stop to the machinations of this being.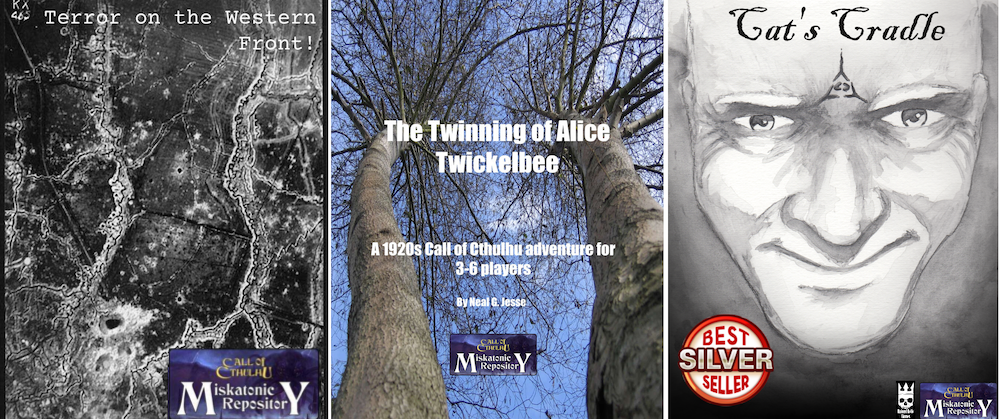 Terror on the Western Front!
Ryan Sheehan ($3.99, 26 page PDF)
1917. The Great War is in full swing. On the Western Front, a group of soldiers in the British Army's 5th Stafford Regiment pulls back the veil and discovers a Mythos conspiracy orchestrating and observing events in Europe. How deep does this otherworldly conspiracy reach, and can the investigators stop it?
The Twinning of Alice Twickelbee
Neal Glen Jesse ($4.98, 25 page PDF)
A young girl is mysteriously twinned during her debutante ball. Her father asks the investigators for help. As you travel around the city of Toledo, Ohio, you uncover a sinister plot that must be stopped to preserve the life of the two girls.
Cat's Cradle
Aaron Sinner, Todd Walden, and Christopher Olson ($3.99, 54 page PDF)
Plagued by nightmares, the investigators gather at a Boston diner only to encounter strange children with a sinister secret. What are they hiding, and how does it relate to the investigators? And what does Pastor Michael Thomas have to do with all of this? A "Standalone Sequel" to the classic Call of Cthulhu module "The Haunting".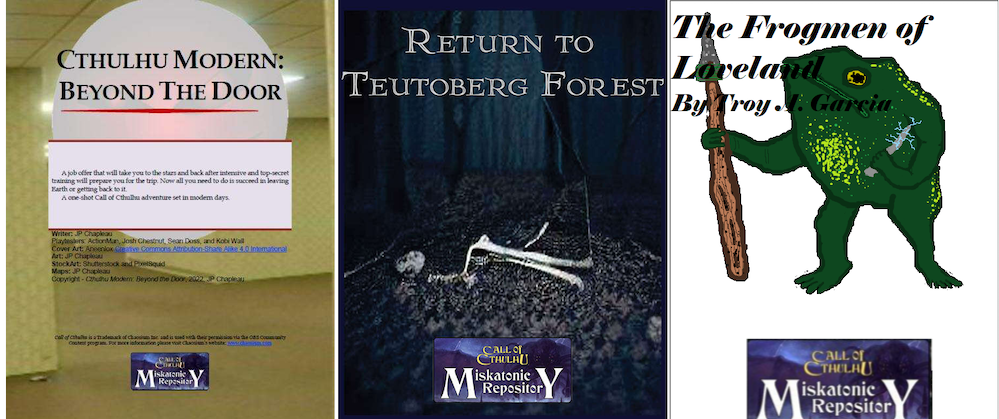 Cthulhu Modern: Beyond the Door
First Ones Entertainment, JP Chapleau ($4.50, 39 page PDF)
A job offer that will take you to the stars and back after intensive and top-secret training will prepare you for the trip. Now all you need to do is succeed in leaving Earth or getting back to it. A one-shot adventure set in modern days.
Return to Teutoberg Forest
Rachel E. Judd ($4.99, 28 page PDF)
In the year 9 C.E., the Roman Empire suffered one of its worst military defeats when a Roman commander of German descent betrayed his general. The subsequent slaughter destroyed three full Roman legions and forever stopped Roman expansion further into Germany. This Cthulhu Invictus scenario is set after that battle. Investigators take the role of survivors of the battle, the few legionaries who managed to escape with their lives. After rumors reach Rome that a Patrician's son might have survived, they are ordered back to the forest to investigate.
The Frogs of Loveland
Troy Garcia ($1.50, 8 page PDF)
The Frogmen have arrived from the far reaches of space, and now seek to terrorize your group of Investigators! Contains information, statistics, and hooks in order to use two new Mythos Monster races to your game: The Frogmen, and the Yubhaust.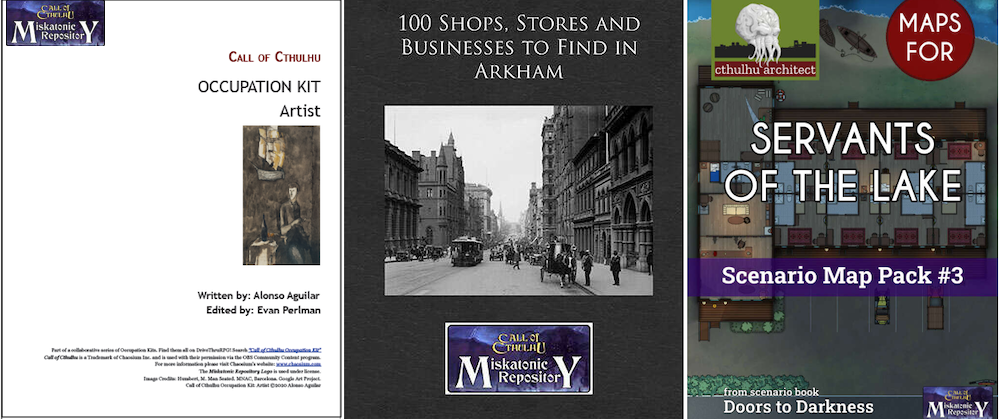 Call of Cthulhu Occupation Kit: Artist
Alonso Aguilar ($1.00, 5 page PDF)
Let yourself be guided by the fumes of creativity and evoke the intangible mysteries of mind and spirit by playing an artist in Call of Cthulhu's Classic Setting. This Occupation Kit builds on the brief information found in the Keeper's Rulebook and Investigator Handbook, using both historical records regarding the effervescent artistic movements of the 1920s, and the representations of art and creativity in both H.P. Lovecraft's original works and the rich history of Cthulhu Mythos roleplaying games' scenarios and supplements. Find career paths, useful jargon, motivations and hooks, public perceptions of the occupation, and real-life examples from the 1920s and 30s. Part of a collaborative project - you can buy all 13 Occupation Kits as a bundle instead! Find it here!
100 Businesses to Find in Arkham
Neal Litherland ($2.99, 18 page PDF)
Arkham, Massachusetts is one of the most identifiable places in Miskatonic Country. Whether your game is set entirely in this city on the coast of the Atlantic, or whether your investigators are merely stopping by on a single leg of their investigation, it's important to make the city feel as real and lived-in as possible. Though the setting guide for Arkham is full of resources you can use, the following list of 100 businesses can be used to fill in gaps, act as places to find clues and even as jumping off points for fresh mysteries should you desire!
Cthulhu Maps - Scenario Map Pack #3 - Servants of the Lake
Cthulhu Architect ($6.99, 22 maps in zip file)
Included you will find all the maps you need to play Servants of the Lake from Doors to Darkness. The maps are in PNG format and you can easily print them or upload them to any virtual tabletop software such as Astral, Roll20, Fantasy Ground, Foundry VTT.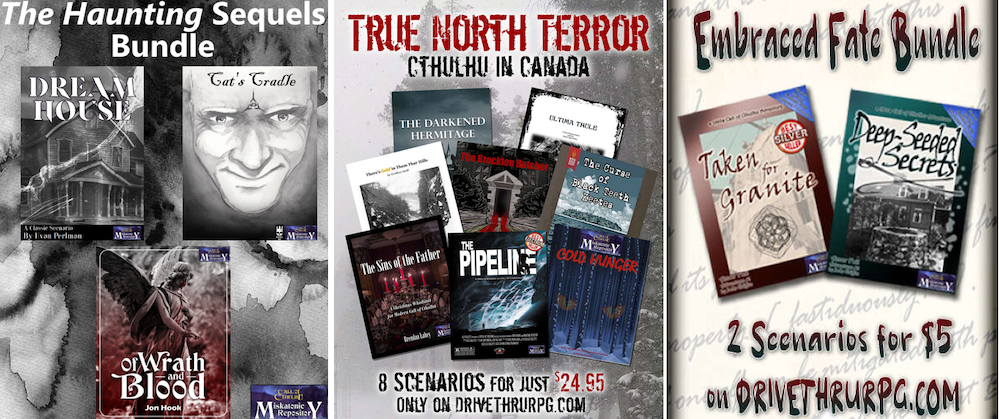 The Haunting Sequels [BUNDLE]
Cat's Cradle, Dream House, Of Wrath and Blood ($12.98 $8.97, 3 PDF titles)
This special bundle contains three titles - Cat's Cradle, Dream House, and Of Wrath and Blood - that are Miskatonic Repository sequels to the classic Call of Cthulhu introductory scenario The Haunting and playable by the same playgroup. The Haunting is available for free as part of the Call of Cthulhu 7th Edition Quick-Start Rules.
Embraced Fate 2 Scenarios [BUNDLE]
Deep-Seeded Secrets, Taken for Granite ($9.98 $2.50, 2 PDF titles)
This special bundle contains two titles - Deep-Seeded Secrets and Taken for Granite.
True North Terror: Cthulhu in Canada [BUNDLE]
Cold Hunger, The Brockton Butcher, The Curse of Black Keetes, The Darkened Hermitage, The Pipeline, The Sins of the Father, There's Gold in Them Thar Hills, Ultima Thule ($37.87 $13.13, 8 PDF titles)
This special bundle contains eight titles - Cold Hunger, The Brockton Butcher, The Curse of Black Keetes, The Darkened Hermitage, The Pipeline, The Sins of the Father, There's Gold in Them Thar Hills, and Ultima Thule.
Plus new titles in Chinese, Korean, Polish, and Swedish!
Want to take part in the Miskatonic Repository Program yourself?
Under the Miskatonic Repository community content license, Call of Cthulhu fans can make their own work for use with the game line available to the public, using guidelines, templates, and art provided by Chaosium.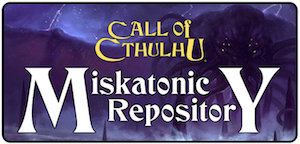 Whether you share your content for free or put it up for sale, this program is a digital home for terror that joins the dreamscapes of all who peruse it.