Miskatonic Monday #42: a feast of community content releases for November 2021
Posted by Michael O'Brien on 1st Nov 2021

Here's a feast of Miskatonic Repository releases to take you into November!

MANOS: The Fingers of Fate
Andy Miller ($4.99, 76 page PDF)
It's supposed to be the yearly family vacation for the Waldrup family, but then Aunt Gladys, Uncle Hugh, and their sons joined in. When Aunt Irene found out about the whole family going, she wanted in too. That's nine people in the station wagon in the middle of the summer, heading for scenic El Paso, Texas. It's not Disneyland but it's almost as good. Boy it's hot out.
Manos: The Fingers of Fate is a sequel to the worst move of all time: Manos: The Hands of Fate. Another family drives into the desert near El Paso, heading for the Valley Lodge. Unfortunately, fate conspires against them and they find themselves somewhere else entirely and in trouble.
The Book Club
Catherine Hanlon-Tierney ($3.00, 22 page PDF)
A mysterious book. A ghostly tale of a hanged witch. A missing friend. At the meeting of the local book club in a sleepy English village, the members are perturbed by the behaviour of their host, the recently bereaved Benjamin Jones. Benjamin has brought the diary of his ancestor, a woman hanged as a witch, and his behaviour is obsessive, erratic. After a grim discovery in the following days, the investigators are pulled into a search for their fellow member. But will they like what they find?
The Book Club is a scenario designed for 2-5 players, and should take 1-3 hours to play. It is light on lore, an ideal introduction to the game for new players or Keepers who want a standalone story to be played in a single evening.
Old Flames
Julian Nimmo (Pay-what-you-want, rec price $4.04, 18 page PDF)
In this 1920s adventure, investigators in Arkham are called to search for three missing Miskatonic university students. Even more disturbing is the presence of a fire cult slowly honing in on the missing student's whereabouts.
An Old Straight Track
Patrick M. Groulx ($6.99, 68 page PDF)
The murder of a kindly antiquities dealer draws the Investigators into a conspiracy helmed by a sorceress with a diabolical plan that, if successful, will destroy Massachusetts' North Shore and kill untold thousands. The Investigators will travel from Boston to Salem dealing with gangsters, ghosts, an abandoned underground laboratory, ley lines, a penurious medium, and a long-dead sorcerer with a strange hummingbird fascination.

Salvation at the Devil's Courthouse
Andy "The Old Goat" Headley ($4.97, 47 page PDF)
Salvation at the Devil's Courthouse is an encounter-based scenario for Call of Cthulhu set in the rural Appalachian mountains near Brevard, North Carolina, in the 1920s. It involves the investigators being in the area when a nationally-known news reporter disappears. Bill Strickland was on assignment for the New York Times to do a story on the practice of snake handling in churches in Appalachia when he went missing. But as the investigation unfolds, a lost reporter turns out to be just the beginning. Time is of the essence! Guaranteed to keep your nerves tighter than a banjo string during the whole scenario.
Tales of the White Beast
Michael Henebry ($3.00, 46 page PDF)
Erika Kersey experiences a horrible nightmare where four of her friends are brutally murdered by a large beast while out in the woods. She shakes it off as a bad dream but wakes up the next morning to find that it was true. The school is ablaze with rumors not only of the murders but some people claim to have seen this beast in the past weeks. Kersey gets her friends together to investigate the claims and seek justice for her friends.
Modern scenario set in the 1990s.
Dreams to Fill the Vacuum
Richard Watt ($3.00, 27 page PDF)
Two dark entities — one created by an unnatural disaster, the other ancient — vie for the body and soul of a rising rock star in '90s Detroit. Investigators have five nights to face these dangers before an apocalyptic performance that will change the world.
100 Notes and Letters to Find in Miskatonic Country: Dunwich and Innsmouth
Adrian Kennelly ($1.49, 5 page PDF)
When searching in various places, including homes, desks and the pockets of corpses, characters may on occasion stumble across notes and letters that contain meaningful or important information. They may also find notes and letters that are not. This supplement contains 100 notes and letters that characters could find in Miskatonic Country, focusing in or about Dunwich (marked with "(D)") and Innsmouth (marked with "(I)"). They may be simple letters about appointments or musings, or perhaps clues towards something more sinister. Keepers can use them as background colour, misinformation or as potential adventure hooks.
The Will of Oscar Drummond
Stephen Bull ($5.47, 30 page PDF)
A wealthy trader who has passed. A daughter locked out. A new wife and widow. These are a classic tale, but it is the secret being kept within Oscar Drummond's house that can turn the situation deadly.
Investigators take on what seems to be a quite safe, mundane assignment to start - search the house of a dead man to find his will - but as they learn about the final days and eventual death of the titular Oscar Drummond, they closer they come to a door they should not open, and a thing that should not be.

Death In Service: Zombie Minion Pack
G. A. Patrick ($10.00, 26 page PDF)
Death In Service is a collection of images, random table generators, and props that can be cannibalised by Keepers to flesh out the rotting servants of their campaigns.
Theft at the Peabody
A. K. Applegarth ($3.99, 41 page PDF)
A early morning theft at the Peabody Museum. Your girlfriend kidnapped and her brothers horribly murdered. What do the all have in common?
Modern day adventure.
The Durian Hotel
DenMother Plays ($5.00, 22 page PDF)
Durian Hotel. One of Davao City's beloved landmarks. However, not everything is as it seems. There have been whispers about the majestic giant facing foreclosure due to low occupancy rates. It cannot be helped, given the rising Asian economic crisis, and the hostilities between the rebels and the local government causing tourism to slow in this part of the country. It is December 1995. Christmas songs are playing throughout the local establishments. People distract themselves and celebrate the holidays, preparing for Noche Buena (Christmas Eve dinner), and other known traditions.
The scene however plays out with 4 individuals: a reporter, covering a story; a businessman, looking to cover their losses; a detective, looking to find truth; and an heiress, eyeing a political move. All of them somehow get invited to spend the night in the iconic hotel, and uncover some secrets…
The Haunting of Millebrand Manor
Scott Uhls ($4.99, 28 page PDF)
Jameson Millebrand IV is a well-known playboy in New York City and is heir to a very large fortune. However, his only major accomplishments have been attending Yale for 2 years, being an average football player, singing with a gentleman songster group, traveling across Europe and Asia, and starting an ironwork factory just in time to be part of the war effort. This last piece in his "legacy" despite being mostly about lucky timing. He has invited several friends and acquaintances to stay the night at his newly acquired "castle" mansion in the 1000 Islands area of the upstate New York, including his arranged "fiancé," his secret ex-lover, and a semi-famous spiritualist from England. Local stories indicate that this mansion is haunted, but the evidence is shaky at best. However, this has stimulated Millebrand's occult interests.
The investigators are among these acquaintances and are caught in the events of the dinner party and the aftermath that follows. When one of the guests ends up dead, the investigation begins to reveal that there is more here than meets the eye.
The Souls of Briarcroft
Joshua Callanta ($3.99, 31 page PDF)
It is October 31st, 1891... Halloween! Or All Hallow's Tide here in Briarcroft, a small sleepy little village in England's Black Country. A time for costumes and souling, for merriment and mysticism! A small group of parishioners meet at their local church with their loved ones to help pass out soul-cakes to masked children and down-on-their luck beggars. But the peace of this holy, creepy night is shattered when a local beggar is transformed into something horrific with the bite of a soul cake! With their loved ones and the very town of Briarcroft at risk, it's a race against the clock to find the source of this dark taint and put a stop to it!
A chilling single session 1890s scenario that takes place over the course of a Halloween night.
WANT TO TAKE PART IN THE MISKATONIC REPOSITORY COMMUNITY PROGRAM?
Under the Miskatonic Repository community content license, Call of Cthulhu fans can make their own work for use with the game line available to the public, using guidelines, templates, and art provided by Chaosium.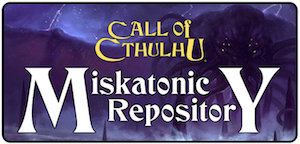 Whether you share your content for free or put it up for sale, this program is a digital home for terror that joins the dreamscapes of all who peruse it.