Miskatonic Monday #35: And more Call of Cthulhu titles from Alumni of the 'Write Your First Adventure' Workshop
Posted by Michael O'Brien on 9th Aug 2021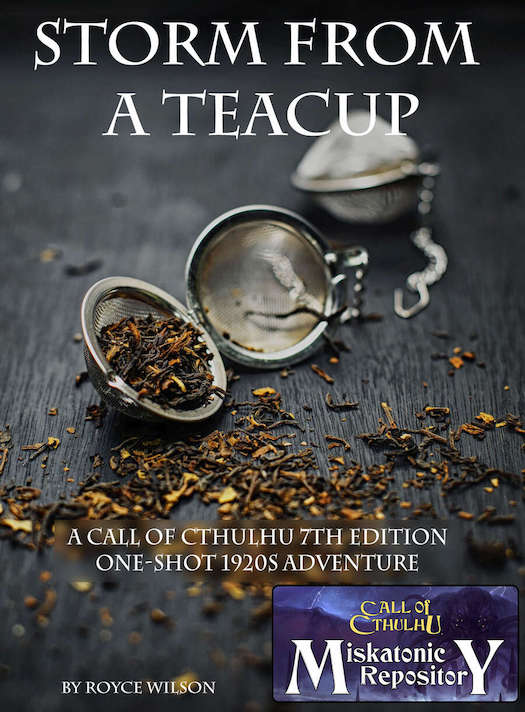 Among new titles in the Miskatonic Repository here are even more creations by Alumni of the Storytelling Collective's Write Your First Adventure workshop last month! The Call of Cthulhu path of the program was designed by award-winning RPG designer Paul Fricker, co-author of Call of Cthulhu 7th edition. For anyone who would like to give scenario writing a go, the workshop will be running again in November!

Storm From A Teacup
Royce Wilson (Pay-what-you-want, suggested price $3.66, 25 page PDF)
A new tea has become the "in thing" amongst the jazz set of Pineview's youth, and while some of its imbibers report a fun but strange hallucinatory effect, others are seeing much more sinister - and even madness inducing - visions. Where did this tea come from? Are its drinkers really seeing monsters? The Investigators are being tasked with finding out...
This scenario encompasses 'old money' establishment, indifferent law enforcement, jazz-enjoying youth, bootleggers, sinister cultists, dark magick and a glimpse into the horrors of the Mythos.
An Eye For An Eye
Francis Xavier Norton ($4.99, 45 page PDF)
Your head is pounding, your pockets are empty, and your memories are hazy. All that lies before you is a cold and industrial warehouse that manages to feel foreign and familiar at the same time. The answers you seek lie within, and it is up to you to discover the truth, one door at a time. The key to escaping may very well be in your memories. Little do you know, you are about to enter the cat and mouse game of your very lives...
This adventure is in 1929, located in a warehouse transported into a dream-like world, controlled by The King in Yellow.
Passenger Olympus
Mitchel Bonnema (Pay-what-you-want, suggested price $3.48, 31 page PDF)
The cargo vessel Olympus has been adrift for a few days now. A radio message spoke of the crew having found a mermaid in the water. Days later another radio message came in, which sounded like the ramblings of a madman before cutting off completely. What madness befell the crew of the Olympus, and what exactly is this mermaid they found out at sea?
A oneshot taking place out in the Gulf of Mexico.
Walk Among Us
Carrer Marco ($2.25, 14 page PDF)
A family man without a soul. A murderer on the loose. And mosquitos everywhere. Investigators, Welcome to New Orleans!
A scenario where investigators will have to solve a cold case which will lead them in the deep of the bayou! There, only horror awaits them.
Horror at the Westmore Motel
Leopoldo Rueda ($2.99, 28 page PDF)
Horror at the Westmore Motel. It's the year 1983, and a disturbing coincidence sends the protagonists of this story to investigate the Westmore Motel. What they will find there... is something out of this world!

Alpaca in the Sheep Field
John Hall (Pay-what-you-want, suggested price $1.00, 19 page PDF)
At 6am this morning, a man's body was found on the quiet island of Dalbrae off the west coast of Scotland. His body was torn to pieces as if by a wild animal attack. But there are no large predators on the island. You are journalists from a local TV channel sent out to report on the incident and to try and figure out what has happened. What angle will you take? Was it murder? Some kind of accident? What darkness waits in this sleepy tourist town?
The Baskwood Island Hotel
Andy Miles ($2.99, 34 page PDF)
Welcome to The Baskwood Island Hotel. We hope you enjoy your stay on this beautiful island and in our enchanting hotel. This is our first season, so everything is brand new and the staff are all eager to serve you! We look forward to meeting you during your time here. Is this hotel too good to be true?
The Staircase
Marcus Katz ($4.99, 24 page PDF)
Discover an alien landscape in the very core of madness itself as your investigators tread the Staircase and attempt to confound its mystery. This scenario includes themes of horror, survival, insanity and threat.
Sermon of Sludge
Bored Stiffs (Pay-what-you-want, suggested price $1.00, 43 page PDF)
A comet is barreling toward Earth. Does it bring salvation... or doom? Wilter Gurvitch, fringe scientist turned counterculture celebrity, is holding a lecture to warn the public of the apocolyptic danger of a fast-approaching comet. And when a controversial figure like Gurvitch's involved, something's bound to go up in flames...
Set in Los Angeles, California during the summer of 1973, though it can be modified to fit a major city in any era.
Tales of the Casket Girls
Michael Henebry ($1.00, 21 page PDF)
The investigators are called to a missing persons report. A man has disappeared after inheriting his late aunt's house and business. Foul play? Maybe...During their inquiry, the investigators will find that there is much more to some of the legends of New Orleans than previously thought.
A 1920s scenario about ancient creatures that terrorize humanity. We think we know about them but we haven't even scratched the surface.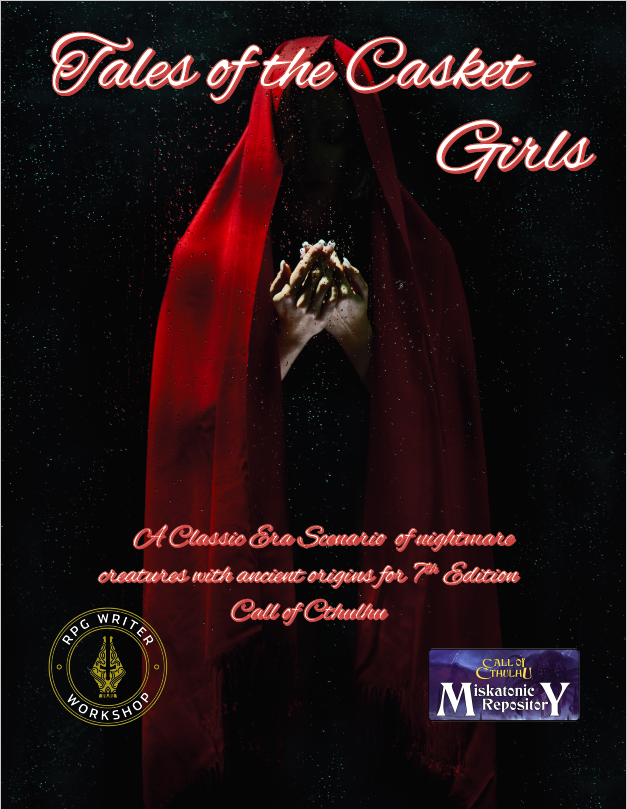 Under The Miskatonic Repository community content license, Call of Cthulhu fans can make their own work for use with the game line available to the public, using guidelines, templates, and art provided by Chaosium.
Whether you share your content for free or put it up for sale, this program is a digital home for terror that joins the dreamscapes of all who peruse it.