Miskatonic Monday #32: A Cornucopia of Community Content!
Posted by Michael O'Brien on 2nd Aug 2021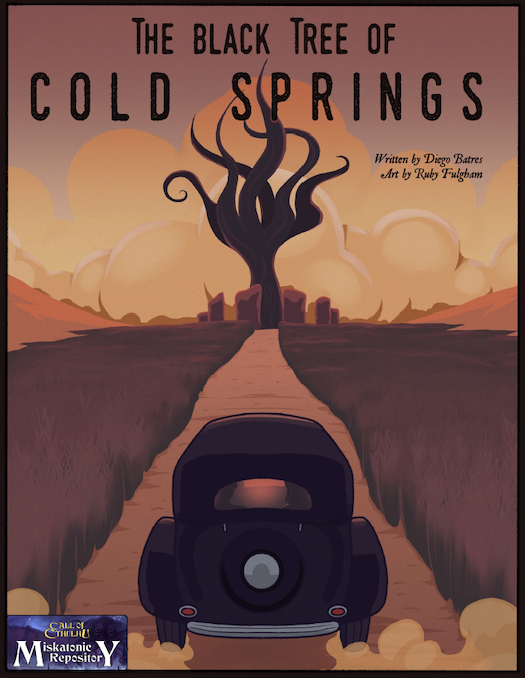 Under the Miskatonic Repository community content license, Call of Cthulhu fans can make their own work for use with the game line available to the public at DriveThruRPG, using guidelines, templates, and art provided by Chaosium.
Here's more exciting new releases by community content creators!:
The Black Tree of Cold Springs
Diego Batres ($4.50, 38 page PDF)
The Great Depression and the Dust Bowl have taken their toll on the small town of Cold Springs. As the townspeople grow more and more desperate, some have chosen to flee, while others refused to abandon their homes and chose to tough it out, no matter how bad the dust storms got. But when a dust storm uncovered a series of ancient standing stones on humble farmer William Mullin's property, he discovered a third, more appealing option, and began to worship The Mistress of the Grain.

Children of Chaac
Phil Anderson ($8.99, 33 page PDF)
"Chichen Itza: a magnet to fortune hunters and scholars for centuries. But when the ravages of the invader erase the memories of the past, the future can sometimes be measured in hours..."
Brought to you by award-winning Chaosium licensee, Type40, Children of Chaac is the ninth Call of Cthulhu adventure in the monthly Seeds of Terror range.
The Scream of the Mandrake
Allan Carey ($8.99, 30 page PDF)
"A country estate in England, and a champagne gala. What more idyllic setting could there be for Lord Montague's glorious pinepple harvest. In the dark corners of the estate, something has gone wrong. Blood, bone, and dirt await as does the Scream of the Mandrake!"
Brought to you by award-winning Chaosium licensee, Type40, The Scream of the Mandrake is the tenth Call of Cthulhu adventure in the monthly Seeds of Terror range.
Smatter Haulers & Stick Swingers
Laurence G. Tilley ($6.95, 23 page PDF)
In this Gaslight Era scenario, rather than classic middle class investigators, players get to play a group of destitute thugs in an East London slum - the same group who were responsible for beating up a group of "Gentlemen" investigators who recently came into their street. Their desperate lives are about to change, but could things get any worse?
Death's Warm Embrace (Pamphlet Adventure)
Fábio Silva ($2.00, 7 page PDF)
On a stormy night, in a house on the top of a hill, the Investigators witness a scientific event that promises to revolutionize human knowledge: a doctor of medicine and scientist will bring the dead back to life, including herself, right before their eyes. What could go wrong? Will they escape from the disaster that is about to happen? Will their minds resist or break down in the face of such a horrific episode?
Print, fold, and play. This is an ideal adventure for a short game, lasting an hour or two. The text presents the idea of a complete scenario, with scenes and clues. Keepers can add their own ideas to create a bigger adventure or start a campaign. A few minutes of reading, some hours of fun.

Under the Frozen Grove
Tito Leati ($7.99, 96 page PDF)
Millennia ago, the crest of the Tuscan-Emilian Apennine was sheeted by perennial ice like the Alps. Plants, animals, and humans were different, and the sky looked different as well. It was another world, yet it was our own. We know already a lot about it, yet still very little...
Classic scenario set in Italy during the early 1930s.
The Itinerant Hotel
Brandon Estelle ($4.99, 43 page PDF)
It is July 12, 1922, and the Investigators are all staying at the Islandview Luxury Hotel, newly built on West Water Street in Arkham. The hotel is the pinnacle of 1920's class and status, and its Grand Opening has drawn a great deal of local attention. The Miskatonic University has sponsored the hotel, somewhat indirectly, by holding an Archeological Curiosities Conference the weekend of opening. But the Hotel Staff has an ulterior motive...
By the Pricking of my Thumbs
Tony Kyprianou ($0.99, 18 page PDF)
When the Police find eight severed hands and seven bodies with the left hand missing, they realise that there is a serial killer loose in Arkham. But where is the body for the owner of the eighth hand. The investigation leads to a mummified, long dead Egyptian sorceress called Kishara-Neftu. Kishara-Nefti needs only two more victims and she can return to continue the plans of her Ancient Dark Gods.
This is an Investigative Modern Day scenario, specifically designed for new players with several routes of investigation that lead to the conclusion of the story.
Art for Kenya - Masks of Nyarlathotep
Anna Zadrożna ($2.00, 17 page PDF)
This is a set of 24 graphics to be used in Masks of Nyarlathotep campaign - Kenya Chapter.

The Haunted Place
Andy Miller ($4.99, 56 page PDF)
When a group of people, lost in the neighborhoods of Providence in 1925, strike a crazed man with their motorcar, they find the reasons for his running pell-mell into the street are not as straightforward as one might think. Jacob North is fleeing from the terrors of his recently purchased and apparently long-haunted house, but cannot stay away for long. If the investigators are willing to help the man, he might just survive whatever is causing the strange occurrences in what the neighbors sometimes call "The Massacre House."
Deeds Not Words
Laurence Tilley ($6.95, 22 page PDF)
In a fine and pleasant house in a leafy London suburb, lives a person of inordinate power, ruthless ambition and macabre taste. Miss Sha'Arawi, now Sha'Arawi of Thebes has accessed the powers of the Ancient Egyptian gods. At present, she still lives quietly and presents herself as a cultured Victorian lady, but soon, she will release her powers upon the world. But first, she needs an apprentice. It will need to be a spirited woman – one who can demonstrate that she is brave and prepared to be as utterly ruthless as herself, as ruthless as a beast. The suffragists seem to represent the nearest that placid Putney might have to a source of spirited women... perhaps one of them would fit the bill.
A Gaslight Era scenario, 5 pregenerated female characters are included.
Forgotten
Michael Bertolini ($4.50, 11 page PDF)
Not everyone is welcome in the world. Places have been constructed to house those people that society deems unfit and mentally unstable. People of all walks of life find themselves in places like Broadhaven Asylum. The investigators are people like this, shunned by society despite the condition of their mental faculties. But something has gone wrong in Broadhaven.
Vehicle Handouts Vol. 2
Kevin Brethauer, Brian Brethauer ($5.00, 16 page PDF)
Twelve easy-to-use 1920s era vehicle handouts to enrich your game.
Crimson Letters Handout Pack
Ivo Eduardo Zanin (Pay What You Want, Suggested price $5.00, 15 page PDF)
This will make your life easier – Using images and fonts from the Creative Commons domain and a lot of time and effort, these 15 documents that can be used during the investigations of the ''Crimson Letters'' Scenario. Some of them have more than one variation, totaling 34 files, and you can choose the one that best suits your adventure.
100 Notes and Letters to Find in Miskatonic Country: Kingsport
Adrian Kennelly ($1.49, 5 page PDF)
When searching in various places, including homes, desks and the pockets of corpses, characters may on occasion stumble across notes and letters that contain meaningful or important information. They may also find notes and letters that are not. This supplement contains 100 notes and letters that characters could find in Miskatonic Country, focusing in or about Kingsport. They may be simple letters about appointments or musings, or perhaps clues towards something more sinister. Keepers can use them as background colour, misinformation or as potential adventure hooks.
100 Books to Find in Miskatonic Country
Adrian Kennelly ($1.49, 5 page PDF)
This is a selection of 100 books that could be found in or about Miskatonic Country, namely Arkham, Kingsport, Dunwich and Innsmouth, or the New England region around them. The books would be small print and are assumed to have been printed in the 1920s or earlier.
Michael Fryda ($5.00, 31 page PDF)
An encounter location suitable for 1920s or Modern games. The location is an in-depth lair of a Serpent Person enclave with many curiosities and horrors to discover. The leaders of this group could serve as allies, neutral associates, or adversaries for investigators.
This product acts as a standalone product, or as a robust enhancement to the Miskatonic Repository scenario Test Subjects.
Creature Feature: Mellified Monsters
Chitin Proctor ($1.50, 4 page PDF)
Whether finding an old stone sarcophagus at an auction or unearthing one on an archaeological dig, this new horror should make for an interesting (and unexpected) encounter for new and veteran players alike.
Our aim is to produce novel monsters and named entities that may be easily dropped into any game (from adding them to an existing scenario or homebrew campaign or to based a one-off session around them. Each Creature Feature! contains a detailed write-up of an eldritch horror, including a full stat block. This is followed by a Use it Tonight! section, providing scenario ideas and alternate variations on the creature as it might exist or be encountered throughout time (Invictus through the End Times), in an easy-to-use format.
The Mist Sower - a Zgrozy scenario
Marek Golonka, Piotr Kozioł, Piotr Olesik, Keith Mageau ($6.99, 40 page PDF)
Vranitzky has long been an arrogant genius, a man of great passion and an even greater ego, bordering on the messiah complex. He was certain his art is the only thing that can give voice to wounds dealt to humanity by the Great War. He devoted all his time to creating expressionistic, grotesque paintings exaggerating the War's catastrophes and looking for inspiration – drastic photos, tales, and other testimonies of the Great War...
The Mist Sower is a supplement from the Zgrozy series.
SLYAH-QAULATH [A New Old One]
Efe Köse (Pay What You Want, Suggested price Free, 33 page PDF)
In this file you will find out who Sylah-Qaulath is, a new Old One. In addition, contains the combat actions and skills of Sylah-Qaulath.
The Romanian Contract
Ülo Leppik (Pay What You Want, suggested price $4.00, 22 page PDF)
Building a hotel in the Carpathian Mountains turns up secrets both recent and ancient. The investigators take the role of a British survey team location scouting for the construction of a grand hotel. While conducting their work, they will come upon old secrets and discover that there is some truth to ancient folklore. A mysterious castle, an engimatic count and a terrifiyng legacy await. The Romanian Contract combines classic gothic themes with strong player agency, letting the players drive the story.