Miskatonic Monday #26: March 2021 releases and GM's Day Sale
Posted by Michael O'Brien on 8th Mar 2021
Under the Miskatonic Repository community content license, Call of Cthulhu fans can make their own work for use with the game line available to the public at DriveThruRPG, using guidelines, templates, and art provided by Chaosium. Here's the latest selection of exciting new releases by community content creators: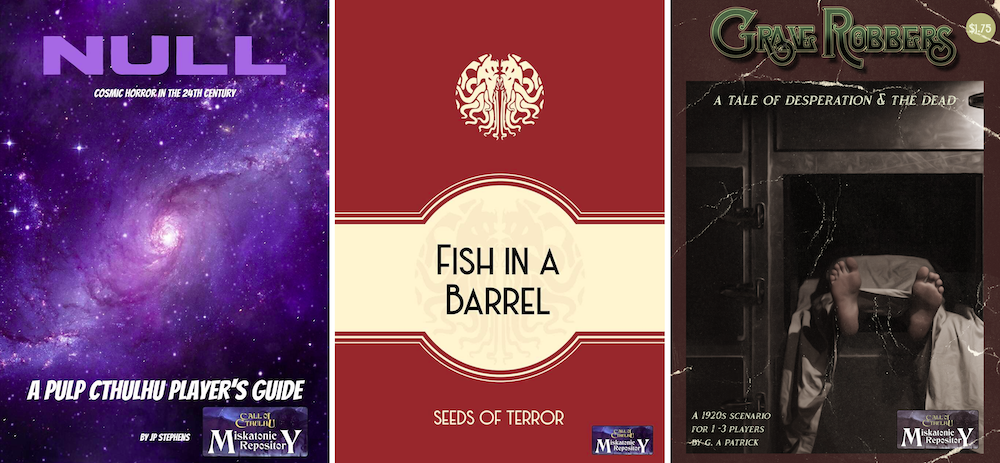 Null: A Pulp Cthulhu Player's Guide
JP Stephens ($1.99, 12 page PDF)
Welcome to Null, a sci-fi setting for the 24th Century. This setting features cosmic horror, exploration, dark conspiracies, and gritty action designed for play using the Pulp Cthulhu rules. It contains new Pulp Archetypes, updated occupations, equipment, and factions for players of the sci-fi setting detailed in Null: A Pulp Cthulhu Sourcebook, which is intended for Keepers and those wishing to know more.
Fish in a Barrel
Phil Anderson, Nick Holland ($8.99, 25 page PDF)
"A group of friends gather at their favorite speakeasy to enjoy the jazz, the Juice, and each other's company. Tonight, something big is going to happen. They just don't realize it's going to happen to them..."
Brought to you by award-winning Chaosium licensee, Type40, Fish in a Barrel is the sixth Call of Cthulhu adventure in the monthly Seeds of Terror range of concise, easy-to-run adventures.
Grave Robbers
G. A. Patrick ($1.75, 15 page PDF)
A PI, Willburn Knowles, has picked up a new case that might be too big for him. A string of bank robberies in the area has left the police clueless and he has been brought in by the only bank in town that has not been hit yet, fearing they are next. All he has to go on is the crew have been using an old beaten up hearse as a getaway car, and he is calling in a favour you owe. You will need to go undercover in the bank, find the possible insider, and delay the robbers should they turn up until the police arrive.
Cthulhu Roadshow
Michael Grant ($8.99, 32 page PDF)
A Call of Cthulhu scenario set in 1981. Sitting at home watching the Magnum P.I., an advert for the upcoming Roadshow airs. A well-dressed man with a silky smooth but authoritive British accent appears on the screen. You remember the old piece of junk you purchased years ago at an obscure little antique shop in Alexandria Bay, and you wonder what it is worth...
When They Come (Pamphlet Adventure)
Fábio Silva ($2.00, 5 page PDF)
The Investigators are making their way home on Christmas eve when a snowfall caught them on the road, and they need to pass through a distant and strange village, so they can rest and cheer on climate change. The place is ornate for the occasion and looks calm for a peaceful rest night. But everything changes when they come.
Print, fold, and play. A few minutes of reading, some hours of fun.
The Great Trap
Heinrich D. Moore ($4.95, 66 page PDF)
It is 1927, and a letter invites Investigators to the home of Professor Adhemar Osterman. The letter is dated almost thirty years in the past, and bears each of the Investigators' signatures. They do not remember signing the letter, but they do remember the strange dreams that follow its receipt. Dreams of signing a letter in the company of a man once a friend, now a stranger; of running from the shrill whistling of an invisible assailant; and of walking towards the trumpet sounds of a dying alien race. Visions of what was, what is, and what may yet come to pass.
This scenario is also an homage to Dungeons & Dragons scenarios of yesteryear, and The Shadow out of Time by H.P. Lovecraft.
Cthulhu Dreadfuls Presents #2 - Beyond the Flesh
The Brinoceros ($6.00, 84 page PDF)
Mystery Meets Murder and Mad-Science – When a series of animal mutilations ravage the rural community of Fenwickett, the Investigators are called upon to solve the mystery. Following a trail of bloody clues, they eventually uncover the thing responsible for the carnage.
Beyond the Flesh is an adventure scenario set in the Wystdovja Vale - a fictitious pseudo-European river valley located along the northwestern reaches of the Adriatic Sea, and set in the Gaslight Era of the 1890s.
Annals of Flint's Detective Agency: The Case of the Stolen Golf Clubs
Mark Potter (Free, 36 page PDF)
Chicago in the 1920s. Flint's Detective Agency has not had a good case in months. Cash is low and the rent is due. When the notoriously rich Arnold Heffington-Burleigh hires them to deal with a simple case of theft, it looks like their lucky day. Money for nothing basically, surely with their experience they will resolve this crime with no serious consequences.
Nightmare in the Moonlight
Andy Miller ($8.99, 90 page PDF)
Something is terribly wrong in Providence - Nightmare in the Moonlight is the adaptation of H.P. Lovecraft and J. Chapman Miske's The Thing in the Moonlight. Based primarily upon a dream Lovecraft wrote of in one of his letters, Miske's framing story and the original nightmare are detailed within.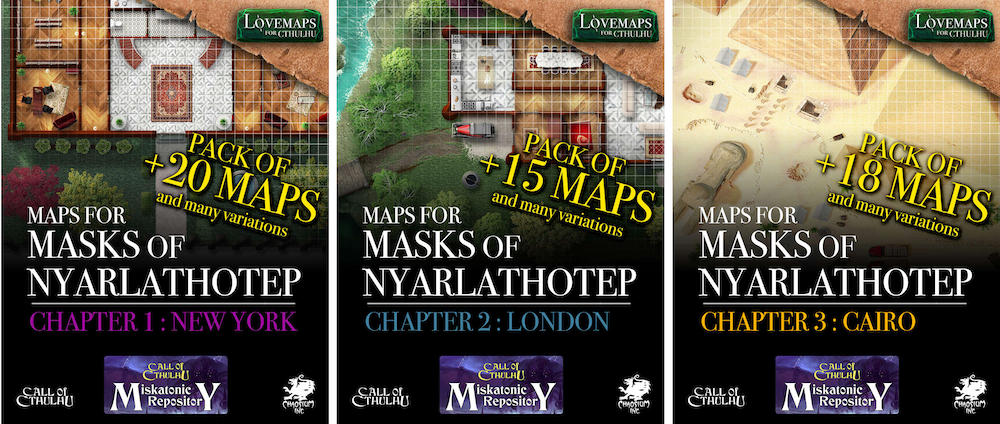 Cthulhu Maps - Masks of Nyarlathotep - ch1 - New York Pack
Lovemaps ($14.90, 20 maps)
Cthulhu Maps - Masks of Nyarlathotep - ch2 - London Pack
Lovemaps ($14.90, 15 maps)
Cthulhu Maps - Masks of Nyarlathotep - ch3 - Cairo Pack
Lovemaps ($14.90, 18 maps)
Maps for the Masks of Nyarlathotep campaign: Chapter1 - NewYork, Chapter 2 - London, Chapter 3 - Cairo. You can print them out to play at a table or use them on a Virtual Tabletop. Maps are JPEGs files, and a User Manual (PDF) is here to guide you.
Plus new titles in Korean, Polish, and Spanish!

And don't forget - DriveThruRPG are currently holding their annual GM's Day Sale. For the next seven days, over 800 Chaosium titles are up to 40%, and this includes dozens of community content titles in the Miskatonic Repository!