Journey to Jonstown #43: "Everyone has a wild beast within them"
Posted by Michael O'Brien on 24th Aug 2022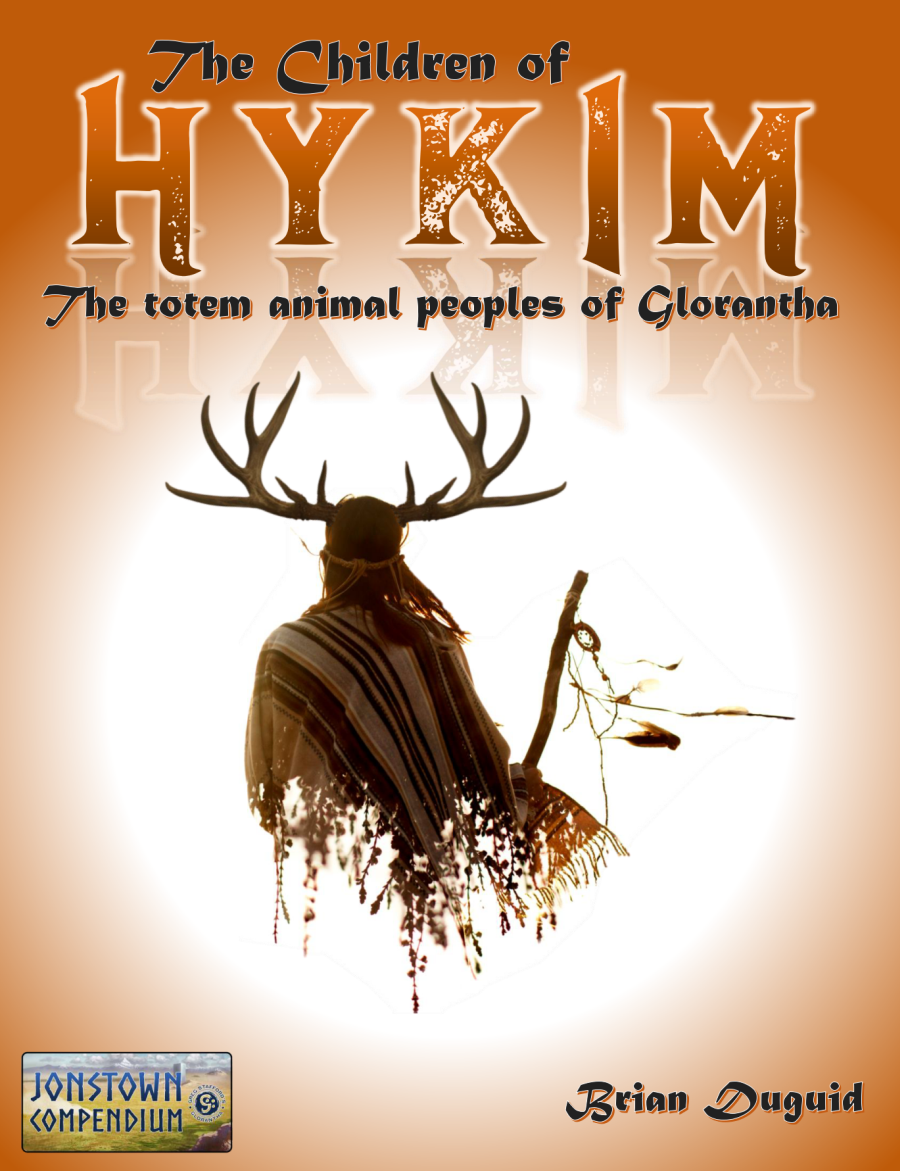 As one of the founding editors of the renowned Gloranthan fanzine Tales of the Reaching Moon in 1989, Brian Duguid helped keep Glorantha fandom alive and thriving throughout the 1990s. And now, in 2022, Brian is back as an independent creator for RuneQuest with his amazing labor of love The Children of Hykim.
Bestselling Jonstown Compendium creator Nick Brooke highly recommends Brian's work, describing it as "a magisterial examination of the many Hsunchen beast-totem tribes of Genertela... this book is creative, original, respectful of its sources... but never afraid to argue for its own vision, and tell the reader why."
Under the Jonstown Compendium community content license, fans of Greg Stafford's world of Glorantha can sell and share their own material on DriveThruRPG. Check out Brian's book and these other brilliant new titles. And check out the Jonstown Compendium Guidelines and start creating yourself!
The Children of Hykim
Brian Duguid ($16.99, 159 page PDF)
"Everyone has a wild beast within them".
This book is aimed at anyone who is interested in the Hsunchen, the shape-changing totem animal peoples of the world of Glorantha, the setting for the RuneQuest role-playing game. The Hsunchen inhabit the fringes of Gloranthan geography and include some of the most peculiar and fascinating peoples in this world. Because they mostly live far away from mainstream society they are often obscure and poorly documented, and perhaps rarely encountered in many RuneQuest games. This book is here to put that right!
Twenty-one Hsunchen tribes living in the western and central parts of the continent of Genertela are described across 159 pages, alongside extensive information regarding their culture, myth, technology, magic and more.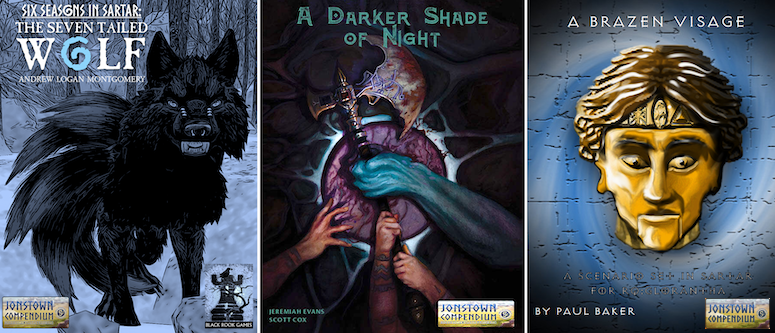 Six Seasons in Sartar: The Seven Tailed Wolf
Andrew Logan Montgomery ($18.95, 130 page PDF)
In a Sartar now free of foreign rule, the Company of the Dragon returns home to Black Stag Vale. After six years of war and exile, they struggle to find peace. But a failing Prince and a gathering enemy threaten Sartar's newfound freedom. Torn between the quiet mountain clan they were and the feared warband they have become, the Company is forced to make a choice. Are they the Dragon, or are they the Stag?

This is the conclusion of the Haraborn saga that began in the Platinum bestselling Six Seasons in Sartar and the Gold bestselling The Company of the Dragon.
A Darker Shade of Night
Jeremiah Evans, Scott Cox ($6.99, 47 page PDF)
Approached outside the walled city of Pavis by a mysterious benefactor willing to pay for their services, leaves the adventurers in possession of a powerful artifact. Investigating the artifact brings the adventurers to the attention of a cult who wishes to possess it by any means. Learning about a dark ritual to be conducted by the cult, they will need to confront the cult and stop them, or it will mean dire consequences to the citizens of Pavis.
This adventure is presented partly as a sandbox style with the adventurers investigating their newly acquired artifact in the city of New Pavis. Their inquiries will lead them toward confrontations with a cult of Kyger Litor operating in the troll section of the Big Rubble.
A Brazen Visage
Paul Baker ($6.00, 49 page PDF)
A short adventure set in the Arfritha Vale of Sartar, includes background source material which expands the material within The Red Deer Saga. A long forgotten evil surfaces in the vale, it is up to the players to track it down and deal with its threat.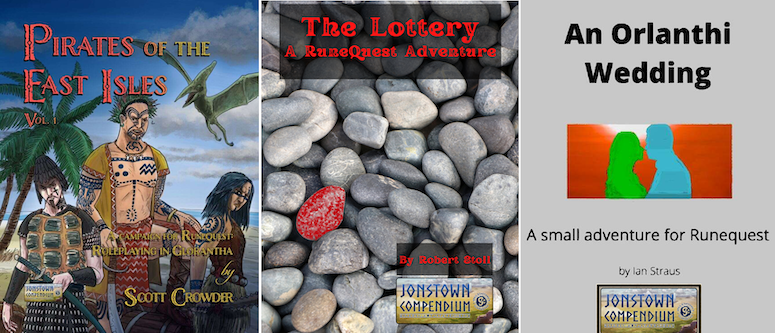 Pirates of the East Isles Vol. I
Scott Crowder ($15.00, 123 page PDF)
Glorantha as you've never seen it before! This is volume one of a three part campaign spanning years, perhaps even decades. You and your players can leave Dragon Pass behind and be pirates in the mysterious East Isles. Explore an exotic land where each island is a god unto itself. Play new occupations such as Pirate, Sailor and Mystic. Learn a unique martial arts system. Worship all new gods with a completely different mythology than what you've known till now. No Orlanth, no Thed, no Issaries, no Trickster!
Charles Dunwoody of EN World says, "A GM looking for a deeply rooted campaign for RuneQuest could find months of gaming with this supplement alone, and two more are planned. A great supplement to kick off a new campaign with."
Check out the video:
The Lottery
Robert Stoll ($2.00, 30 page PDF)
After weeks on the road with the Ravenhair family trade wagon, you've finally reached the Lunar Empire. Shortly after crossing the Glowline, you enter a village where a local ritual ensnares you in an ancient curse. The fate of your family, two villages, and an entire river valley are all in jeopardy. Can you save them all from a terrifying cult before it's too late?
An Orlanthi Wedding
Ian Straus ($1.00, 13 page PDF)
Intended for use in a campaign in which (1) the adventurers do have a home clan to which they frequently return, in accord with "The Importance of Community", pages 7-8 of Runequest: Roleplaying in Glorantha, and (2) The GM wants to reinforce that community emphasis in the game.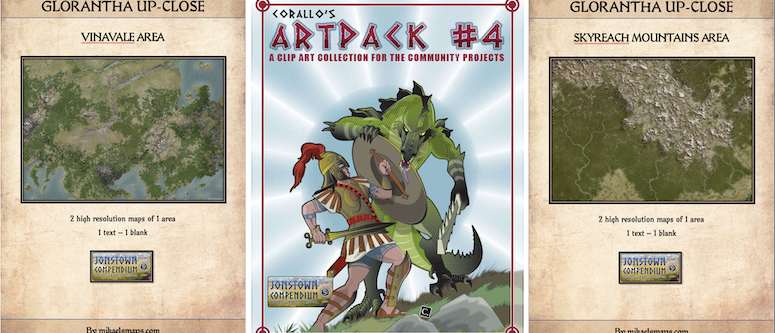 VinaVale Area - Glorantha Close up
Mikael Mansen ($6.45, 3 maps)
This up-close high resolution map set of VinaVale contains three maps: one with text – one without text – one winter.
Corallo's Artpack #4
Dario Corallo ($14.94, 40 images)
This the fourth Artpack of Dario's Artpack series, dedicated to support the authors of the Jonston Compendium with fast clip art for their creations. This time there is a small collection of Pavis NPCs and other stuff from past works.
Skyreach Mountains - Glorantha Close up
Mikael Mansen ($5.45, 3 maps)
This up-close high resolution map set of the Skyreach Mountains contains three maps: one with text – one without text – one close up.
Holiday Dorastor: Woods of Terror
Simon Phipp, Leon Kirshtein ($17.00, 123 page PDF)
If you go into the Woods today, you are sure of a big surprise… Here, you will find descriptions of Hellwood and Poisonthorn Woods in the Land of Dorastor, a Bestiary with eight new creatures, both flora and fauna, twelve new types of plant, two new skills, seven new magical items, twelve new Runespells, ten new Sorcery Spells, two new Spirit Magic Spells, five Full Scenarios and thirteen Mini-Scenarios.
What is the Jonstown Compendium?
Are you a Gamesmaster looking for new scenarios and story elements? A player looking for something mysterious to spark a character idea? Is your group looking for more Gloranthan goodness to use in your game? The Jonstown Compendium is where you can find —and create —self-published material for your Gloranthan roleplaying games.