Here's what reviewers are saying about HARLEM UNBOUND 2ND EDITION
Posted by Michael O'Brien on 24th Jul 2020
What reviewers are saying about Harlem Unbound 2nd Edition:
"An essential Call of Cthulhu 1920s supplement, expanding not just the game we love, but how you view the entire genre and society itself."
—Mark Morrison, Call of Cthulhu writer (Horror on the Orient Express, Reign of Terror, Terror Australis, etc)
"Harlem Unbound gives raw material for creating journeys as well as destinations... [it is] a strong labor of love that combines both passion for a vital time and place in American history with a deep pool to draw various strains of horror, both familiar and unfamiliar, into the Call of Cthulhu game. I love this book and cannot recommend it enough."
—Never Read the Latin.
"Style 5/5, Substance 5/5: Anyone who already bought and enjoyed the first edition should definitely get the second: there's so much more material that it presents almost literally double the content, depth, playable material, and sheer value. For anyone who doesn't have it, Harlem Unbound belongs on just about every Call of Cthulhu or cosmic/investigative horror gamer's shelf..."
—Paul StJohn Macintosh, RPGNet review.
"Harlem Unbound understands what it is to create atmosphere… this game is set in the world of the Cthulhu Mythos, but more explicitly, it's set during the Harlem Renaissance... Classes and cultures brush up against each other in a melting pot on its boiling point–and then layer the eldritch horror of the Mythos underneath all of that, and you have a recipe for a game that's rich and wonderful."
—Bell of Lost Souls.
"1920's Harlem turns out to be a great place to set a game. You get prohibition and gangsters, you get zoot suits, lindyhop, jazz music, flappers and the Cotton Club... the intention is not that you play investigators from elsewhere who pass through Harlem en route to traditional adventures in New England. The intention is that you play characters from Harlem, who are connected to Harlem and bound up in the explosion of creativity that is going on there... For $22 (PDF) you're getting a great setting, some fantastic gaming advice and scenarios that will provide your table with at least many sessions of top quality gaming."
—amazing-tales.net.
"A R'lyeh different perspective."
—Dicebreaker.
"Somewhere along the line Cthulhu campaign settings have made the realization that it isn't all about having a backdrop for horror. Investigators have lives, loves, and reasons to fight the forces of the Mythos. Thus, the richer the setting, the more incentive the players have to care about it, and frankly it doesn't get richer than Harlem Unbound."
—Andrew Logan Montgomery, Exploring the Otherworlds of Fiction, Magic, and Gaming.
"Don't play CoC? Get Harlem Unbound anyway; the history and reality that it adds to any real-world campaign is essential and is presented agnostically with respect to system... Am I happy I bought it?: There are no other gaming purchases I've made that have been as personally impactful in a very long time. You can have fun with a lot of games, but this one will make you a more informed human being."
—Tumbleweird.
"An amazing book and one you need in your Call of Cthulhu collection."
—Rolling Boxcars.
"Strongly Recommended–This product is exceptional, and may contain content that would interest you even if the game or genre covered is outside of your normal interests."
—Gnome Stew.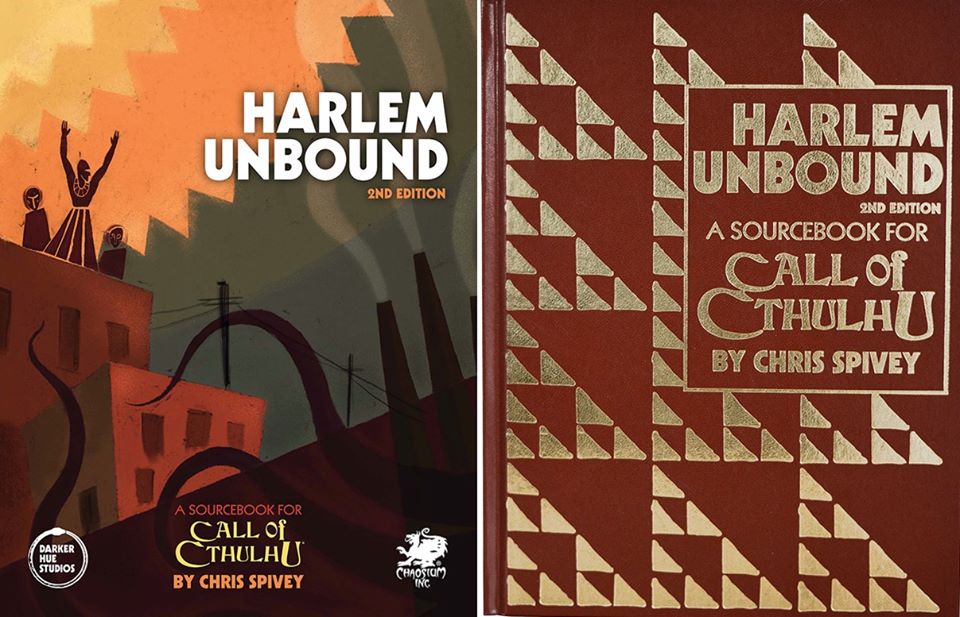 Get your copy of Harlem Unbound 2nd Edition from Chaosium.com:
Also available at DriveThruRPG in PDF.
And in distribution at your Friendly Local Game Store.