Here's what reviewers and fans are saying about the Call of Cthulhu Starter Set
Posted by Michael O'Brien on 1st Nov 2020
Praise for the Call of Cthulhu Starter Set, from critics and fans alike!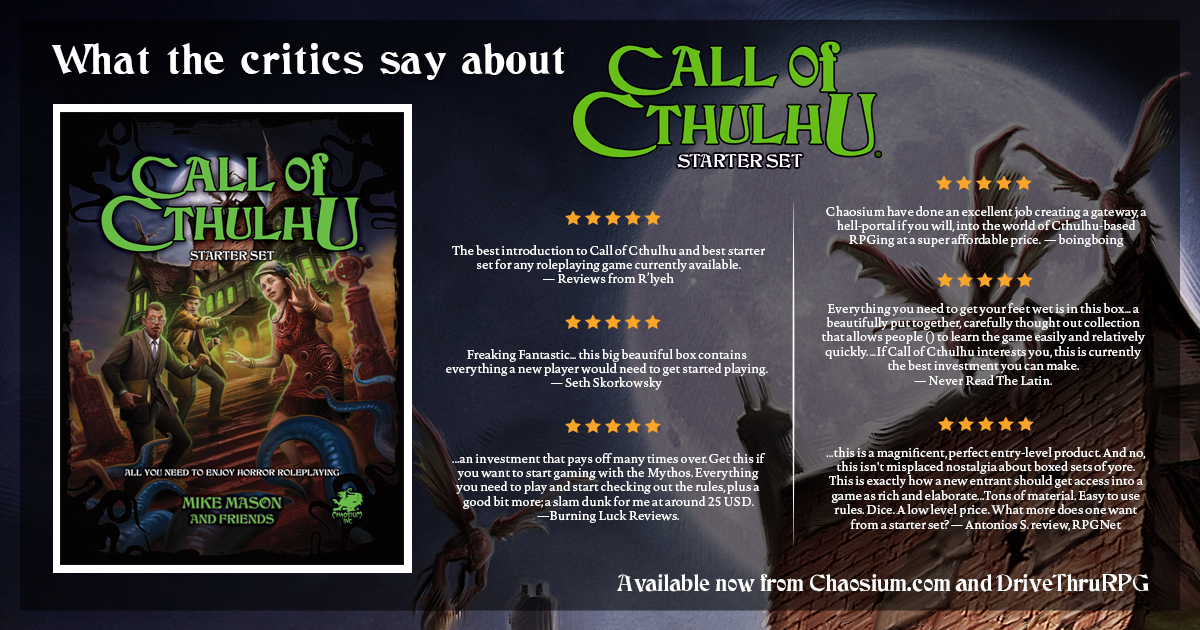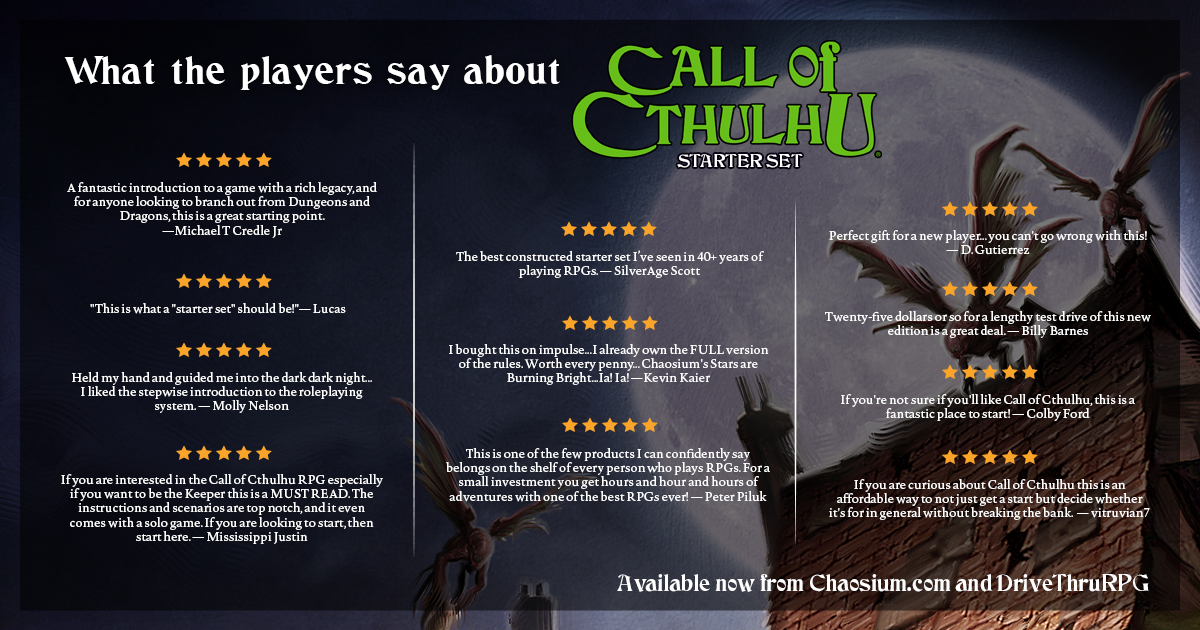 "The best constructed starter set I've seen in 40+ years of playing RPGs."—SilverAge Scott.


"The best $25 I've ever spent getting into a game."—Dana Fogle.


"Perfect gift for a new player... you can't go wrong with this!"—D. Gutierrez.


"This is one of the few products I can confidently say belongs on the shelf of every person who plays RPGs. For a small investment you get hours and hour and hours of adventures with one of the best RPGs ever!"—Peter Piluk.


"I bought this on impulse...I already own the FULL version of the rules. Worth every penny... Chaosium's Stars are Burning Bright...Ia! Ia!"—kevin kaier.


"This is what a "starter set" should be!"—Lucas.


"If you are curious about Call of Cthulhu this is an affordable way to not just get a start but decide whether it's for in general without breaking the bank."—vitruvian7.


"If you're not sure if you'll like Call of Cthulhu, this is a fantastic place to start!"—Colby Ford.


"Twenty-five dollars or so for a lengthy test drive of this new edition is a great deal."—Billy Barnes.


"Held my hand and guided me into the dark dark night... I liked the stepwise introduction to the roleplaying system."—Molly Nelson.


"A fantastic introduction to a game with a rich legacy, and for anyone looking to branch out from Dungeons and Dragons, this is a great starting point."—Michael T Credle Jr.


"If you are interested in the Call of Cthulhu RPG especially if you want to be the Keeper this is a MUST READ. The instructions and scenarios are top notch, and it even comes with a solo game. If you are looking to start, then start here."—Mississippi Justin.
The Call of Cthulhu Starter Set
Available now from Chaosium, PDF included.
Also available in PDF from DriveThruRPG.
And in distribution from your local FLGS.