Forty years of Fhtagn! Call of Cthulhu actual play with the maestro Mark Morrison and Ain't Slayed crew for GameholeCon
Posted by Michael O'Brien on 22nd Oct 2021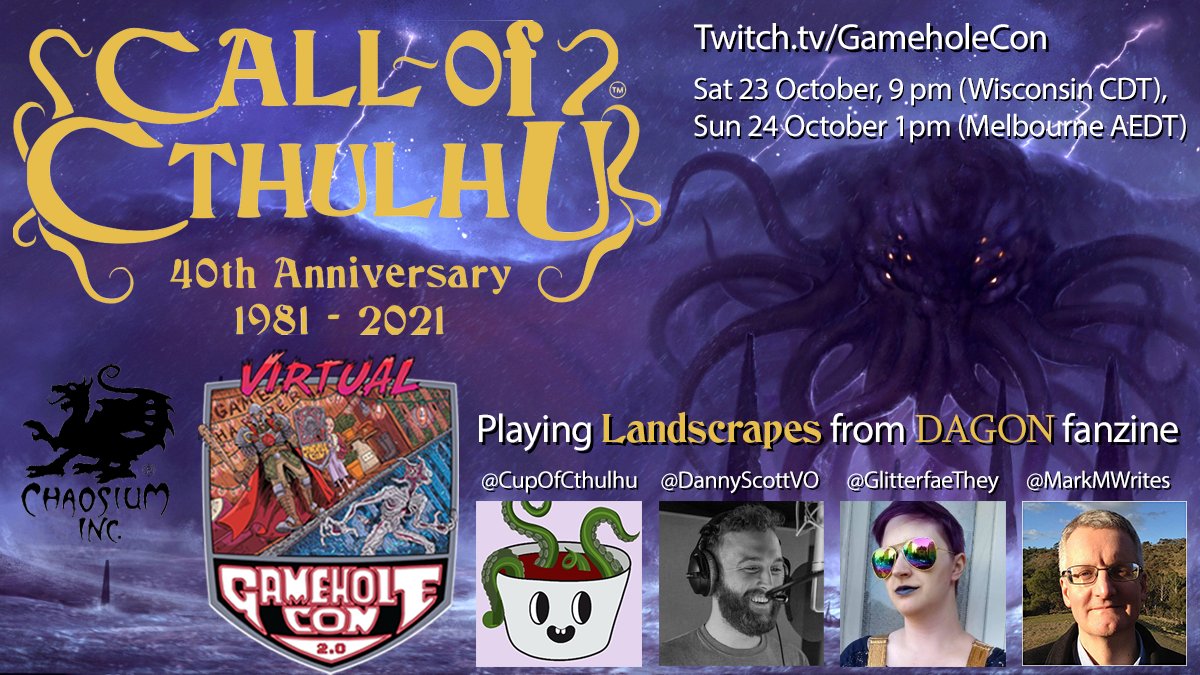 Mark Morrison, author of such Call of Cthulhu masterpieces as Horror on the Orient Express, Terror Australis, and Reign of Terror, invites you to join him a celebration of the game's 40th birthday on Twitch:
"Forty years of Fhtagn! I'm celebrating the 40th Anniversary of Call of Cthulhu with Cuppy, Danny & Rina from the Ain't Slayed Nobody podcast by running my scenario "Landscrapes" first published in Dagon fanzine by the late great Carl T. Ford, back in 1987. I can't be at GameholeCon this weekend, but thanks to the magic of Twitch, that won't stop me playing there. Huge thanks to Alex Kammer for the invite, and to KC Rift for producing.
If you like to watch, join us Sat 9pm Madison time, or a leisurely 1pm Sunday arvo here in Australia:
https://www.twitch.tv/gameholecon.
Library Use: "Landscrapes" was originally written as a 1920s scenario, but Lynn Willis published it in At Your Door as a Cthulhu Now scenario in 1990. It's weird to me that the 1980s now is as quaint as the 1920s was then. Anyway, I'm running the original version, because I like an age where cars start with crank handles, that is, unreliably."