ENnies spotlight: Citizens of Lunar Empire - Journey to Jonstown #25
Posted by Michael O'Brien on 22nd Aug 2021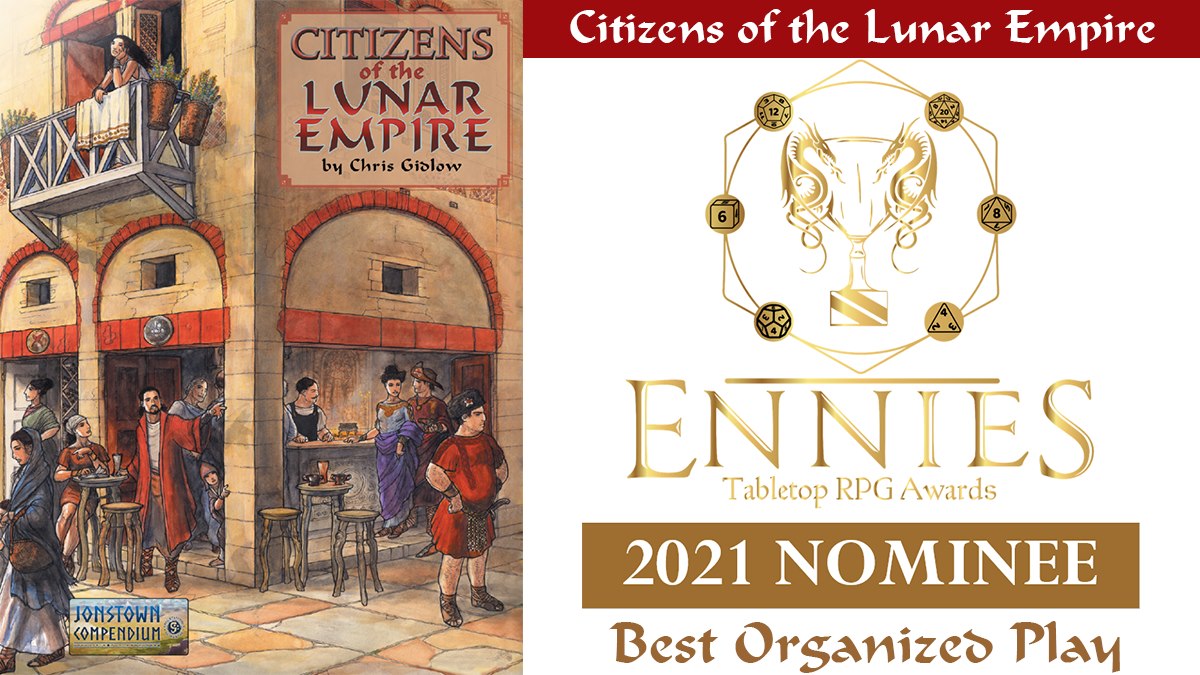 Nick Brooke, co-author of the ENNIE nominated A Rough Guide to Glamour writes:
"My friend Chris Gidlow's book Citizens of the Lunar Empire on Chaosium's Jonstown Compendium community store is also in the running for this year's Best Organized Play ENNIE Award. It's a detailed tour of one apartment building in Glamour, capital city of the Lunar Empire. It examines everyday life in an imagined ancient city, complementing our propagandistic top-down A Rough Guide to Glamour with a view from street level, and serving as a home base for any parties of adventurers who find themselves in the big city.
"I designed the book, my daughter Sarah did the technical drawings, and our friend Dario Corallo lavishly illustrated it throughout. The cover art is by the brilliant Mark Smylie.
"The ENNIES use a ranked preferential voting system, so you can vote for both books and know that your vote will help determine the winner. Everyone is eligible to vote, and the polls are open until Friday 27 August."
Here's how you can vote for Chaosium's community content creators in the 2021 ENnies!:
1. Go to the ENnies page: https://vote.ennie-awards.com/vote/2021
2. Our three nominations are in the Best Organised Play category (the ENnies' term for community content).
Vote for them 1,2,3 in whatever order you choose!
3. Everyone in the Chaosium team would also be flattered if you picked Chaosium in the Fan Award for Best Publisher.
4. Tell your friends who are Call of Cthulhu and RuneQuest fans to submit their vote too!
Chaosium congratulates all the nominees in this year's awards. The winners will be announced at the ENNIES Awards ceremony on September 17th, 2021 at 8:00 PM EDT.