ENnies spotlight: A Rough Guide to Glamour - Journey to Jonstown #24
Posted by Michael O'Brien on 21st Aug 2021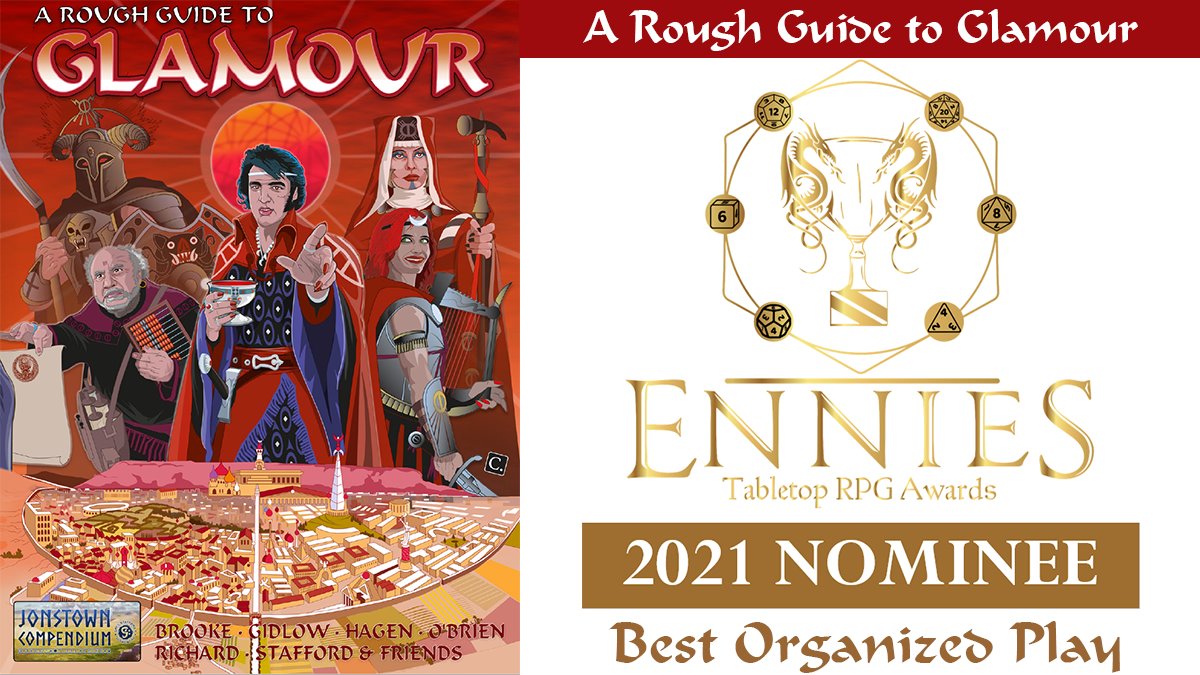 Co-author of the ENNIE-nominated A Rough Guide to Glamour Nick Brooke says:
"Our book A Rough Guide to Glamour was the first print title and the first Gold best-seller on Chaosium's Jonstown Compendium community store, which hosts fan-created works for the RuneQuest tabletop role-playing game and Greg Stafford's mythic sword-and-sandal fantasy world of Glorantha on DriveThruRPG.
"It's a propagandist gazetteer and tourist guidebook to the capital of the evil Lunar Empire. Profoundly unofficial, it's laced with Elvis, IngSoc, Blondie and Spice Girls references (among others), and has wonderful artwork by Dario Corallo, Julie Hudson, Simon Bray and Antonia Doncheva.

"Anyway, the Guide has been nominated for this year's Best Organized Play ENNIE Award (that's the nearest thing my hobby has to the Oscars); you're eligible to vote for the winner, and I would be honoured and delighted if you'd consider voting for our book."
Here's how you can vote for Chaosium's community content creators in the 2021 ENnies!:
1. Go to the ENnies page: https://vote.ennie-awards.com/vote/2021
2. Our three nominations are in the Best Organised Play category (the ENnies' term for community content).
Vote for them 1,2,3 in whatever order you choose!
3. Everyone in the Chaosium team would also be flattered if you picked Chaosium in the Fan Award for Best Publisher.
4. Tell your friends who are Call of Cthulhu and RuneQuest fans to submit their vote too!
Chaosium congratulates all the nominees in this year's awards. The winners will be announced at the ENNIES Awards ceremony on September 17th, 2021 at 8:00 PM EDT.