ENnies 2019 Spotlight: "One of the most stunning RPG books ever made" - RuneQuest nominated for Best Interior Art
Posted by Michael O'Brien on 16th Jul 2019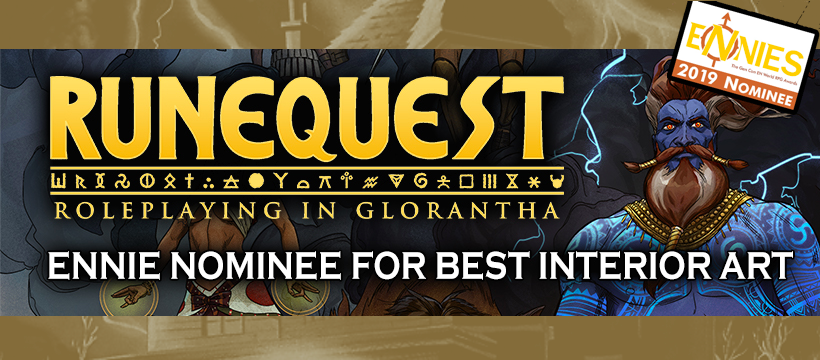 The RuneQuest Roleplaying in Glorantha Slipcase Set has been described as "one of the most stunning RPG books ever made" and is a nominee for Best Interior Art in the 2019 ENnie Awards. The all-new edition of one of the world's most influential and acclaimed fantasy roleplaying games is sumptuously illustrated throughout, featuring many of the best artists working in the RPG industry:
Congratulations to Rick Becker, Bernard Bittler, Simon Bray, William Church, Miguel Coronado, Gene Day, Andrey Fetisov, Piotr Foksowicz, Lisa Free, Merle Insigna, Tomasz Jedruszek, Kalin Kadiev, Roman Kisyov, Rachel Kahn, Jennifer Lange, Rhonda Libbey, Michelle Lockamy, Juha Makkonen, Mike Mignola, Christine Mitzuk, Luise Perrene, Kevin Ramos, Roger Raupp, Jacob Rebulka, Alex Ries, Naomi Robinson, Simon Roy, Olivier Sanfilippo, Luoto Sari, Tobia Tranell, and Cory Trego-Erdner.
Please support Chaosium and our licensees, partners and friends - ENnies voting is live now, and runs until 11.00PM EST on July 21st:
http://www.ennie-awards.com/vote/2019
What the critics have said about the new RuneQuest edition: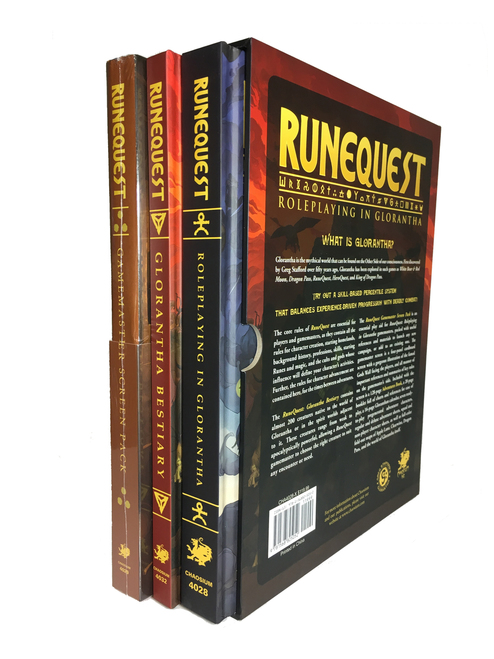 "One of the most stunning RPG books ever made"—Games Vs Play.
"RuneQuest: Roleplaying in Glorantha is a work of art. It is a gorgeous book and an engrossing game in one, the future of the RuneQuest system superimposed on the most detailed RPG setting of them all. The design dynamically delivers the impossible, turning crunch and fluff into one. Its capability to create stories even before the characters are presented to one another, and its crunchiness when the going gets tough and hard decisions are required, have already earned it a place in the pantheon of gaming. Veterans will feel right at home, while new fans will wonder how come a game like this didn't exist up to now. Everything the new Chaosium touches turns to gold. Buy and play, immediately!"—Antonios S., RPGNet review.
"…this is a very impressive book. The art, binding and writing is all first rate. I would say it is the most attractive book I own. Looks are great, but the real value goes deeper than appearances. The content of RuneQuest: Roleplaying in Glorantha is up to the standards set by its appearance."—White Box and Beyond.
"Greg Stafford's supreme creation brought fully up to date with the presentation it deserves and tremendous added depth. A fitting memorial. STYLE - 5/5. SUBSTANCE - 5/5: Can it go higher than 5?"—Paul StJohn MacIntosh, RPGNet review.
"A beautiful product and the beginning of a very promising re-birth or reinvigoration of a tabletop RPG classic... one of the best examples of using mechanics in a tabletop RPG to create and reinforce setting and tone... just let the game carry you along into the high-magic, mythology-focused, Bronze Age fantasy game you never knew you wanted to play."—Play To See What Happens.
"This iteration of RQ is going to redefine my view of what is role-playing... it seems to have everything I could wish to find in a game: smooth mechanics, different levels of gameplay, and a whole mythical world presented for the player to explore from within. It feels like the Chaosium of my twenties is back, there at the forefront of innovation in gaming. As a game designer I must say It will be hard to top that, but it feels good have a new mountain to climb!"— Francesco Nepitello (lead designer, One Ring RPG).
"Final first impression 10/10. Will play. Great presentation, tons of content, a wonderful relaunch of a terrific game."—TV writer/producer Robert Hewitt Wolfe.
"A game steeped in both real-world and fictional history, where wild myths meld with a realistic approach to rules… Ultimately, RuneQuest succeeds in carving out a powerful niche in the crowded world of fantasy roleplaying, building something that is truly unique."—Tabletop Gaming Magazine.

"RuneQuest: Roleplaying in Glorantha is a landmark, and was even before it was written... it marks the return of one of the most influential and storied games in our hobby back to the house that built it... No other RuneQuest—and this is coming from a guy from whom you'd have to pry his Cults of Prax or Cults of Terror from his cold, dead hands—does Glorantha as well as RQG."—Andrew Logan Montgomery, Exploring the Otherworlds of Fiction, Magic, and Gaming.
"…a fascinating blend of wild heroism and ruthless simulation that goes to create a game that offers something utterly unique…[RuneQuest] breaks away from the core tropes of gleaming armour and codified magic that have come to dominate fantasy in recent decades and replaces it with something that feels closer to ancient myths and legends – more The Odyssey than Lord of the Rings."—EN World.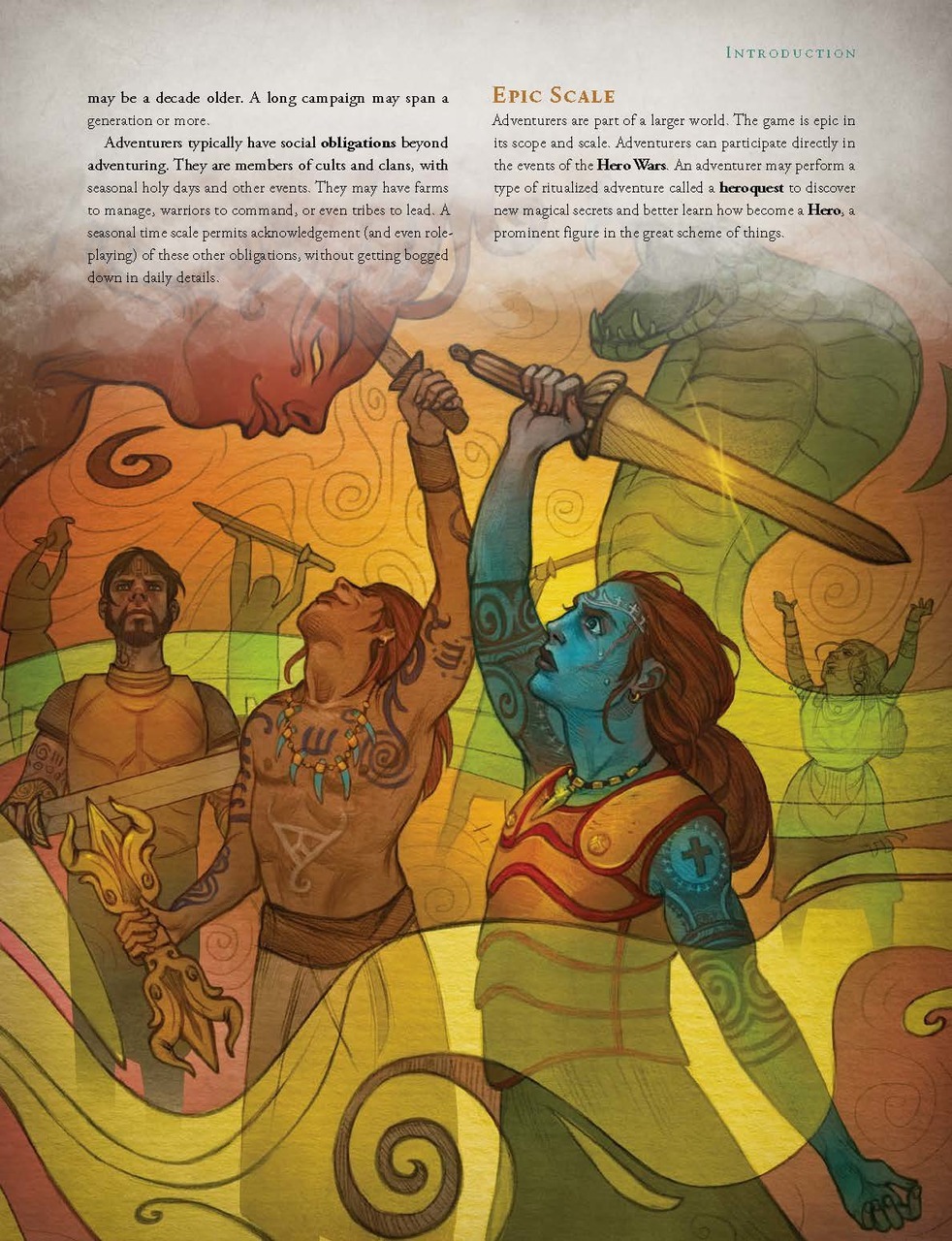 "Second only to Dungeons & Dragons in the fantasy roleplaying pantheon, RuneQuest cemented Greg Stafford's world of Glorantha as one of the tabletop's most imaginative creations and introduced innovative mechanics that would go on to become staples of RPGs for decades to come, most significantly in other Basic Roleplaying titles. Its unique approach to advancing skills and the percentile system used to resolve attacks and actions are still as clever today, while the expansive Glorantha continues to draw in adventurers looking for an immersive and vibrant setting."—Tabletop Gaming (UK) 150 Greatest Games of All Time (RuneQuest ranked #9)