Chaosium is part of the 'Big Games Night In' at Melbourne International Games Week, Sun Oct 4
Posted by Michael O'Brien on 27th Sep 2020
Call of Cthulhu publisher Chaosium is part of the Melbourne International Games Week 'Big Games Night In', next Sunday October 4th, offering free demo games and an actual play experience live on Twitch TV.
"With Melbourne International Games Week expanding its focus to include tabletop gaming, we're excited to be taking part this year. Although Chaosium is a US company, we have a significant staff presence in Melbourne - seven of our team (including me!)", said Chaosium vice president Michael O'Brien.
MIGW celebrates the power of digital connection, creativity and the strength of Melbourne, Australia's local game-makers. Amid the pandemic, Australia's premier digital games festival will look a little different this year with events taking place online.
Chaosium's events are:
LEARN TO PLAY TABLETOP ROLEPLAYING GAMES
10.00 – 22.00, Sunday 4th Oct
90 minute "learn to play" demo sessions of the popular tabletop RPG Call of Cthulhu. No experience necessary, suitable for ages 12+.
Book a free session here: https://warhorn.net/events/migw-big-games-night-in

CALL OF CTHULHU ACTUAL PLAY - 'THE MUMMY OF PEMBERLEY GRANGE'
18.00-19.30, Sunday 4th Oct
Streamed live on Twitch TV. Allan Carey of Type40, a Melbourne creative business specialising in making in-world artefacts from pop culture, including films, TV & comic books, is the Keeper (gamemaster).

The Mummy of Pemberley Grange
"Jessica Pemberley, rich Socialite and Egyptophile, has shipped a mummy all the way from Cairo and has invited you to an exclusive "unwrapping party" at her house in the country. What could possibly go wrong?"
Watch live here: https://www.twitch.tv/chaosiuminc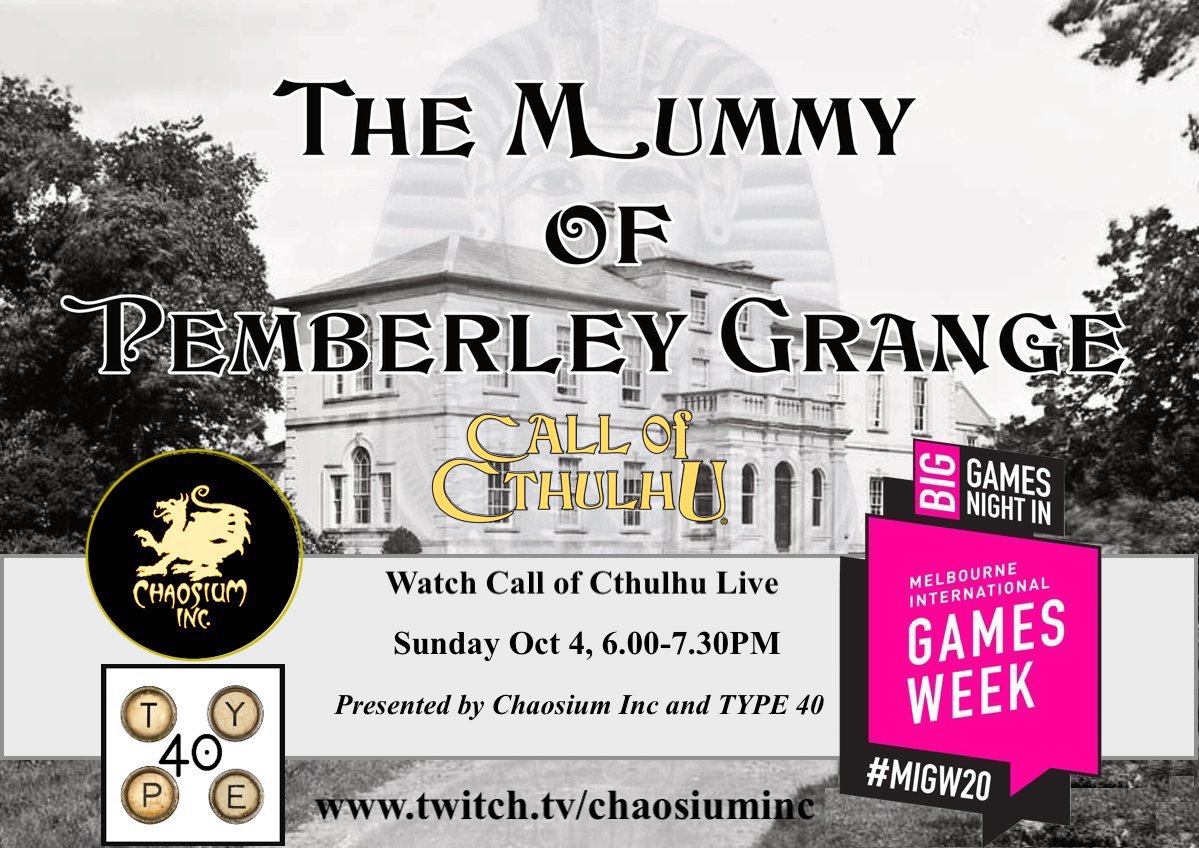 Type40's Allan Carey and his intrepid crew of investigators